China Factory Gauge at 2-Year High Eases Pressure for Stimulus
Bloomberg News
Manufacturing PMI at 50.4 for 2nd month, services rise to 53.7

Report comes as three big cities act to cool property markets
China's official factory gauge stayed at the highest level in almost two years for a second month and services increased in the latest evidence of continued economic stabilization, reducing prospects for more policy easing.
The manufacturing purchasing managers index remained at 50.4 in September, the National Bureau of Statistics said Saturday, compared with a median estimate of 50.5 in a Bloomberg economist survey and 50.4 the prior month. The non-manufacturing PMI rose to 53.7 from 53.5 in August. On Friday, the private Caixin Media and Markit Economics China Manufacturing PMI showed an increase to 50.1 last month. Numbers above 50 indicate improving conditions.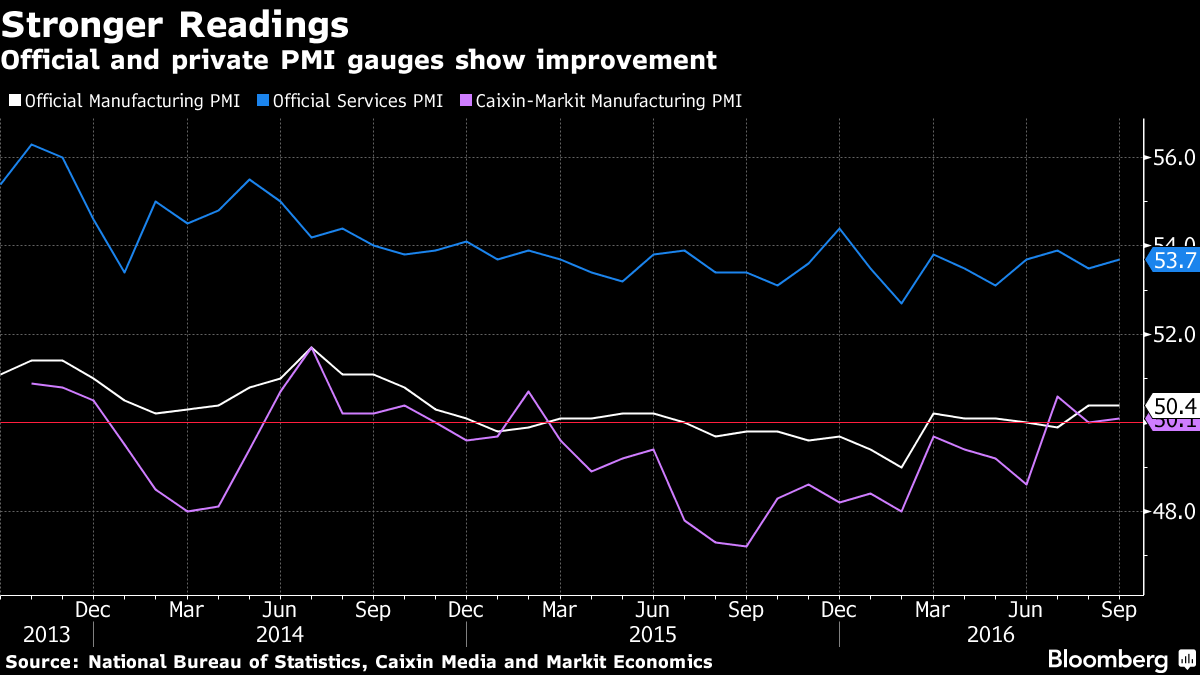 The data, released ahead of this week's closure of China's financial markets for the National Day holidays, add to evidence of improvement as government fiscal support and a soaring property market help underpin growth. Fresh signs of stability may lead policy makers to remain on hold after keeping the benchmark interest rate at a record low for almost a year.
"The economy is stabilizing on all the support that the government has given through monetary easing and fiscal spending," which has fueled investment and supported more upbeat growth forecasts, said Iris Pang, senior economist for Greater China at Natixis SA in Hong Kong. Still, that doesn't necessarily mean "everything is really turning better."
Growth Forecast
The PMI gains suggest a brighter growth outlook. Expansion in the world's second-largest economy slowed to 6.6 percent in the third quarter, according to economists surveyed before a report due on Oct. 19, after two consecutive quarters of 6.7 percent growth. The Bloomberg Intelligence China gross domestic product tracker rose to 7.16 percent in August.
The data came as three of China's biggest cities took new steps to cool property markets. Home prices in the world's most populous nation rose the most in six years in August, defying policies to curb excessive speculation in big cities and warnings about asset bubbles.
Beijing on Friday required bigger home down-payments after new house prices jumped 23.5 percent in August from a year earlier, while Tianjin introduced housing purchase limits. Hangzhou last week raised down-payment requirements and capped land auction prices.
'Sustained Momentum'
"Policy has already started to swing away from all-out stimulus toward a slightly greater focus on containing financial risks and pushing through reforms," Fielding Chen, an economist for Bloomberg Intelligence in Hong Kong, wrote Saturday. "Sustained momentum in the economy should provide policy makers with cover to continue that agenda."
With stable growth and soaring home prices, analysts are dialing back forecasts for additional monetary stimulus, with some betting on a switch to tightening mode, according to a Bloomberg survey of 18 economists. Fifteen expect a policy shift to tightening in three years, with four forecasting a switch could come next year, the Sept. 19-26 poll shows.
Factory employment edged up again but still indicated deterioration, rising to 48.6 from 48.4, according to the surveys of purchasing executives of 3,000 companies. The NBS said large enterprises rose to 52.6 while the reading for small companies retreated to 46.1.
'Unemployment Stress'
"There's been some progress made" toward stabilization as larger companies underpinned growth, said Raymond Yeung, chief greater China economist at Australia & New Zealand Banking Group Ltd. in Hong Kong. "The employment reading is not so encouraging. The government needs to find some way to address the unemployment stress."
The PMI report signaled the first expansion in exports since April. New orders rose to 50.1, according to surveys of purchasing executives.
That increase may relate to the yuan falling against a basket of currencies, according to Tommy Xie, economist at Oversea-Chinese Banking Corp. in Singapore. "It may not be the purpose that the Chinese government wants, but now it seems to be the result of a weaker yuan," Xie said.
In manufacturing, NBS said in a statement released with the data that the foundation of growth is still weak as companies face difficulties with operations and capacity cuts. China could meet overcapacity reduction targets in steel and coal earlier than expected, National Development and Reform Commission Chairman Xu Shaoshi told Bloomberg Friday.
"Property and infrastructure investment have propped up growth and some enterprises are becoming more profitable in the process of cutting overcapacity," said Wen Bin, a researcher at China Minsheng Banking Corp. in Beijing. "Longer-term pressure still lingers. China must push forward supply-side reform and maintain stable liquidity to support the real economy."
— With assistance by Jeff Kearns, Miao Han, Lingjiao Mo, and Cynthia Li
Before it's here, it's on the Bloomberg Terminal.
LEARN MORE