Wall Street Says Holiday Stock Rally Not in Cards This Year
by
Fourth quarter is historically best of year in S&P 500

Average strategist target implies less than 1 percent move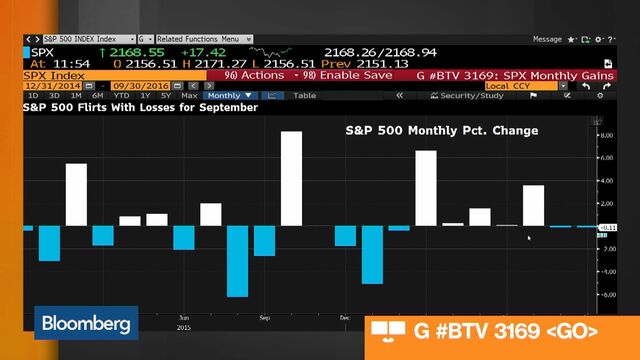 It's been low-hanging fruit for decades: buy stocks when the leaves start to turn in the Northeast, and get ready to harvest gains. This year the crop looks spoiled.
That's going by forecasts from Wall Street strategists, whose trepidation about everything from election politics to interest rates and valuations has left them in an unusually bearish mood before this year's holidays. Among 19 surveyed by Bloomberg, the average estimate calls for the S&P 500 Index to end 2016 at 2,171, about 0.6 percent above where the gauge traded by 10 a.m. in New York.

Since 1970, the S&P 500's best quarter has been the fourth, on average, with the trend particularly prominent during the bull market that began in 2009. The benchmark gauge has climbed an average 6.7 percent from Sept. 30 through the end of the year during the 7 1/2-year run, more than twice the increase of the next-best quarter.
"You've got to have a reason to put money to work, and portfolio managers are sitting on what they have without taking direction," said Tony Dwyer, co-head of U.S. equity research at Canaccord Genuity Inc. in New York. He has a target of 2,175 for the S&P 500. "You need to get changing fundamentals, some kind of oversold condition or further economic data to get anybody jumping out."
Seldom have strategists been less bullish than they are now. They've called for gains in the equity market 82 percent of the time during the past decade, according to data compiled by Bloomberg. Yet even amid an 18 percent recovery in the S&P 500 since its low on Feb. 11, strategists have held their target price largely unchanged.
That doesn't mean they're bereft of optimism. A slew of upbeat revisions in recent weeks pushed their average estimate up from a low of 2,146 in August, and among the four that have made projections for next year, the average target calls for a 7.9 percent rally.
Analysts from JPMorgan Chase & Co. to Bank of Montreal and HSBC Securities USA Inc. raised 2016 expectations in the wake of the Federal Reserve's decision last week to keep rates lower for longer, but it hasn't been enough to paint a rosier picture for the market's last leg of the year. The more bullish outlooks by JPMorgan and HSBC for 2,100 and 2,000, respectively, still fall below the current level of the S&P 500.
"We're fundamentally in a very range-bound market and a little over our skis here, and that makes us vulnerable," Ben Laidler, global equity strategist at HSBC, said in a phone interview. "Earnings remain very lackluster. All this money you've made this year is from multiple expansion, with the market getting more and more expensive."
Both Laidler and JPMorgan's Dubravko Lakos-Bujas, head of U.S. equity strategy and global quant research, cite elevated stock valuations as a reason for limiting gains through the end of the year.
The gap between current and future earnings is the widest since the start of the bull market, with the S&P 500 trading at 20.3 times annual earnings, near the highest since the financial crisis. Corporate profits are expected to contract 1.5 percent in the third quarter, according to estimates compiled by Bloomberg.
"While we do not expect significant re-rating in market multiple from here given the aged business cycle and potentially rising rates, the case for considerable de-rating is also not likely given that rates are likely to remain low on an absolute basis," Lakos-Bujas wrote in a Sept. 23 note to clients.
And of course there is the U.S. presidential election. Volatility will likely increase in the weeks leading up to the Nov. 8 vote, according to Lakos-Bujas. Indeed, equity volatility in the November of presidential election years has historically been 22 percent above the average for all months, according to data compiled by Bloomberg.
"The political calendar remains heavy around the world," said Laidler. "That may be a potential catalyst, but my personal favorite is the business cycle. When I look at the leading indicators there's nothing out there to tell me the business cycle is getting any better."
Before it's here, it's on the Bloomberg Terminal.
LEARN MORE