markets
Wall Street Is Souring on Mexico's Stocks as Bull Market Flags
By
IPC index has missed out on EM rally since Trump was nominated

UBS expects Mexico stocks to suffer correction by year-end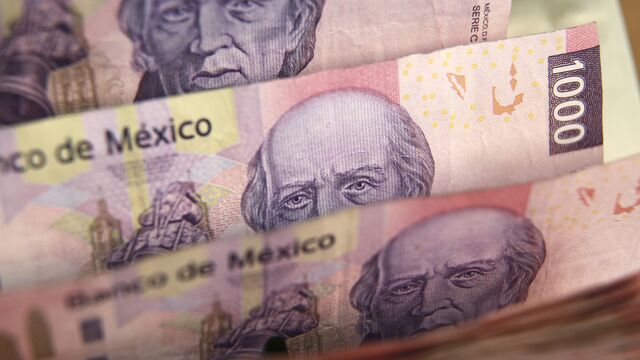 The seven-year bull run in Mexican stocks may be coming to an end. 
Strategists and investors are tempering their expectations as corporate profits slide, growth slows and the U.S. presidential election rattles investors. UBS Group AG expects a 10 percent drop in the IPC index by the end of the year. BTG Pactual cut its recommendation on Mexican stocks to underweight last week. Barclays Plc says valuations are bound to fall. This month, Mexico's biggest stock ETF has seen the largest withdrawals in two years.
The increasingly bearish sentiment is closely tied to a rout in the peso that has made it the worst performing major currency amid prospects that Donald Trump will win the U.S. presidential election and make good on pledges to renegotiate trade accords. While the peso has recovered from record lows, international investors have been hit hard in recent weeks. The IPC index has fallen 3.2 percent in dollar terms since the Republican convention, compared with a 4.2 percent gain in the MSCI Emerging Markets stock index.
"Things have changed and it makes it very difficult to predict where we might end up by year-end," said Benjamin Theurer, an equity analyst at Barclays in Mexico City. "At the beginning of the year, I wasn't considering Trump would actually make it to be a nominee. It's going to be volatile."  

The IPC has dropped 2.1 percent in pesos since reaching a record high in early August, and it's trading at the smallest valuation premium in three years relative to emerging-market peers. Its price-to-earnings ratio of about 25.3 should fall to 19.1 next year, according to Barclays.
The bank says Mexico's consumer discretionary stocks are a bad bet if Mexicans hold off on big purchases amid a drop in confidence. Fibras -- Mexico's version of real-estate investment trusts -- are also vulnerable if a reduction in trade with the U.S. saps demand for corporate offices in major cities and industrial parks outside of town.
Trump has called for renegotiating the terms of Nafta and applying punitive tariffs and taxes for goods imported from Mexico. Democratic rival Hillary Clinton, whose husband signed the Nafta agreement, has also been more sympathetic to protectionist sentiment, coming out against the the U.S.-led Trans-Pacific Partnership trade pact.
Mexican stocks are overvalued given the outlook for earnings and the depreciating currency, according to Citigroup Inc. strategist Julio Zamora, who is based in New York. Earnings and profit margins have declined each year since 2012 for companies on the IPC, according to data compiled by Bloomberg.
"Mexico is expensive and things are getting complicated," Zamora said.

Gross domestic product shrank 0.2 percent in the second quarter, the first quarter-over-quarter decline in three years, and Goldman Sachs Group Inc. has warned that government spending cuts could end up "generating headwinds" for Latin America's second-largest economy.
While analysts expect corporate earnings in Mexico to grow an average 33 percent over the next 12 months, according to estimates compiled by Bloomberg, Alan Alanis, an analyst at UBS in New York, said those predictions are too optimistic.
"We're seeing a decelerating economy and we think earnings will be revised downward," he said. "With that and disappointing third-quarter results, we expect a correction before the end of the year for the Mexican Bolsa."
One factor working against Mexican stocks is that companies tend to become less profitable when the peso depreciates, according to Alanis. The peso has plunged 4.4 percent this month and 12 percent this year, the second-biggest drop among major currencies. HSBC Holdings Plc says it could fall another 12 percent to 22 per dollar if Trump wins; Goldman Sachs said it could fall to as low as 24 per dollar in that case.
All these factors means Mexico's valuation premium is bound to come down, according to Barclay's Theurer.
"I don't think the market has corrected enough," he said.
(
Updates returns in third paragraph.
)
Before it's here, it's on the Bloomberg Terminal.
LEARN MORE