U.S. ELECTION WRAP: Clinton Up in First Wave of Key Post-Debate Polls
Hillary Clinton is seeing post-debate polling gains in Nevada and Florida. Will other battleground states follow?
By and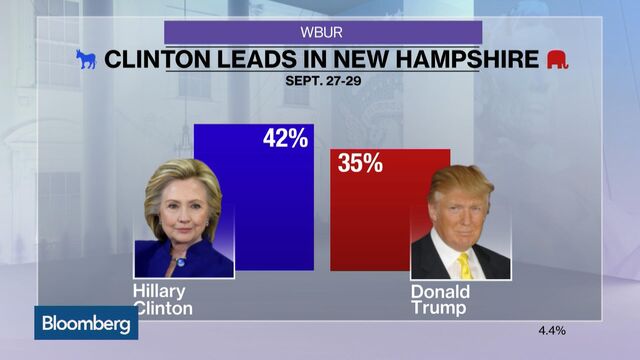 With 38 more days to go until Election Day, Hillary Clinton is seeing post-debate bounces in the critical battlegrounds of Nevada and Florida, new polls show.

THE POT FACTOR
One potentially significant finding in the Nevada poll: support for legalizing marijuana in the state is at 57% vs. 33% opposed; that's up from 48%-43% in August

Measures to legalize marijuana use in some form will be on the ballot in at least nine states in November, potentially boosting youth turnout, which in turn could help Clinton in political battlegrounds such as Nevada, Florida and Colorado

Pot could fix Clinton's problem of how to attract more critically needed but hard-to-get young voters, New York magazine's Eric Levitz wrote
A recent CNN/ORC Colorado poll showed that Clinton lagged Trump in the state by 1 point in a 4-way race in which almost one-third of likely voters under age 45 backed third-party candidates, including 24% for Libertarian Gary Johnson, a former marijuana smoker who has long advocated legalizing the drug

"If Hillary Clinton can consolidate the support of young left-wing voters—and motivate them to turn out on Election Day—she will win the White House," Levitz wrote. "And there's no better cure for millennial apathy than legal marijuana"

CAMPAIGN AND TWITTER TRAIL
Trump's flurry of pre-dawn Twitter posts drew media scrutiny as the GOP nominee sought to gain an edge on the question of his treatment of a Latina former Miss Universe—an issue initially raised by Clinton in Monday's debate
Trump is set to speak late Friday afternoon in Michigan
Clinton, at an earlier campaign rally in Florida, vowed if elected to make a "major" push for more national service

The U.S. is "exceptional" in part because of the "generosity and ingenuity" of Americans
Clinton talked about making it easier for Americans of all ages to "give back" and encouraged entrepreneurs to add a "social component" to their businesses
She contended that Trump probably won't talk about volunteerism on the campaign trail, calling it a "shame" because national service has always been a bipartisan goal

The former secretary of state also blasted what she called Trump's "strongman approach" and for implying that he alone can fix the country's problems

Trump talks about a "hopeless, broken nation" but "I don't see that," Clinton said

ENDORSEMENTS & DENOUNCEMENTS
Chicago Tribune has endorsed Libertarian Johnson for president

"We reject the cliche that a citizen who chooses a principled third-party candidate is squandering his or her vote. Look at the number of fed-up Americans telling pollsters they clamor for alternatives to Trump and Clinton," editorial board wrote
"We offer this endorsement to encourage voters who want to feel comfortable with their choice. Who want to vote for someone they can admire"
Trump isn't "fit" to be president
Clinton is "undeniably capable" of leading the nation, but doesn't earn newspaper's support because of "her intent to greatly increase federal spending and taxation, and serious questions about honesty and trust"

Chicago Sun-Times Friday said it was backing Clinton

The endorsement is early because the "best way to avert a train wreck is to wave a warning flag as soon as possible," the editorial board wrote
Clinton has potential to be an "excellent" president, while Trump "has the makings of a miserable, even dangerous, president": Sun-Times

USA Today, which hasn't ever endorsed a presidential candidate, is strongly urging its readers not to support Trump

Newspaper's editorial board unanimously views the former reality-TV star as "unfit for the presidency"
The editorial board "does not have a consensus for a Clinton endorsement"

ETC
On Bloomberg's Culture Caucus podcast, Rory O'Malley, the actor who plays King George in the smash musical Hamilton, gives a thespian's view of how Clinton and Trump held up in front of the camera at the first presidential debate; click here for his critique
Commission on Presidential Debates said Trump's microphone led to problems with the audio transmitted into the auditorium at Hofstra University on Monday evening
A transcript of Trump's June testimony in a lawsuit, in which he discussed his earlier comments about immigrants, was released; see video on BuzzFeed site here

Lawsuit concerns chefs canceling plans to open restaurants at Trump's Washington hotel

CONGRESSIONAL ELECTIONS
SENATE RACES (Republicans hold 54-46 majority)
FUNDRAISING: After this year's third quarter ends today, Senate candidates have until Oct. 15 to mail updated campaign finance reports to Senate public records office

Senate incumbents and candidates file their reports on paper and are exempt from electronic filing requirements
IN: While Democratic ex-Sen. Evan Bayh's late entry "instantly elevated the party's chances to take back the Senate," Republicans favoring Rep. Todd Young "attacked as quickly and voraciously as a cougar whose dinner has been threatened," the New York Times reported
MO: AFSCME released TV ad highlighting Republican Sen. Roy Blunt's family lobbying ties and when he tried in 2003 to attach a provision favoring Philip Morris into measure that created the Department of Homeland Security

Blunt and Democratic Sec. of State Jason Kander planned to participate in Missouri Press Association candidate forum this afternoon in Branson
Cook Political Report shifted race to Toss-up from Lean Republican today, noting that the 35-year-old Kander "presents a sharp generational contrast" to the 66-year-old Blunt
NC: Democratic Senatorial Campaign Cmte, which backs former state legislator Deborah Ross, released TV ad linking Republican Sen. Richard Burr to $1.1m in political donations from insurance industry and said he "wrote a plan to privatize Medicare"

Ad refers to Center for Responsive Politics analysis of Burr's campaign contributions in 22-year congressional career from PACs/individuals affiliated with insurance industry
Ad invokes Medicare overhaul proposal Burr co-wrote in 2012 that would have turned program into premium support system, among other changes
NH: Republican Sen. Kelly Ayotte and Democratic Gov. Maggie Hassan at their first debate today emphasized bipartisan accomplishments while disagreeing on issues like Iran nuclear deal, gun policy, Affordable Care Act, Supreme Court vacancy

Debate in Conway was live-streamed on WMUR-TV's website; next Ayotte-Hassan debate Oct. 3 on NECN
Americans for Responsible Solutions PAC, which backs gun-control measures, released TV ad saying Ayotte "puts the Washington gun lobby first, so nothing gets done" to curb mass shootings

Ayotte at debate called for more prosecutions of gun crimes and a bipartisan fix to background-check system that includes more mental-health records and protects "constitutional rights of law abiding-citizens"
NV: Republican Joe Heck had 38% vs. Democrat Catherine Cortez Masto's 35% in Suffolk University poll conducted Sept. 27-29 of 500 likely voters

Heck, a three-term House member from metropolitan Las Vegas, and Cortez Masto, a former state Atty. Gen., are seeking to succeed retiring Democratic Sen. Harry Reid
HOUSE RACES (Republicans hold 246-186 majority)
FUNDRAISING: After third quarter ends today, House candidates have Oct. 15 deadline to electronically file updated campaign finance reports to Federal Election Commission
AZ-02: Republican Rep. Martha McSally said in TV ad that as "the politicians bicker" she's been "getting things done" like protecting A-10 aircraft and advocating for infrastructure projects

McSally opposed for 2nd term by Democrat Matt Heinz, a former state legislator, in competitive border district that also includes most of Tucson
CA-25: A Republican-leaning nonprofit group's $326k of spending on political canvassing shows GOP groups favoring Rep. Steve Knight's re-election are "putting a serious effort into keeping the seat in party hands," Los Angeles Times reported

Knight is challenged by Democratic lawyer Bryan Caforio in competitive district that includes parts of Los Angeles and Ventura Counties
FL-13: People for Pinellas, a Republican super-PAC, reported spending $119k against Democrat Charlie Crist, according to FEC filing

Crist, Fla.'s party-switching former governor, seeks to unseat Republican Rep. David Jolly in competitive district that includes part of Pinellas County in and around St. Petersburg
ME-02: National Republican Congressional Cmte released TV ad accusing Democrat Emily Cain of wanting to "force Maine's public schools to weigh students" in what one woman in ad says was "violation of our kids' privacy"

Ad refers to a childhood obesity assessment bill Cain sponsored in state House in 2007 that would have required "confidential assessments of either height and weight or body mass of all students, by gender" in selected grades from kindergarten through 9th; bill exempted student screening if parent or guardian objected
NRCC also raised issue in 2014, when Cain lost to Republican Rep. Bruce Poliquin 47%-42%; Cook Political Report rates this year's rematch as a Toss-Up
NY-21, NY-24: Stronger NY PAC is a new super-PAC that will independently aid first-term Republican Reps. Elise Stefanik and John Katko, according to FEC filing and website

Super-PAC will support N.Y. members who will "fight" for small businesses and a "strong national defense" and show "unwavering support" for Israel, according to website
Stefanik opposed by Democrat Mike Derrick in NY-21, a northeastern district bordering Vermont and Canada; Katko challenged by Democrat Colleen Deacon, a former Senate aide, in Syracuse-area NY-24
Website also endorsed NY-11 GOP Rep. Dan Donovan, strongly favored to win again in district that includes Staten Island and part of Brooklyn
TX-23: Democratic ex-Rep. Pete Gallego said in TV ad that "Washington doesn't work" and that he'd "work across the aisle" to lift minimum wage and enact paid family leave and pay-equity measures

Gallego seeking to reclaim competitive San Antonio-to-El Paso district from Republican Rep. Will Hurd, who won their 2014 race by 50%-48%
UT-04: Republican Rep. Mia Love's campaign in TV ad said Democratic opponent Doug Owens "says he's one of us" but made donations to "Washington, D.C. liberals" like Obama and Clinton under formal name of Henry Owens

Obama won 30% to Mitt Romney's 68% in UT-04 in 2012; Love beat Owens 50%-47% in 2014
WI-08: Republican Mike Gallagher's TV ad saying Democrat Tom Nelson "backed higher taxes on Social Security" is false, according to Politifact analysis

Gallagher, a Marine Corps veteran, and Nelson, a county executive and former state legislator, seeking northeastern district of retiring Republican Rep. Reid Ribble
Cook Political Report this week changed rating of race to Lean Republican from Toss-Up
Before it's here, it's on the Bloomberg Terminal.
LEARN MORE