Photographer: Stephen Pond/Getty Images
business
The NFL Is Losing to English Football in the Export Game
It turns out that football is an easier sell to an overseas audience than football
By and
It's hard to overstate the popularity of the National Football League in America. If a big game is on and fewer than 25 million tune in, something's wrong. It has become a four-day-a-week fixture -- closer to a full-time, than a pastime.
But the NFL, it turns out, struggles to travel. For all its brutish glory, a lack of NFL tradition abroad combines with yawning time-zone changes to make the sport a difficult export.
Curiously England is giving the league a clinic on how to export a sport–in this case what the rest of the world calls football 1 , not "American football." English Premier League teams, fueled by an NBC broadcasting blitz, are becoming more popular with U.S. residents than the Packers or Broncos or Jacksonville Jaguars are in the U.K., where the NFL is making its highest-profile push abroad. This weekend, the Jacksonville Jaguars play the Indianapolis Colts at London's storied Wembly Stadium.
The trans-Atlantic drive is important for both leagues. Each faces saturation at home, so to grow they must build foreign audiences. While popularity is hard to quantify, the English are beating the NFL on at least one critical measure: TV ratings and revenue.

Television generally is what makes or breaks a major sports league. In 2015, NBC Universal agreed to pay about $1 billion for six years of exclusive rights to broadcast British soccer games in the U.S. Each of those are live on its array of channels. For the first time, Americans no longer have to wonder if their favorite match will be on; all 2,300 of them are available over the deal.
NFL broadcasts in England are trickier, not least because of the five-hour time difference from the East Coast to London. So much of the live U.S. football is played as Britons are having dinner or putting the kids to bed. While 3 million U.K. viewers watched the Jets play the Dolphins in London last year, viewers disappeared when kickoff happened on U.S. soil. The NFL only says its U.K. broadcast revenue has doubled since a 2007 debut, without being more specific.
"I don't think the NFL is ever going to conquer the U.K.," said Claire Enders, CEO of the independent media industry research firm Enders Analysis Ltd., estimating the NFL's unlikely to be getting much more than £10 million ($13 million) to £15 million a year from U.K. television contracts.  Asked why, she responds simply. "We don't play it, we don't teach it."

Meanwhile, the Europeans have have been peppering the U.S. with live fixtures in the off-season -- the games are meaningless in terms of rankings, but popular nonetheless. This summer European teams barnstormed the U.S. with 17 fixtures–from heavyweight clashes drawing Bowl-game-sized crowds (Chelsea versus Real Madrid) to the equivalent of minor-league ball (Swansea City versus Richmond Kickers). 

What's interesting is that vastly different business models give the English Premier League teams far more incentive to attack America like Jamie Vardy on a counter.
With a bigger domestic fan base and lucrative TV deals, the NFL is fairly fat and happy. Revenue-wise, it did almost double the business of the Premier League last year, about $7.1 billion, compared with about $4.3 billion. And for any given NFL team, a big chunk of the money comes from shared revenue. The financial state of the Cleveland Browns, for instance, largely depends on the sales of Cam Newton jerseys and how many people watch the Dallas Cowboys on television.
The Premier League has revenue sharing  as well, but far less for the biggest teams. And there are few rules restricting how much each individual team can spend on players. Unlike the NFL, a Premier League club can spend pretty much what it wants, provided it doesn't lose too much money for too long. That gives Premier League teams have far more incentive to trot the globe, flashing their stars to would-be jersey buyers and potential corporate sponsors.
Consider two powerhouses of each league, the Green Bay Packers and Manchester United. Last year the Packers posted a profit of $49 million, while Manchester United managed to net $54 million. Green Bay realized 55 percent of its revenue from the NFL's collective, 32-team pot of money, some $223 million in all. The Manchester squad, meanwhile, got about one-third of its income from corporate sponsors like General Motors and another 19 percent from merchandise and licensing deals.
That means playing Real Madrid in Michigan is all about selling bobble-head Wayne Rooney dolls ($7).
Maybe the Packers could be huge in London, but they don't have much incentive because more than half of the spoils would be divvied up 32 ways.



The way to drive American football in London would be to place a team there, or at least host more games there, both strategies the league has considered. But the London games are a logistical challenge and a loss-leader, according to Mark Waller, executive vice president of the league's international business.
NFL games in London show there is a loyal audience. The tickets almost always sell out , making London a top five market for the NFL when it comes to match-day revenue, besting most of the U.S. cities.
"If we continue on the path we are on, there will be no discussion about when the games break even," Waller said.
But those all-important broadcast dollars are still scarce, in part because the audience appears to be concentrated and spreading slowly. Half of the people who attend NFL games in the U.K. have been to one already, and one in three spectators buys tickets to all three London games.  Meanwhile, each contest calls for double the amount of traveling players and staff as a domestic game, driving up costs.
"The question we ask ourselves is: 'If we bring a team, one that people will root for, can that team be successful?'" Waller said. "Our belief is if that team can be successful then fans will come and will come for all the eight- or 10-game schedule."
The NFL is now trying a new foreign play. On Nov. 21, the Oakland Raiders will host the Houston Texans as the home team at Estadio Azteca in Mexico City, Mexico. The game will kick off at 7:30 p.m. -- that's 7:30 both in Houston and Mexico City.
Watch Next: Promoting the NFL in China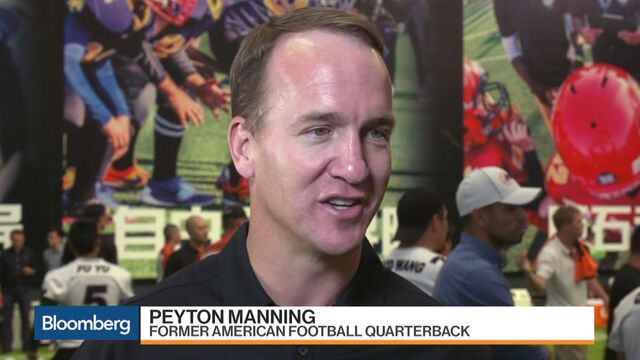 Before it's here, it's on the Bloomberg Terminal.
LEARN MORE