Spend
SPEND: The Arrivals Have Made the Perfect Basic Parka
The unisex modular coat from the Arrivals keeps things deceptively simple.
By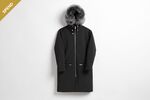 Sometimes having the best doesn't mean paying the most.
Take, for instance, the Halstrøm Modular Unisex Snow Parka made by the the Arrivals.
While coats of this caliber can regularly exceed $1,000, this one has a minimalist elegance and versatility that surpass the $695 price tag. Its streamlined exterior and removable parts include a wind- and waterproof micro mesh shell, a modular hood, Italian Toscana shearling fur, and a European white goose and feather down body liner. The thing is wearable from crisp October cool to the depths of December.

This small label became prominent last year with the debut of its astounding structured leather Rainier coat ($795), which earned attention for its quality and affordability. The brand was founded by Jeff Johnson and Kal Vepuri, an architect and investor, respectively, with no formal background in fashion at all.

If anything, their fashion-outsider status has strengthened the business. Vepuri had invested in such as Warby Parker, Harry's, and Makerbot—all brands trying to exploit untapped opportunities in overlooked markets, so he applied that outlook to clothes. The Arrivals sells its wares only online (a small studio on 16th Street takes some visitors), eliminating the expense and hassle of running physical stores and allowing it to maintain textile and construction quality without passing that cost to the consumer. Most of the clothes are made in New York, too, so the design team (with members formerly at Tom Ford and Nike) can produce entire collections in less than two months. This isn't that unusual these days, but the Arrivals did it early and well. The lack of bureaucracy and philosophical baggage in the back office translates to the clothing: Each limited-run piece from the Arrivals feels fresh and exclusive. Shipping and returns are free.  

The outsider status has also strengthened the product. Each piece in the line is cut with an architect's eye for detail and structure; the fact that it's a relatively small collection unconstrained by the demands of the formal fashion-week calendar, with a few pieces added each year, means that the company can work at its own pace to perfect items before they go on sale. In addition to the parka and moto jacket, a unisex European goose down bomber ($345) and thick, asymmetrical sweatshirt ($125) deserve high praise. It's not even October, and they're nearly sold out.

Before it's here, it's on the Bloomberg Terminal.
LEARN MORE