Ralph Whitworth, Relational Investors Co-Founder, Dies at 60
By and
Activist investor won leadership changes at Home Depot, IBM

Resigned as chairman of Hewlett-Packard Co. in July 2014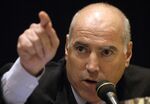 Ralph Whitworth, an activist investor who forced leadership changes at International Business Machines Inc., Home Depot Inc. and other U.S. corporations with a hands-on approach he honed working with T. Boone Pickens, has died. He was 60.
He died Sept. 29 at UC San Diego Medical Center, David Batchelder, who co-founded Relational Investors LLC with Whitworth, said in a telephone interview. Whitworth resigned as chairman of Hewlett-Packard Co. in July 2014 and took a leave of absence from his money-management firm to focus on his health. He later said he had HPV-related squamous cell carcinoma. The San Diego-based firm closed at the end of 2015.
When Hewlett-Packard named Whitworth to its board of directors in 2011 -- amid complaints about its declining stock value, and after Whitworth had accumulated an almost 1 percent stake -- the computer maker joined a list of companies that found it advisable to invite his strong opinions inside the tent.
Proxy Battles
A stickler on corporate-governance issues, he fought proxy battles from the outside or pushed on the inside -- a type of activism known as relationship investing -- to tie executive compensation to performance, and for boards to be independent from management.
"We have become more sophisticated and refined at what we do as activist investors," the Financial Times quoted him saying in 2008. "We don't go and argue over strategy and the business plan."
His critiques helped bring about the replacement of chief executive officers John Akers at IBM, Robert Nardelli at Home Depot, Gary Forsee at Sprint Nextel Corp. and Jay Sidhu at Sovereign Bancorp Inc. As chairman of Waste Management Inc. from 1999 to 2004, Whitworth oversaw a turnaround at the Houston-based company after an accounting scandal.
BusinessWeek magazine, in 1993, called him "the Ross Perot of investor rights" for "his populist attacks on entrenched management." In his aggressive public campaigns, he often was allied with institutional investors, including the California Public Employees' Retirement System, Calpers.
'Bad Cop'
"He plays the role of the bad cop," Richard H. Koppes, then-general counsel of Calpers, told BusinessWeek. "That allows us to be the good cop."
Early in his career, Whitworth pushed for rule changes that helped make his later activism possible.
As head of the Pickens-founded United Shareholders Association in 1990, he petitioned the U.S. Securities and Exchange Commission to overhaul proxy voting so shareholders had more say in corporate affairs. In 1992, the SEC gave investors enhanced power to nominate and elect directors and required companies to be clearer in disclosing executive compensation.
"This gives us about 90 percent of what we expected," Whitworth said at the time.
Pickens Protege
In 1996, Whitworth teamed with another Pickens protege, Batchelder, head of Batchelder & Partners Inc., to form Relational Investors, an activist fund targeting companies with lagging stock prices. Calpers invested $200 million.
Relational Investors managed about $6 billion when Whitworth stepped down in 2014. He applied his wealth to passions including cars and music.
He paid $1 million to a favored charity of Paul McCartney to get the ex-Beatle to perform at the 50th birthday party of his first wife, Wendy Walker, held at a restaurant near their home in Rancho Santa Fe, California, in 2003.
That marriage ended in divorce. In 2006, Whitworth married Fernanda Lopes and paid the Four Tops to perform at their reception, according to the San Diego Union-Tribune. In May 2015, he arranged for a private show by the Rolling Stones at a club in Solana Beach, California.
Whitworth built a 1965 GTO from junkyard parts while growing up in Winnemucca, Nevada, and later acquired four-wheel prizes including a Tom Beatty Lakester purchased for $440,000, according to BusinessWeek.
Car Collector
With a childhood friend, he collected 200-plus classic cars at a 6,650-square-foot, climate-controlled building in Winnemucca they named the Flying A Garage, Hot Rod magazine reported. The plan fell through, the cars were auctioned in 2009, and the Flying A Garage became home to the Winnemucca Police Department.
"You have wonderful plans, and then life intervenes," Hot Rod quoted Whitworth as saying in January 2010. He cited his four children -- including a 2-month-old -- and the 2008 "earthquake in the financial world" as among the interruptions.
In the final three years of his life, Whitworth worked to advance the use of immunotherapy to treat cancer, establishing a foundation to collaborate research between the University of California San Diego Moores Cancer Center and the La Jolla Institute for Allergy and Immunology, Batchelder said.
"I hope some day that he's remembered as one of the explorers in this area that was able to put us on the right path to find a cure for cancer," Batchelder said. "That would be the real legacy that I know he would want."
'Big Hit'
Ralph Victor Whitworth was born Oct. 12, 1955. He changed schools as his father, a mining engineer, chased prospects around Nevada, according to the Financial Times story, which quoted him as saying, "My dad was a dreamer basically, out there looking for the next big hit. He actually got one -- uranium in southeastern Utah in the 1950s -- and then spent it all, pretty quick, and never got another one."
In the 1992 announcement of his wedding to Walker, he named his mother, Charlene Kaasch, and his stepfather, Carl D. Kaasch, both deceased.
He graduated in 1982 with a degree in political science from University of Nevada at Reno, where he later established a scholarship in the College of Business's Scholar Leader program. During the summer before his senior year, he met Paul Laxalt, a Republican who represented Nevada in the U.S. Senate from 1975 to 1987 and chaired Ronald Reagan's campaigns for president.
Capitol Hill
He practiced law for a few months before heading to Capitol Hill to work on Laxalt's Senate Judiciary Committee staff and on Reagan's successful 1984 re-election campaign. He received a law degree in 1985 from Georgetown University in Washington, where, he said, he felt the first spark of interest in corporate governance in a class taught by Donald Schwartz, a leading advocate of corporate social responsibility.
Through that class he met Pickens, who was starting to transform his Mesa Petroleum Co., one of the largest independent U.S. producers of oil and gas, into a nationwide financial force with attempted corporate takeovers. Whitworth became his assistant and dated his daughter for a time.
Pickens insisted his hostile takeover bids were, at root, attempts to get shareholders the best return on their investment -- an argument, if not a technique, that Whitworth carried on.
As part of his push, Pickens in 1986 created United Shareholders to represent what he said were the interests of small investors. Pickens began as chairman, with Whitworth directing day-to-day operations. When Pickens left the group in 1990, Whitworth took the title of president.
Ranking System
Under Whitworth, United Shareholders ranked America's biggest companies on stock performance, shareholder rights record, executive stock ownership and compensation policies. Once a year it named up to 50 companies that would be the targets of its activism during shareholder meetings.
He wasn't paid for that work. He relied on a six-figure annual income from a lobbying practice representing mining and energy concerns, including Mesa Petroleum and the Bronfman brothers of Canada, BusinessWeek said.
In 1993, Whitworth announced United Shareholders would close at year's end. "We don't want to be another Washington paper tiger, trumping up stories of hell and damnation and offering false promises of salvation, feeding off of our membership," he said, according to the Washington Post.
In 2000, Mattel Inc., the world's largest toymaker, named Whitworth to its board following profit shortfalls, sluggish sales and executive departures under CEO Jill Barad. Whitworth persuaded management and the board to dump the company's money-losing computer-game business, Learning Co., less than a year after Mattel bought it for $3.5 billion, BusinessWeek reported in 2004.
'New Blood'
Mattel needed "new blood" and didn't have "healthy dynamics," Whitworth said at a 2000 conference sponsored by the Council of Institutional Investors.
In 2003 Relational Investors bought a $54.5 million stake in Plano, Texas-based J.C. Penney Co., and Whitworth was credited with helping press the company to sell its flagging Eckerd drugstore unit.
Whitworth turned his attention to Palo Alto, California-based Hewlett-Packard in 2011, acquiring a stake after the company's purchase of software maker Autonomy Corp. for $10.3 billion. By September Meg Whitman was named CEO. Whitworth joined the board that November and took over the chairmanship on an interim basis in April 2013.
The company's shares gained 25 percent during Whitworth's tenure on the board.
Achievement Award
He received the Lifetime Achievement Award from the London-based International Corporate Governance Network in 2013.
Whitworth, who lived in Rancho Santa Fe, a San Diego suburb, is survived by his wife, Fernanda, and their children Douglass and Ava, and two children from his first marriage, Amaya and Ralph Walker Whitworth, who is known as Walker.
Before it's here, it's on the Bloomberg Terminal.
LEARN MORE