OPEC Deal Will Further Squeeze Asia's Refiners, Goldman Says
By , , and
Refining margins in Singapore are 40% lower than last year

Higher oil prices could hinder demand growth for fuels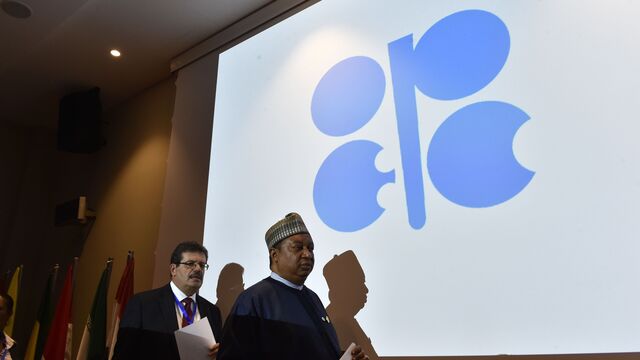 Refiners in the world's biggest oil market, already struggling with a profit-sucking glut of refined fuel, face another hindrance if OPEC members cut supplies of crude.
The Organization of Petroleum Exporting Countries on Sept. 28 agreed to its first production cut in eight years, trying to support oil prices that are still down more than 50 percent from the highs of 2014. Pricier crude will be passed on to consumers in the form of more expensive gasoline, diesel and jet fuel, and that will dampen demand growth, Goldman Sachs Group Inc. analysts including Nikhil Bhandari wrote in a Sept. 30 research note.
Asian fuel-makers are already making about 40 percent less profit than a year ago from converting crude oil into gasoline and diesel. Fuel stockpiles in developed Asian economies rose to 174 million barrels in June, the highest level for the month since 2007.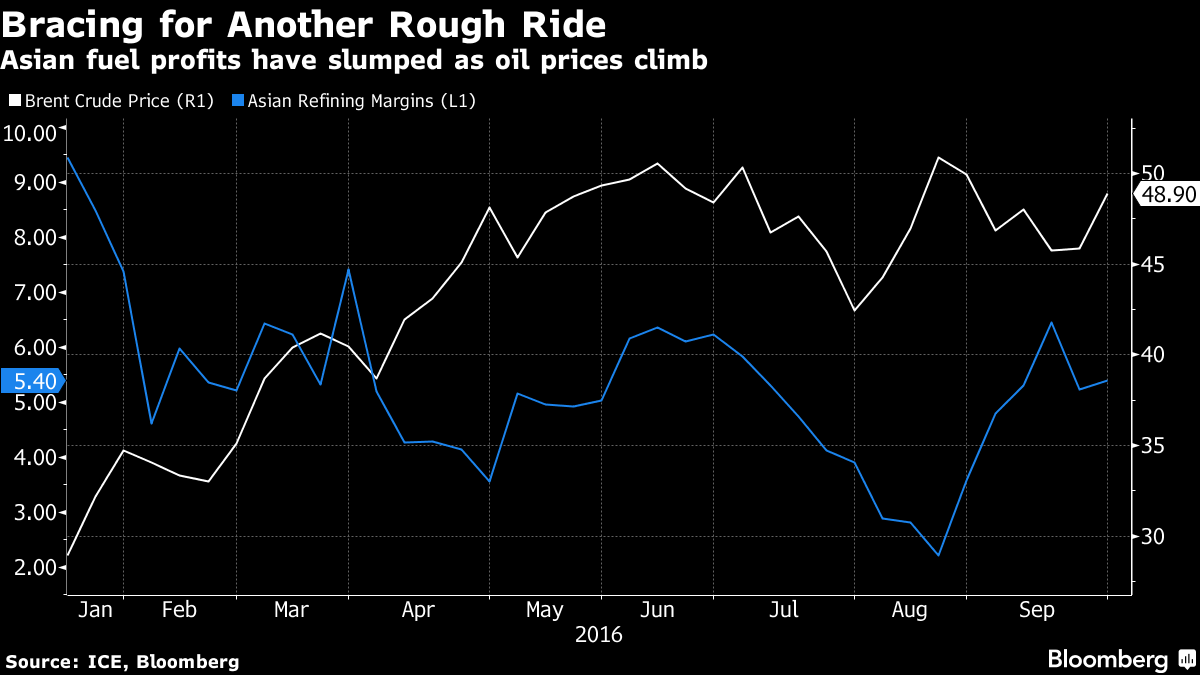 "Good times for Asian buyers are long over since earlier this year and this OPEC decision is exacerbating the bad news," said Wang Pei, a trading analyst at Unipec, the trading arm of Asia's largest refiner, China Petroleum & Chemical Corp. "An OPEC deal will be bullish" for Dubai crude prices, "which is bearish for refiners," she said.
OPEC will reduce production to a range of 32.5 million to 33 million barrels a day, from 33.7 million in August. Members still have to sort out how the cuts will be implemented at their November meeting in Vienna. Doubts remain about whether the accord will actually be implemented, Kim Woo Kyung, a spokeswoman at SK Innovation Co., South Korea's biggest refiner, said by phone on Friday. Brent oil futures rose 5.9 percent the day the deal was announced. They fell 0.6 percent on Friday to $48.93 a barrel.
The market is so over-supplied with oil that even if the cuts are implemented prices might not rise, B.K. Namdeo, director of refineries at state-run Hindustan Petroleum Corp. said in a phone interview. And if prices do rise, it will just spur U.S. shale drillers to increase production, which will pressure prices back down, he said.
"Immediately there may be some sentiment and crude may go up $5-$6 a barrel, but that will be only for short term," Namdeo said. "I don't think something will happen that will take back crude to $35 a barrel, but will hover at $45-$48 levels."
Stocks, Margins
If prices do rise, they will initially provide a boost for refiners, as it will increase the value of oil and refined products sitting in storage tanks, Hong Sung Ki, a Seoul-based commodities analyst at Samsung Futures Inc., said by phone.
The longer-term impact will be determined by how a price hike will affect refiners' profit margins. Fuel exports from Chinese refiners this year have lowered prices of gasoline and diesel relative to crude, reducing margins to as little as $2 a barrel in August, compared with almost $10 a year ago, according to data compiled by Bloomberg. The margin, reflecting the profit from processing Dubai crude in a complex refinery in Singapore, was $5.40 a barrel on Thursday.
"Given the oversupply in the fuels market currently and slowing demand patterns in many developed markets plus China, the amount to which products prices increase alongside oil prices over the coming quarters could be much softer than previous times," Peter Lee, a Singapore-based analyst with BMI Research, said by phone.
Asian refiners also should be concerned that OPEC members may reverse discounts they have been offering as they fought to maintain market share in the region that buys the most oil in the world, Goldman's Bhandari said in the report. Saudi Arabia offered a discount of $1.10 a barrel for its Arab Light crude to Asian buyers in September, compared with a premium of $3.75 in January 2014 before prices started to crash. Iran's benchmark light oil, which was at a $3.96 premium in January 2014, was at an 85 cent discount this month.
"In the event an OPEC production cut materializes, we think it could be negative for Asian refiners due to the potential reversal of crude discounts they enjoyed as OPEC producers fought for market share," Bhandari wrote. "Higher oil prices eventually put sustained pressure on product demand while costs to run the refinery escalate."