Obama Notes Unfinished Business of Peace as Peres Is Buried
By and
Says Israeli leader didn't want Jews to rule over other people

Leaders from around the world gather in Jerusalem for funeral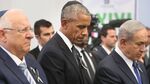 U.S. President Barack Obama called on the next generation of leaders to complete Shimon Peres's vision of peace between Israelis and Palestinians, as dignitaries from around the world gathered in Jerusalem to bury the former Israeli president and Nobel Peace Prize winner.
In the final and most political speech of a long program Friday at the national cemetery on Mount Herzl, Obama said Peres had told him Jews shouldn't rule over another people and that Palestinians were entitled to dignity and self-determination.
"Just as he understood the practical necessity of peace, Shimon believed that Israel's exceptionalism was rooted not only in fidelity to the Jewish people, but to the moral and ethical vision, the precepts of his Jewish faith," Obama said. "'From the very first day we are against slaves and masters,'" he quoted Peres, the last of Israel's founding generation of leaders, as having told him.
The subtle criticism came as Obama winds down an eight-year tenure marked by continuous friction with Israel's conservative prime minister, Benjamin Netanyahu, whom he sat next to at Friday's service. Obama has repeatedly characterized Israeli settlement-building in the West Bank as an obstacle to peace, while Netanyahu contends that Palestinian rejection of a Jewish state, not settlements, is the core of the conflict. 
Obama's remarks also showed an evolution in his portrayal of Israel during his two terms in office. Criticized in Israel for a pivotal Cairo speech early in his tenure in which he appeared to describe the nation in narrow terms as a reaction to the Holocaust, Obama said on Friday that Peres demonstrated that "justice and hope are at the heart of the Zionist idea. A free life, in a homeland regained."
Legacy Cited
Peres, who served as president, prime minister, finance minister and other senior posts during a career that spanned Israel's entire history, died Wednesday at age 93 after suffering a stroke Sept. 13. Obama compared him to Nelson Mandela, contrasting Peres with politicians who he said think in sound bites or pander to public whim.
Netanyahu, for his part, reminisced about his close friendship with Peres despite their political differences. The two were known to confer often on matters ranging from politics to history to literature, and Peres publicly praised Netanyahu's intellect and acumen.
"Israel grieves for him. The world grieves for him," Netanyahu said. "But we find hope in his legacy, as does the world."
Almost 80 world leaders gathered in Jerusalem for the funeral. Other speakers included former U.S. President Bill Clinton, Israeli novelist Amos Oz, and Peres's three children.
Peres began his career on the hawkish side of Israel's Labor Party and helped build up the country's nuclear program and defense industry, before later becoming Israel's foremost advocate for peace with the Arab and Muslim world. He shared the Nobel Peace Prize for the historic 1993 peace accord with the Palestinians, though he didn't live to see his vision of a "New Middle East" realized.
Mount Herzl
He was buried on Mount Herzl between former prime ministers Yitzhak Rabin and Yitzhak Shamir, who were alternately Peres's political partners and rivals over the years.
Even in death, Peres was instrumental in bridging differences: The funeral offered an opportunity for Netanyahu and Palestinian Authority President Mahmoud Abbas to meet after months of failed international efforts to arrange a summit. The two shook hands before the funeral and Netanyahu thanked Abbas for coming, though he didn't acknowledge Abbas in his public remarks.
Obama did, noting the symbolism of Abbas's presence at a time when, he said, many Arab youth are taught to hate Israel from a young age. Many of Israel's own Arab parliamentarians boycotted the ceremony, and some Palestinians criticized Abbas for entering a site named for the founding father of Zionism.
Peres "understood from hard-earned experience that true security comes through making peace with your neighbors," Obama said. "I don't believe he was naïve."
"Todah rabah, chaver yakar," Obama concluded in Hebrew, which translated means: "Thanks very much, dear friend."