Modi, Sharif Curb Tensions After Raid Across Pakistan Border
by , , and
No plan to escalate by scrapping treaties with Pakistan: India

Want peace to focus on development, education: Pakistan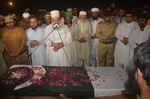 India and Pakistan moved to contain military tensions after Prime Minister Narendra Modi's administration announced it killed terrorists just across the border, the biggest armed escalation since a standoff 17 years ago.
There's no plan to worsen the situation by scrapping treaties or cutting off ties with Pakistan, though diplomatic and economic pressure will continue through a review of trade and water-sharing pacts, an Indian Foreign Ministry official told reporters on Thursday, asking not to be identified. While Pakistan is ready to defend its territory, the nation wants peace to focus on economic development, Prime Minister Nawaz Sharif said in a statement on Friday.
The calls for calm come amid rising violence in the disputed region of Kashmir, where insurgents attacked an Indian army camp at Uri on Sept. 18, leaving 19 Indian soldiers dead.
"India's response to Uri had to meet three criteria: dissuade Pakistan, satisfy domestic audiences, prevent escalation," said Dhruva Jaishankar, a New Delhi-based foreign policy fellow at Brookings India, adding it's too early to judge the success of the first two goals. "It's the steps taken to prevent escalation that are the most interesting aspect of this episode."
For an explainer on turmoil in Pakistan, click here.
India's army said its military operations against Pakistan had ended after an overnight raid on what it described as militants assembled to infiltrate India. Indian troops didn't use any airpower, instead sending soldiers across a de facto border into Pakistani territory, the Indian official said, asking not to be identified given government policy. While enemy casualties ran into double digits, there were no Indian deaths, the official said.
Pakistan's army rebuffed India's announcement, calling the claim of surgical strikes an "illusion."
"We want to spend our efforts on social and economic upliftment of the people and on ending poverty and we are working on it," Sharif said at a cabinet meeting on Friday called to discuss India's "unprovoked aggression." "For that purpose, we want peace. But let me clear that even our children are ready to defend their motherland. The entire nation is standing with armed forces."
Nuclear Deterrent
While both nations' nuclear weapons deter all-out war, Modi was probably frustrated after Sharif rebuffed several diplomatic overtures, said C. Raja Mohan, director at the Carnegie India think-tank in New Delhi. Sharif in 2013 became Pakistan's first leader to win power in a democratic transfer, but the nation has been ruled for almost half of its history by the military, which still wields great influence.
"Pakistan's first response has been to deny that there was a raid. This helps Pakistan save face, and so reduces the risk of serious escalation," said Shashank Joshi, a fellow at the Royal United Services Institute in London. "But Pakistan will understand that the public announcement of the raid by India means the rules of the game are changing, and we are likely to see greater defensive measures on the line of control."
Modi this week canceled a planned visit to Islamabad in November for a regional summit, and is set to review India's 'most favored nation' trade status for Pakistan, though trade between the two nations is small. Earlier this week his government said it would review a 1960 treaty with Pakistan, which covers water-sharing rights from rivers flowing through Kashmir.
The region is held equally by India and Pakistan but claimed in full by both. Terrorist violence killed 201 people in Kashmir in 2016, the deadliest year since 2010, according to the South Asia Terrorism Portal.
Foreign Investors
Any escalation in violence could sour sentiment for foreign investors who have pumped the most money into Indian stocks and bonds this quarter since March 2015. The latest military offensive is the worst since 1999, when then-Prime Minister Atal Bihari Vajpayee -- also a member of Modi's nationalist Bharatiya Janata Party -- responded to cross-border infiltrations by militants and Pakistani soldiers in Kashmir.
India's rupee gained 0.4 percent to 66.6150 a dollar in Mumbai, paring Thursday's 0.6 percent drop. The benchmark S&P BSE Sensex rose 0.1 percent, compared with a 1.6 percent plunge, and Pakistan's benchmark equity gauge rebounded 0.6 percent.
"There is an escalation while global powers are asking both countries to sit and resolve the Kashmir issues," said Rashid Ahmed Khan, professor of international relations at the University of Sargodha in Pakistan's Punjab province, adding that both countries will probably calm down and move toward talks. "What India and Pakistan are doing to each other is to satisfy domestic constituencies and compulsions by taking hard positions."
Afghanistan on Friday called India's strikes an act of self defense. China hopes issues between India and Pakistan are settled through dialogue, Foreign Ministry spokesman Geng Shuang said Thursday at a regular briefing. U.S. National Security Adviser Susan Rice called her Indian peer Ajit Doval on Wednesday, condemning the Sept. 18 "cross-border" attack and reiterating America's expectation that Pakistan act against terrorists.
"We believe that continued communication is obviously important to reduce tensions," U.S. State Department spokesman John Kirby said Thursday. "We've repeatedly expressed our concerns regarding the danger that terrorism poses to the region and we all know that terrorism in many ways knows no border."
Before it's here, it's on the Bloomberg Terminal.
LEARN MORE