Hamilton's Rory O'Malley Breaks Down Clinton's Virtuoso Debate Performance
On this week's Culture Caucus podcast, the actor who plays King George in Hamilton gives a thespian's view of how Clinton and Trump held up in front of the camera at the first presidential debate.
By and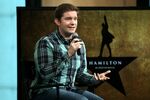 So much of presidential debates is about performance and exhibition, and Monday's first showdown between Hillary Clinton and Donald Trump, the most-watched debate in American history, was no different. A debate performance is like no other: the format requires the participants be not only well-versed in every possible issue, but also aware of, and prepared for, what is essentially a 90-minute closeup. Every blink, every twitch, every sigh, every sniffle, is magnified and amplified. Not even the most seasoned actor has had such an experience. It's a unique theatrical event.
In the 14th episode of the Culture Caucus podcast, we dig into the first debate between Clinton and Trump, particularly how much preparation it required—not just on the topics to be discussed, but on how each candidate would come across, physically, to 84 million people. It was clear from the outset that Clinton had thought about the ramifications of having a camera pointed at her for 90 minutes, and that Trump had not. Even if you watched without sound, it was obvious who had won. We dig into why she so clearly outperformed him, and what it might portend for the next debate.
In the second half of the podcast, we are extremely excited to talk to Rory O'Malley, who plays King George in the smash musical Hamilton, and is also a serious political junkie. He gives a bona fide thespian's take on the thespianship on display at the debate, breaking down exactly what Clinton did right, in a theatrical sense. He also gives the inside scoop on the Trump musical written by Joe Scarborough, for which he taped a demo song—in the voice of Trump.
It's a fun show, and Rory is a terrific guest. Enjoy! You can e-mail us about it at politics@bloomberg.net. Come say howdy!
Before it's here, it's on the Bloomberg Terminal.
LEARN MORE