business
Euro Money Markets Most Stressed Since 2012 on Deutsche Bank
By and
Stress in Europe comes amid new U.S. money market rules

Central banks' liquidity provision helps limit contagion
Banks borrowing dollars are paying the most since the height of the euro region's sovereign-debt crisis as concerns mount about the health of Germany's largest lender, just as new money-market rules are disrupting U.S. short-term financing markets.
The three-month cross-currency basis swap, the rate for banks to convert euro payments into dollars, fell to 58 basis points, or 0.58 percentage point, below the euro interbank-offered rate. That's the most negative reading on a closing basis since July 2012, when the debt crisis was seen threatening the very existence of the euro. It widened to 210 basis points below Euribor as banks refused to lend to one another in 2008 after the collapse of Lehman Brothers Holdings Inc.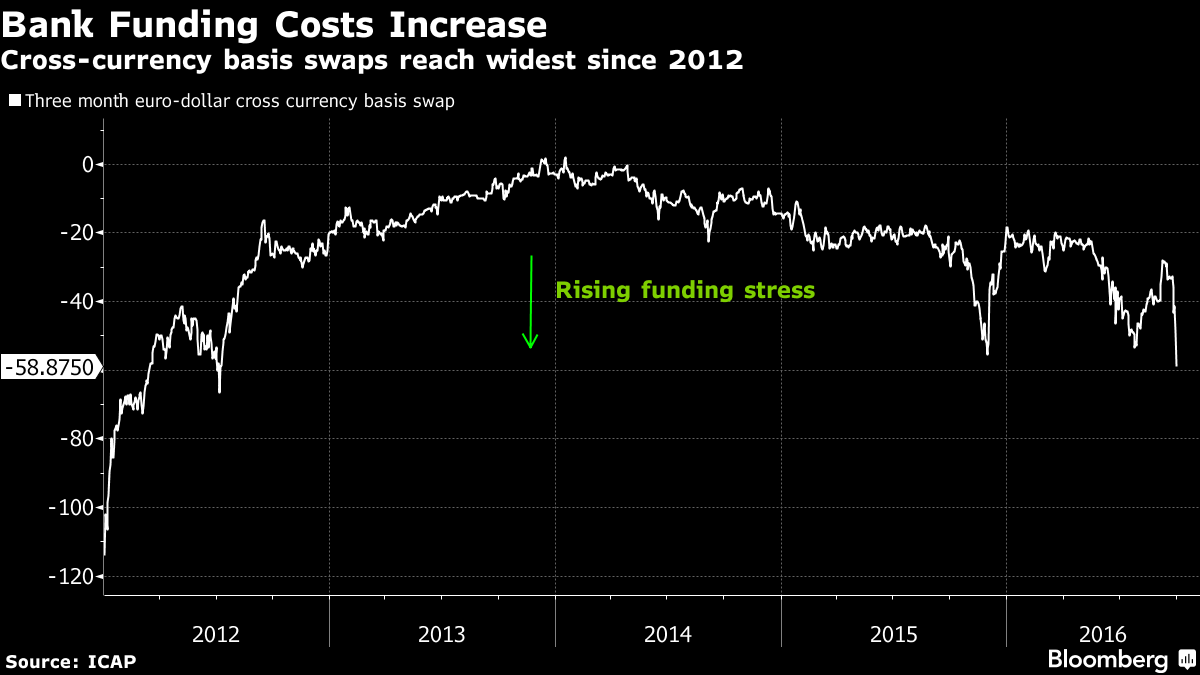 While Deutsche Bank AG's woes are roiling financial markets and boosting demand for the safest assets as they raise fresh questions about the profitability of the region's lenders, the European Central Bank's asset-purchase program and other measures are limiting contagion. Even as they were set for the biggest jump since June, so-called FRA/OIS spreads, a measure of bank risk, were within three basis points of their record-low level from two weeks ago.
"There is some stress materializing," said Peter Chatwell, head of rates strategy at Mizuho International Plc in London. Still "any stress is going to look like a blip in comparison to 2008. We may see stress measures widening but it's difficult to envisage something so significant occurring that there is a money-market shock," he said.
SEC Overhaul
The stress in European funding markets comes at a time when demand for global bank credit instruments from the U.S.'s $2.6 trillion money market mutual fund industry has declined, making it more costly for financial institutions to fund themselves.
This has arisen as the U.S. Securities and Exchange Commission's overhaul of the industry, aimed to make it safer, is set to be put in place on Oct. 14.
Prime money funds, which seek higher yields by buying securities such as bank commercial paper, are at the center of the upheaval with assets in those funds sliding by about $700 billion this year, Investment Company Institute data show.
The institutional sector of these funds as part of the new mandates will no longer be allowed to report a fixed $1-a-share daily price. This has driven money into those funds exempt from the change and cut demand for bank short-term debt and lifted three-month U.S. dollar Libor this month to its highest since 2009.
— With assistance by Richard Jones, and Stephen Spratt
(
Adds impact of U.S. rule changes from the first paragraph.
)
Before it's here, it's on the Bloomberg Terminal.
LEARN MORE