Duterte Rejects Hitler Comparison, 'Happy' to Kill Drug Addicts
By and
Blasts critics who compare his anti-drugs campaign to genocide

German government condemns president's Holocaust reference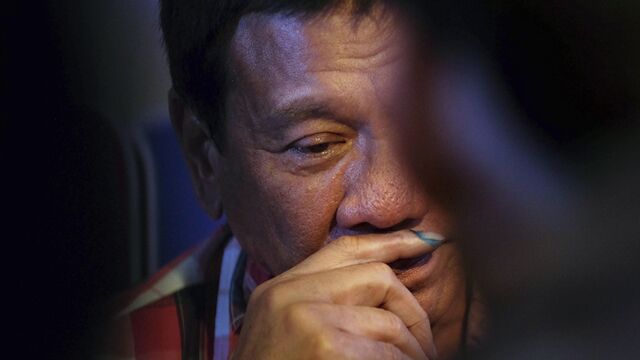 Philippine President Rodrigo Duterte lashed out at unnamed critics he said have compared him to Adolf Hitler and have likened his anti-drugs campaign to genocide.
"You're worried about the death of about 1,000, 2,000, 3,000" Duterte said in a speech early on Friday, referring to the number of people killed since he began his war on illegal drugs. "Hitler massacred 3 million Jews. Now there is 3 million, there's a 3 million drug addict. There are. I'd be happy to slaughter them," he said, according to a transcript provided by the president's office.
Duterte added that he would like to "finish the problem of my country and save the next generation from perdition." At least 6 million Jews died during the Holocaust instigated by Hitler and the Nazis.
Duterte has made good on a promise to launch a ruthless campaign to suppress illegal drugs, with more than 3,000 people killed in the past three months. He has called narcotic use a pandemic and defended the tactics of police while accusing critics of valuing the lives of criminals over what he says is the good of society.
For a wrap on Rodrigo Duterte's drug war in the Philippines, click here.
The campaign has prompted criticism both at home and abroad, with the UN, European Union and U.S. among those expressing concern. Duterte regularly attacks critics in obscenity-filled speeches, including one in which he threatened to leave the UN and another that prompted U.S. President Barack Obama to cancel a meeting with him.
The German government condemned Duterte's reference to Nazi atrocities during World War II.
"Every comparison of the atrocities of the Shoah and Holocaust with anything else is inadmissible," Foreign Ministry spokeswoman Martin Schaefer told reporters in Berlin.
Last week, Duterte said he would welcome an investigation from both the EU and the UN. He said there was no law against threatening criminals, and only drug suspects who resisted arrest had been killed.
— With assistance by Patrick Donahue, and Ditas B Lopez
Before it's here, it's on the Bloomberg Terminal.
LEARN MORE