Debate Commission Says There Were 'Issues' With Trump Audio Inside Hall
In the spin room Monday night, the Republican presidential candidate cited problems with his microphone.
By and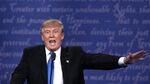 Donald Trump said Friday that dealing with audio problems at the debate Monday night made his performance difficult – and those problems were harder than dealing with Hillary Clinton.

The Commission on Presidential Debates announced Friday the audio system in the auditorium wasn't working properly during the debate at Hofstra University in New York.

"There were issues regarding Donald Trump's audio that affected the sound level in the debate hall," the commission said in a one-sentence statement posted to its website.