Debate Commission Says There Were 'Issues' With Trump Audio Inside Hall
In the spin room Monday night, the Republican presidential candidate cited problems with his microphone.
By and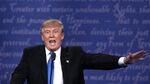 Donald Trump said Friday that dealing with audio problems at the debate Monday night made his performance difficult – and those problems were harder than dealing with Hillary Clinton.

The Commission on Presidential Debates announced Friday the audio system in the auditorium wasn't working properly during the debate at Hofstra University in New York.

"There were issues regarding Donald Trump's audio that affected the sound level in the debate hall," the commission said in a one-sentence statement posted to its website.
Trump again raised the specter of sabotage.
"They just announced it. It just came out a little while ago, that the microphone in the auditorium, the big room was defective," Trump said at a rally Friday evening in Michigan. "And it was difficult. And you know when you have a situation like that and you know it's bad and you think you have 100 million people watching, what do you do, stop the show? Please fix it?"
"It was bad. I wonder why it was bad? Think of that," he said. "It was so bad."
The commission's statement made no mention of the audio for the television broadcast, which was seen by more than 83 million people, and gave no other details explaining what happened. 
In the spin room Monday night, shortly after he left the stage, the Republican presidential candidate cited problems with his microphone. "Did you notice that? My mic was defective within the room," he said. "I wonder, was that on purpose? Was that on purpose? But I had a mic that wasn't working properly within the room." 
Since then, Trump has claimed that the debate was "rigged," pointing to both the mic and the moderator, Lester Holt of NBC News.
On Tuesday, Hillary Clinton ridiculed his complaints as a sign that he knew he fell short on the debate stage. 
"Anybody who complains about the microphone is not having a good night," she told reporters in response.
He also faced questions for repeatedly making a sniffling noise during the debate, leading some viewers to wonder if he had a cold. "No, no sniffles, no cold," he said.
Trump has pitched his stamina as an important qualification for the White House, drawing a contrast with Clinton, whose health scare left her unable to stand up on her own at a public event on September 11. Her aides later said she'd been diagnosed with pneumonia. She took three days off the campaign trail to recover.
On Wednesday, Trump's deputy campaign manager David Bossie said the sound was due to a turned-up mic picking up Trump's normal breathing. "That's really what it was," he said on Fox.