Czechs Urge U.K. to Start Brexit Talks Soon, Protect EU Citizens
by
Government in Prague says four freedoms are inseparable

U.K. needs to take measures to protect other EU nationals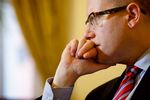 The Czech Republic joined fellow European Union nations demanding the U.K. trigger Brexit negotiations without delay and urged Theresa May's government to protect other nationals from "hate attacks" after a Czech man was beaten to death in London last week.
In a phone conversation with May late Thursday, Prime Minister Bohuslav Sobotka reiterated a stance shared by other EU members that the bloc's four basic freedoms of movement -- for goods, services, capital and people -- can't be separated in Brexit talks, according to a statement from his office.
"It's important for the Czech prime minister and other leaders of member states that negotiations about new relations between the European Union and Great Britain start as soon as possible," the government said in a description of the conversation.
Almost 100 days since the U.K. voted to leave the EU, governments on the continent have expressed frustration with Britain's reluctance to start the process. Instead of an immediate move to withdraw from the world's largest trading block, May's cabinet has instead taken a measured approach. Formal exit negotiations may only start next year and then take two years to conclude.
Sobotka also asked May to stop violence against other EU citizens after a Czech was killed in a brawl in London last week. The attack followed an incident in which a Pole was beaten to death in Harlow, north of London, late in August and two other Polish nationals were assaulted in the same town earlier this month.
"It's unacceptable for the Czech government that Czechs would be attacked because of their origin and treated as second-class citizens," Sobotka said. He asked May to inform him "about measures that will be taken by her government so that these hate attacks aren't repeated."
Before it's here, it's on the Bloomberg Terminal.
LEARN MORE