Canada GDP Growth Exceeds Forecasts on Oil-Production Reboot
Greg Quinn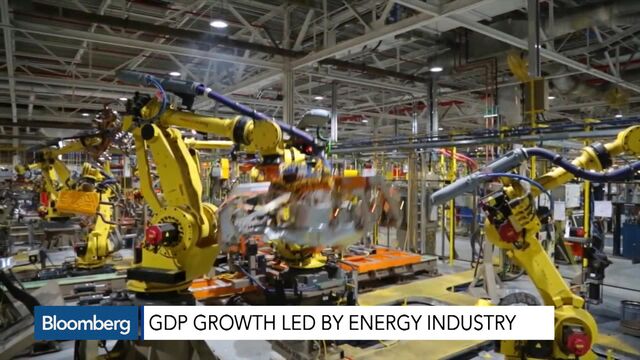 Canada's gross domestic product expanded faster than economists expected in July as Alberta oil companies rebuilt production that had been shut down by wildfires.
Total output climbed 0.5 percent from the prior month, Statistics Canada said Friday from Ottawa. The median forecast in a Bloomberg survey of economists was for a 0.3 percent increase. The expansion was led by a 5 percent increase in the energy industry.
The economy still faces challenges on its way to recovery from a broader slump in commodity prices. Bank of Canada Governor Stephen Poloz said Monday it would take three to five years before things get back to normal after the oil shock, and Friday's report marks the first time this year that GDP has grown for two consecutive months, after a 0.6 percent increase in June.
Nick Exarhos, an economist at CIBC World Markets in Toronto, said the news supports the central bank's view that growth will quicken to a 3.5 percent annualized pace this quarter. "It does signal that the worst is actually over for the Canadian economy in terms of growth, although we only have a small margin of error," he said by phone from Toronto, adding a third-quarter rebound would likely remove the odds of a Bank of Canada rate cut "in the near term."
Slow Demand
Investors had raised bets earlier this month that the central bank would cut its 0.5 percent benchmark interest rate on signs of weak inflation and slow demand from abroad for the country's exports. Whether or not non-energy exports and the wider economy recover is also crucial for Prime Minister Justin Trudeau, who expanded deficit spending earlier this year to rekindle growth.
Canada's dollar strengthened 0.2 percent to C$1.3120 per U.S. dollar at 10 a.m. Toronto time. Swaps trading showed the odds of a rate cut in the next year fell to 39 percent from 44 percent Thursday.
After a 0.6 percent contraction in May as fires struck Alberta, the June and July rebound was the strongest two-month expansion in five years.
Production of non-conventional oil ramped up again in July with a 19 percent increase. Fires knocked about 1 million barrels of production a day from Alberta's oil sands in May and forced the evacuation of 80,000 people from the hub of Fort McMurray.
Petroleum, Transport
Manufacturing rose 0.4 percent on the month, including an 8 percent rise in the petroleum and coal products component, Statistics Canada said. Transport equipment production fell by
1.5 percent.
No other category made a large contribution to growth like energy did in July, and there was a mix of gains and losses.
Transportation and warehousing rose 1.1 percent, in part as Canadians flew to the Olympics in Brazil. Tourists coming to Canada lifted accommodation and food services by 1.4 percent, the fastest gain in four years.
Construction fell by 0.8 percent, the fourth straight decline, while finance and insurance service output gained 0.9 percent.
"The Bank of Canada will be relieved by the strength of July's GDP report, but they are not yet fully out of the woods," Robert Both, global macro strategist at Toronto-Dominion Bank's TD Securities unit, wrote in a research note.
(Updates with comment from fourth paragraph.)
Before it's here, it's on the Bloomberg Terminal.
LEARN MORE