markets
Bank Stocks Decline in Asia as Deutsche Bank Concerns Increase
By
Bank Stocks Decline in Asia as Deutsche Bank Concerns Increase
By
China's Bocom, Mitsubishi UFJ lead drop among Asian lenders

Deutsche Bank's New York-listed shares fell to record low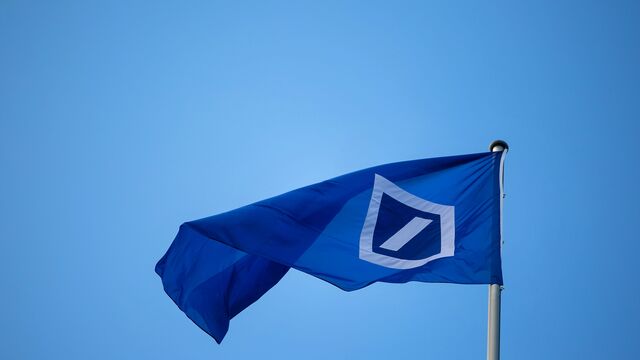 Bank stocks extended a global slump in Asia as investors fretted over regional lenders' exposure to Deutsche Bank AG's mounting woes.
Declines in Bank of Communications Co. and Mitsubishi UFJ Financial Group Inc. on Friday have put an index of Asian banks on course for its lowest close in two weeks after Bloomberg News reported about 10 hedge funds doing business with the German lender have moved to reduce their financial exposure. Deutsche Bank's New York shares fell 6.7 percent to a record low on Thursday, leading a slump by banks listed in America.
The 10 funds, a small subset of the more than 800 clients in the bank's hedge fund business, have moved part of their listed derivatives holdings to other firms this week, according to an internal bank document seen by Bloomberg News. While the vast majority of Deutsche Bank's more than 200 derivatives-clearing clients have made no changes, the hedge funds' move highlights concern among some counterparties about doing business with Europe's largest investment bank.
"I don't think there is much direct connection with Asian banks, but Deutsche's exposure to the derivatives market is huge," said Andrew Clarke, Hong Kong-based director of trading at Mirabaud Asia Ltd. "That will be spread across European and U.S. banks, which in turn, of course Japanese banks have exposure to, and China banks will have exposure to all of them."
Biggest Contributor

The Bloomberg Asia Pacific Banks Index lost 0.6 percent as of 1:27 p.m. Friday in Hong Kong, poised for the lowest close since Sept. 16. Bocom's Hong Kong shares dropped 2.6 percent, while Agricultural Bank of China Ltd. lost 1.8 percent.
In Japan, Mitsubishi UFJ and Mizuho Financial Group Inc. sank more than 1.5 percent. A gauge of banks in the Topix index fell 2 percent, taking its drop this year to 30 percent, the worst performance of 33 industry groups.
The International Monetary Fund in June said Deutsche Bank may be the biggest contributor to risk among so-called global systemically important banks. The bank has gross notional derivatives exposure of 46 trillion euros ($52 trillion), according to an investor relations presentation published this month. After netting and collateral, reported derivative trading assets fall to 41 billion euros, the bank said.
Lehman Collapse
"Market participants are watching this with a lot of fear, and a bit like a tsunami, where the first wave is not necessarily the biggest," Mirabaud's Clarke said.
Clients review their exposure to counterparties to avoid situations like the 2008 collapse of Lehman Brothers Holdings Inc. and MF Global's 2011 bankruptcy when hedge funds had billions of dollars of assets frozen until the resolution of lengthy legal proceedings.
Deutsche Bank's stock and debt have been under pressure after the U.S. Justice Department this month requested $14 billion to settle an investigation into residential mortgage-backed securities. The bank has said it expects to negotiate that lower, as other Wall Street banks have.
How Deutsche Bank Key Metrics Stack Up as Risk Premiums Rise
Concerns over banks were compounded by news that Commerzbank AG is planning to reduce about one in five jobs, suspend dividends and shrink securities trading. In the U.S., Wells Fargo & Co.'s Chief Executive Officer John Stumpf endured a second day of withering assaults from lawmakers over the bank's fake-account scandal.
Wells Fargo and JPMorgan Chase & Co. dropped more than 1.5 percent in U.S. trading on Thursday. Deutsche Bank's New York shares closed at $11.48, having slumped 52 percent this year.
Pressure on the German lender has intensified since mid-September, when the Justice Department's $14 billion demand was revealed. The firm has long struggled to adapt to an era of tougher capital requirements and diminished trading revenue.