A Deutsche Bank Stress Signal Reemerges as Credit Curves Invert
by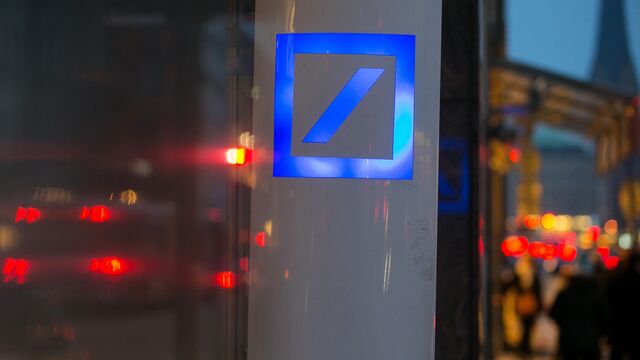 Amid turmoil in Deutsche Bank AG's stock and after some hedge funds moved to reduce their exposure to Germany's biggest bank, an old sign of credit stress reemerged.
The cost of insuring against losses on the lender's debt for one year surpassed that of protection for five years on Friday. The so-called credit curve also briefly inverted in February and March, the only other time since the crisis in 2009, according to CMA data compiled by Bloomberg. 
Credit-default swaps protecting Deutsche Bank's junior bonds for one year surged to 625 basis points on Friday, exceeding five-year contracts at 505 basis points, according to CMA. One-year swaps on senior bonds jumped to 270 basis points, overtaking five-year contracts at 241 basis points, the data show. Pressure in credit markets started ebbing later in the day and the stock rebounded.

Deutsche Bank came under pressure after the U.S. Department of Justice this month requested $14 billion to settle an investigation, and some funds shifted part of their listed derivatives holdings to other firms, according to an internal bank document seen by Bloomberg News. Financial markets pared some of their losses after a media report that the bank may reach a lower settlement in connection with the U.S. probe, which is tied to residential mortgage-backed securities.
Charlie Olivier, a spokesman for Deutsche Bank in London, declined to comment on its credit-default swaps. A change in German law putting senior debt of the country's banks at risk of losses imposed by regulators has been partly to blame for the selloff, Chief Executive Officer John Cryan said earlier this year.
In a memo to staff outlining how to deal with client inquiries, dated Sept. 27 and seen by Bloomberg News, the bank said that customers broadly understand that "CDS are no longer a necessarily accurate reflection of counterparty risk." The bank's funding costs have remained lower than default swaps indicate this year, according to the note.
Cryan also rushed to shore up confidence on Friday, saying that the bank's balance sheet is safer than at any point in the past two decades.
Before it's here, it's on the Bloomberg Terminal.
LEARN MORE