Yellen Pledges Diversity at Fed Amid Search for Atlanta Chief
by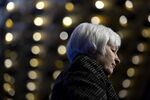 Federal Reserve Chair Janet Yellen, under fire in recent months for the lack of diversity among the central bank's senior officials, said the Fed is committed to bringing more minorities into its leadership.
"I want to be clear to all of you that I am committed to improving diversity throughout our organization, including at the upper ranks," Yellen said in the text of remarks she is scheduled to deliver Thursday via video conference to an event hosted by the Kansas City Fed for minority bankers. She didn't comment on the outlook for the economy or monetary policy.
Activist groups and lawmakers have brought increased pressure on the Fed this year to find more women and minorities to fill its most influential positions. Yellen, the first woman to lead the Fed, has been grilled by Congress on the selection of regional bank presidents.
The Atlanta Fed is currently searching for a successor to retiring President Dennis Lockhart, and Yellen's Board of Governors in Washington has final approval over the choice. A recent study found that of 134 past and present regional Fed presidents, none were African-American or Latino. Only two were non-whites and six were women.
"Diversity is also important on the boards of directors and advisory councils of" the Fed's regional banks, Yellen said.
Before it's here, it's on the Bloomberg Terminal.
LEARN MORE