Style
Why You Need an M-65 Field Jacket This Fall
For starters, it's the perfect transitional jacket.
By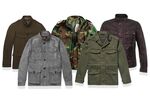 Fall is here, with its breezy evenings and confounding "transitional" coats. Say you have a leather jacket already, and a denim one; you're still in a pickle if it's misty out, or just on the cold side. For a casual-yet-dressed-up option in these instances, go for the increasingly popular field jacket, also known as an M-1965 jacket. The M-1965, or M-65 for short, is the perfect transitional jacket to wear as the leaves start changing.

The M-65 was introduced during World War II, following earlier models of field jackets that experimented with light, water-resistant fabrics. The M-65 featured windproof cotton to keep soldiers warm and water-resistant layers to keep them dry. The multiple utility pockets on the front were capacious and always accessible. Over the years, they typically came in three popular colors: khaki, blue, and olive. All three colors were worn by soldiers during combat.
A field jacket today is usually made out of similarly weatherproof material, so you can wear it in the rain or on a sunny day during the fall. But this year, designers have experimented with new colors and materials to broaden its appeal. Here are five that you can own right now: 
Marc Jacobs Cotton Field Jacket 

This is a stylish interpretation of the simple, classic field jacket in a traditional olive drab. It will literally never go out of style. ($890, mrporter.com)
Tom Ford Felt Field Jacket 

Tom Ford's version of the M-65 jacket is made out of felt, a thicker and warmer fabric that will get you through fall and winter. The military-inspired details remain a nice nod to the classic. ($3,595, mrporter.com) 
Alpha Industries M-65 Field Coat  

Alpha Industries is the original maker of the M-65 jacket. The brand was responsible for producing this style for soldiers in combat back in 1965 and went on making them for the next half-century. ($180, alphaindustries.com)
Belstaff Racemaster 

Belstaff is one of the front-runners when it comes to the classic field jacket, and the brand gets it right each season. This style is waxed, so it's especially useful on a rainy day. ($585, stuartslondon.com)
Tod's Suede Field Jacket 

A field jacket is usually water-repellent to some extent, but this delicate suede number from Tod's is handsome enough that you just may throw caution to the wind (and rain). ($5,045, mrporter.com)
Before it's here, it's on the Bloomberg Terminal.
LEARN MORE