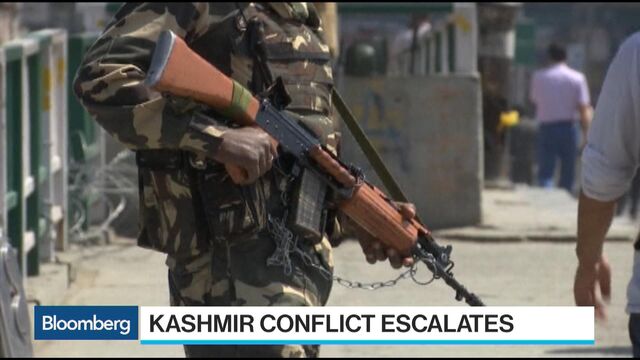 Tensions between nuclear-armed India and Pakistan are escalating. India, the world's fastest-growing major economy, says it attacked terrorist camps across its border -- a claim its neighbor rebuffed as "illusion." Investors responded by selling assets in both countries. Analysts see a strategic shift in Prime Minister Narendra Modi's response to repeated attacks that India has blamed on terrorists backed by Pakistan.
1. Why do India and Pakistan distrust each other? 
India and Pakistan were created out of the bloody partition of British India in 1947. The tensions before and after the drawing of new borders uprooted 14 million people and erupted in mob violence that killed as many as 1 million Hindus, Muslims and Sikhs. The two countries have gone on to fight three wars since independence. Pakistan's founders believed India saw the subcontinent's partition as temporary and hoped to absorb the territory that had become Pakistan at the first opportunity. India has been frustrated by what it sees as Pakistan's support for terrorists that continue to strike inside its territory, particularly in Kashmir.
2. What's so special about Kashmir?
Two of the countries' three wars have been over Kashmir, an area in the Himalayas that is claimed in full -- and ruled in part -- by both India and Pakistan. At the time of partition, India and Pakistan courted the subcontinent's various princely states to join their respective fledgling nations. The Hindu ruler of Muslim-majority Kashmir couldn't decide which new country to join. Pakistani irregulars invaded, India intervened, and the two countries fought to a stalemate. Roughly 70 years later, the two sides remain in a tense stand-off along a de facto border known as the Line of Control, one of the most heavily militarized zones in the world.
3. What caused the latest fighting?
India's Modi has been under pressure to retaliate against Pakistan for a deadly strike in the Kashmiri town of Uri that killed 18 Indian soldiers on Sept. 18. Pakistan's leaders denied any involvement. On Sept. 29, India's director general for military operations, Lieutenant General Ranbir Singh, said India conducted surgical strikes on terrorist "launch pads" after the Indian army received "specific and credible" information about upcoming attacks planned in Kashmir and other Indian cities. 
4. Does India risk starting another full-scale war?
Analysts say India has long been constrained by the fact that both countries have nuclear weapons, but they suggest Modi is betting the large electoral mandate he won in 2014 -- and recent, violent events -- provide him flexibility in striking back at Pakistan without prompting a broader, potentially nuclear, conflict.
5. Why does this matter for investors?
India's $2.1 trillion economy is Asia's third largest, and its growth is expected to keep surpassing most major peers according to Bloomberg surveys. Foreign investors have been net buyers of local shares for the longest stretch in about two years to tap into this expansion. Hostilities have affected the markets before. India halted trading of bonds, stocks and currencies on Nov. 27, 2008, after attacks across the financial capital of Mumbai in which 164 people were killed by insurgents from Pakistan. Stocks dropped 3.2 percent in the three days after trading resumed while the rupee slid 1.4 percent. In 1999, after Pakistani troops invaded Kargil in Jammu and Kashmir and India launched air strikes, the nation's benchmark stock index tumbled 2.8 percent.
6. Where are we likely to go from here?
India is contemplating non-military responses, including perhaps building dams or expanding hydro-electric projects along important rivers flowing from India to Pakistan. Modi's administration is also suggesting it could revoke the "Most Favored Nation" trading status India granted to Pakistan in 1996 -- an act that was never reciprocated. It's likely that tensions will remain high between New Delhi and Islamabad. "We are entering the worst period for India-Pakistan relations in over a decade," predicts Shashank Joshi, a fellow at the Royal United Services Institute in London.
The Reference Shelf
Before it's here, it's on the Bloomberg Terminal.
LEARN MORE