Stumpf Berated Again as Lawmakers Renew Calls That He Quit
By , , and
New York's Maloney questions timing of CEO's 2013 stock sale

Stumpf agrees some workers' behaviors constituted theft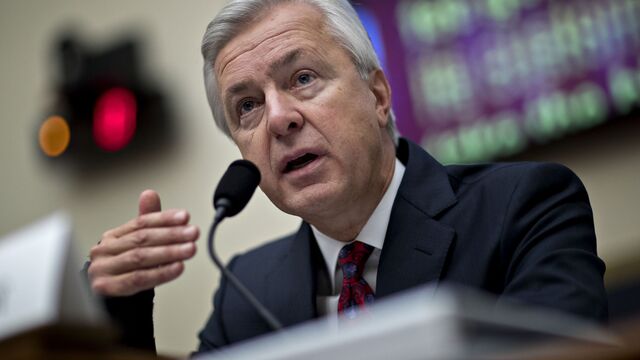 Wells Fargo & Co. Chief Executive Officer John Stumpf endured a second day of withering assaults from lawmakers furious over the bank's fake-account debacle, defending himself against new accusations as a separate scandal emerged over the firm's treatment of service members.
"I don't personally see how you survive," Representative Denny Heck, a Washington Democrat, told Stumpf Thursday as the 63-year-old CEO testified for four hours before the House Financial Services Committee.
Between calls that he be arrested and suggestions that the entire board of directors be replaced, Stumpf tried to show that the bank is holding leaders accountable after finding that about 2 million accounts might have been created without customers' authorization. Last week, Stumpf faced similarly tough questions at a Senate hearing, where Massachusetts Democrat Elizabeth Warren demanded he resign and labeled him a "gutless" leader.
Troubles mounted for the company, once the world's most valuable bank, as the Justice Department said it reached a settlement with Wells Fargo over allegations the company improperly repossessed cars owned by members of the military. The bank agreed to pay more than $4.1 million to settle the case, the department said. Wells Fargo also agreed to pay $20 million to the Office of the Comptroller of the Currency over the allegations.
"Your problem is coming," Representative Mike Capuano, a Massachusetts Democrat, told Stumpf at the hearings in Washington. "You think today is tough? It's coming. When the prosecutors get ahold of you, you're going to have a lot of fun."
Related Story: Stumpf Says He Spoke With Buffett About Lapses
Representative Maxine Waters, a California Democrat, said the hearings had convinced her that Wells Fargo is "too big to manage" and should be broken up.
Shares of the company dropped 2.1 percent to $44.37 at 4 p.m. in New York, extending this year's decline to 18 percent, the worst performance in the 24-company KBW Bank Index.
In one of the most heated exchanges, Greg Meeks, a Democrat from New York, accused Stumpf of being a criminal and chastised him for not being held accountable. Meeks said the entire board should be fired.
Wells Fargo "is a criminal enterprise," Meeks said. "Would you allow someone to walk out after robbing your bank?"
Stumpf agreed that the behavior at issue was "dishonest," and said it broke the bank's code of ethics. In some cases, what employees did constituted theft, he said.
Representative Carolyn Maloney, a New York Democrat, said the timing of Stumpf's $13 million stock sale in 2013 was "very, very suspicious and it raises serious questions" because she said it may have followed a briefing he received on the scope of the bogus-account problem. Stumpf said he first learned of the issue in the summer or fall of 2013.
Stumpf's Bad Day: A Summary of Lawmakers' Withering Attacks
The CEO sold 300,000 shares through a family trust at a weighted average price of $43.18 on Oct. 30, 2013, according to a company filing later that year. The $13 million sale followed an exercise of 550,260 stock options with a strike price of $28.43, the filing shows. He sold an additional 460,696 shares for $19.9 million to pay taxes.
Stumpf told Maloney that he currently owns four times the amount of stock he's required to hold, and said the sale she was referring to wasn't done in reaction to the problems at the bank. The options would have expired on Feb. 24, 2014, according to the firm's proxy statement from March 2013, meaning he'd no longer be able to exercise them after that date.
The scandal has been escalating since Sept. 8, when the San Francisco-based lender agreed to pay a record $185 million to authorities including the Consumer Financial Protection Bureau. Politicians from both parties have since railed against the bank, urging federal agencies including the Justice and Labor departments to open additional probes. The company now faces a raft of lawsuits from employees, customers and investors.
"Fraud is fraud and theft is theft, and what happens at Wells Fargo over the course of many years cannot be described in any other way," the House committee's chairman, Texas Republican Jeb Hensarling, said in his opening remarks. Hensarling told Stumpf he wishes he could pay off the mortgage he has with Wells Fargo, "because you have broken my trust."
Related Story: Wells Fargo Troubles Mount With Penalty for Soldiers' Loans
Stumpf said the bank has so far reached out to customers of 20,000 accounts who were issued credit cards and 25 percent said they didn't apply or can't recall applying.
When asked whether the company was looking into whether the opening of bogus accounts hurt customers' credit scores to the point that they were denied mortgages, Stumpf said: "We're going to dig into that and make it right."
Stumpf, who serves as both CEO and chairman, has repeatedly sought to quell public frustrations, telling Congress he bears ultimate responsibility for overseeing the bank, and that he's "deeply sorry" it broke customers' trust. On Tuesday, he announced that he will forgo $41 million in unvested stock that had been granted for performance back to 2013 as well as some of his salary. He won't receive a bonus for this year.
"I'm going to do everything I can to lead this company going forward," he said Thursday.
Wells Fargo's board said its independent directors also will oversee an internal review into what happened. The inquiry may result in further compensation changes or employment actions, the company said. And that could include evaluating whether top executives such as Stumpf should keep their posts, according to a person with knowledge of the panel's deliberations.