At the Paris Auto Show, the Electric Future Is Now
By , , and
Automakers broaden electric-car appeal as regulations tighten

'We are flipping a switch,' Daimler CEO Zetsche says in Paris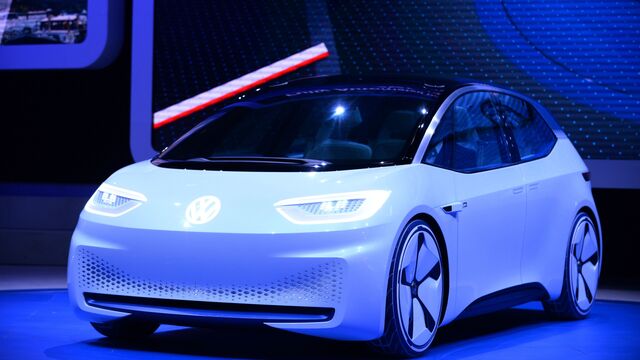 Volkswagen AG and Mercedes-Benz are leading a sea change in the auto industry's approach to electric cars, with ambitious plans aimed at ending consumer apathy for battery-powered vehicles.
At the Paris Motor Show, automakers from General Motors Co.'s Opel to Renault SA are trumpeting their latest electric-car offerings. Unlike past years when the focus was on viability, this year's exhibitions are aimed at creating mass appeal, addressing concerns about range and widening the array of choices. 
Volkswagen unveiled the I.D. concept vehicle, which is set to hit the market by 2020 and can drive almost twice as far as Tesla Motors Inc.'s upcoming Model 3 sedan on a charge. While only a prototype, the VW hatchback will kick off the roll-out of 30 battery-powered cars in the coming years, as the German manufacturer seeks to recast an image tarnished by the emissions-cheating scandal. Volkswagen has high hopes for the vehicle.
"This car will probably be revolutionary," Herbert Diess, head of the VW brand, said in a Bloomberg TV interview with Caroline Hyde. "It will probably have the same importance that the Beetle had in its age, or the Golf. The next generation will be I.D."
For more news on the Paris Motor Show, click here
Mercedes is being similarly aggressive. After previously relying on converting existing models to electric, the Daimler AG unit now plans to introduce at least 10 new battery-powered vehicles. The cars and related technology such as charging boxes and energy storage will be marketed under the EQ nameplate, giving the effort more visibility.
"We're now flipping the switch," Daimler Chief Executive Officer Dieter Zetsche said in Paris. "We're ready for the launch of an electric product offensive that will cover all vehicle segments, from the compact to the luxury class."
BMW, Tesla
European manufacturers in particular have been slow to devise a coherent electric-car strategy, with the notable exception of BMW AG, which has two distinct cars built around a carbon-fiber architecture already on the road. Tesla's success with buyers in the U.S. and Norway has broadened the appeal of electric cars, though the U.S. manufacturer has stumbled as it seeks to lift output, something its well-established European rivals may have less trouble accomplishing.
While the cost of batteries has declined to make electric cars more affordable, the industry's turnabout also stems from pressure to meet ever-tighter emissions standards. The European Union is seeking efficiency improvements in the next five years that would be roughly double the gains made since 2010. These targets need to be met even as diesel, which European carmakers turned to in an effort to reduce carbon emissions, loses popularity in the wake of Volkswagen's cheating scandal. That puts pressure on automakers to sell more electric and hybrid vehicles.
Saudi Arabia helped the auto industry's cause by agreeing to cut oil production, a move that could lift sagging fuel prices and in turn make electric cars more attractive.
Oil Prices
"If oil goes up, it will give more intensity to electrification because consumers will see more savings," said Carlos Tavares, CEO of PSA Group, the maker of Peugeot and Citroen cars and Europe's second-biggest automaker.
To keep pace with the rush of new offerings, existing models like the BMW i3 and Renault Zoe are getting upgraded to extend their ranges. Renault also plans to intensify cooperation with alliance partner Nissan Motor Co., the maker of the top-selling Leaf, to safeguard the group's edge in electric vehicles.
"Our vision of the electric market is that it is not a niche market," Eric Feunteun, Renault's chief of electric vehicles, said in an interview.
— With assistance by Phil Serafino, Tommaso Ebhardt, and Caroline Hyde
Before it's here, it's on the Bloomberg Terminal.
LEARN MORE