U.S. ELECTION WRAP: Clinton-Trump Race Boosts GOP House Outlook
The tightening race between Hillary Clinton and Donald Trump may bode well for the Republicans push to keep control of the U.S. House.
By and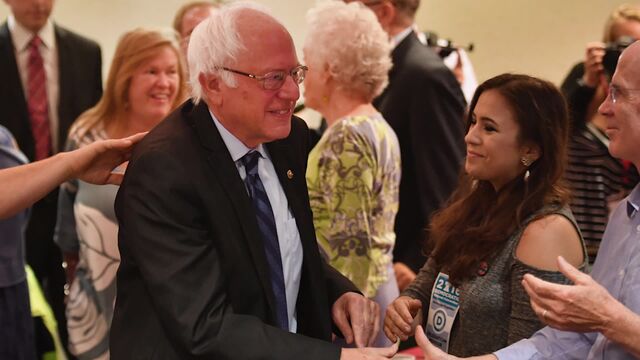 The tightening presidential race is giving Republican House strategists "renewed optimism" that Donald Trump may not hurt GOP candidates as much as earlier feared, Cook Political Report's David Wasserman wrote.
Following Monday night's debate, Hillary Clinton and Trump are virtually tied in a new national telephone and online survey of likely voters by Republican-centered Rasmussen Reports; 42% of respondents back Clinton while 41% support Trump, according to the group's first daily White House Watch survey
Meanwhile, the non-partisan Cook report this week revised its ratings in eight congressional districts, including six now viewed as in favor of Republican candidates; Democrats need to win 36 of 37 House seats currently seen as competitive to take control of House

"That would be virtually impossible," Wasserman said in blog post

Republicans are "well within reach" of holding their Election Day losses under the 13 seats they gained two years ago, according to Wasserman
Cook's ratings changes include moving the House race in Fla.'s 7th Congressional District to the "toss up" column from its former status of "Lean Republican"

The district that includes Orlando's north suburbs --where incumbent GOP Rep. John Mica was running unopposed by any Democrats as recently as June -- may now be 2016's "ultimate bellwether House race": Wasserman

Mica's Democratic challenger, Rollins College business professor Stephanie Murphy, who decided to run in part because of the tragic shooting at Orlando's Pulse nightclub and the related gun-control debate, is "straight out of central casting," Wasserman said
Murphy, maiden name Dang, fled communist Vietnam with her family by boat when six months old; they eventually settled in Va., where her parents found work in manual labor; Murphy, who speaks four languages, has degrees from College of William & Mary and Georgetown School of Foreign Service: Wasserman
Mica could be facing his "toughest race ever," in part because of court ordered redistricting and shifting demographics: Wasserman

Mica won his 12th term in 2014 with 64% of the vote against an underfunded Democrat in a district that backed Mitt Romney over President Obama by a margin of 5 percentage points
Under new lines approved by the Fla. Supreme Court for this year, Mica's district became less Republican-leaning after absorbing some Hispanic precincts in the Orlando area; under the new lines, Obama and Romney were evenly divided

See Cook's other rating changes below under "House Races"

DEBATE #2
Clinton stumped in Des Moines, Iowa, where in a jab at Trump she told the crowd she has "no idea" what her GOP opponent will say at the next debate, but that she will "spend some time preparing for it"
Clinton spokesman Brian Fallon had a warnings for Trump: don't mention Bill Clinton controversies at the next debate

Fallon told reporters it would "completely backfire" if Trump decides to make an issue of the former president's infidelities in the next debate, which is set for Oct. 9 in St. Louis
Should Trump go that route, he would be "pursuing it from a position of weakness": Fallon

Trump's campaign may have N.J. Gov. Chris Christie lead the GOP nominee's preparations for the second debate, CNN reported
The former reality-TV star's campaign also has sent out a survey asking supporters for feedback from the first debate in order to "win the second one"
Senior aides and people close to Trump say the GOP candidate's debate performance was lacking and that he must improve, NBC News reported 
Trump is trying to regain his focus after Monday night's widely criticized performance against Clinton; he has returned to the campaign trail intent on honing his message on what he perceives to be his rival's weaknesses; see story by Bloomberg's Jennifer Jacobs here

Stumping this afternoon in N.H. one day after Clinton campaigned there with Sen. Bernie Sanders, Trump called on voters to "follow the money" when it comes to his Democratic rival
Alleged that Clinton, if elected, would put the White House "up for sale"

ENDORSEMENTS
America Online co-founder Steve Case is the latest billionaire to endorse Clinton

Case in Washington Post op-ed said Clinton would be better for the economy, especially in terms of start-ups and innovative technology

Clinton also got endorsements from former Republican Reps. Sherwood Boehlert of N.Y. and Claudine Schneider, the first and only woman from R.I. elected to House, as well as Phil Brady, who served as counsel to Ronald Reagan, Nicholas Rostow, former special assistant to Reagan and George W. Bush, and Howard Denis, former GOP Maryland state senator
Detroit News is backing Libertarian Gary Johnson, calling it an endorsement based on "conscience"

"Today this newspaper does something it has never done in its 143-year history: endorse someone other than the Republican candidate in a presidential contest," editorial board wrote

Gannett-owned Arizona Republic's endorsement of Clinton, which marked the first time the newspaper has backed a Democratic presidential candidate in all its 120 years, has led to a spate of subscription cancellations, as well as death threats, local NBC affiliate reported

The Cincinnati Enquirer, also owned by Gannett, also is supporting Clinton after almost 100 years of endorsing GOP presidential candidates

POLLS
Bloomberg's John McCormick looks at a group that political pollsters usually ignore: Americans who aren't planning to vote

In a close election like this year's presidential race, those who aren't currently planning to vote could matter a lot, if the campaigns can move them from the sidelines to polling places; the latest Bloomberg Politics national poll shows that Clinton has more of a stake in trying to motivate them than Trump
Read full story here

TRUMP AND CUBA
Trump Hotels & Casino Resorts, a company controlled by Donald Trump, paid consultants to examine business opportunities in Cuba in late-1990s when U.S. corporations were banned from spending money there except through charities, Newsweek reported, citing documents, court filings and interviews with former Trump executives

The real estate magnate's business with Cuba "appears to have broken the law, flouted U.S. foreign policy and is in complete contradiction to Trump's own repeated, public statements that he had been offered opportunities to invest in Cuba but passed them up," Jake Sullivan, a Clinton policy adviser, said in a statement following the report
Trump campaign manager Kellyanne Conway told ABC's "The View" that the Republican presidential nominee's hotel did not "invest money in 1998 in Cuba" in violation of the U.S. embargo

ETC

CONGRESSIONAL ELECTIONS
SENATE RACES (Republicans hold 54-46 majority)
FL: Republican Sen. Marco Rubio said he would be "deeply concerned," and Trump's campaign should "come forward and answer some questions," if Newsweek report on Trump-controlled company's activities in Cuba is accurate, ABC reported

Rubio seeking 2nd term against Democratic Rep. Patrick Murphy after losing to Trump in White House race
Related: Trump's Co. Spent Money on Cuba Despite Embargo, Newsweek Says
IL: Democratic Rep. Tammy Duckworth in TV ad highlighted her Iraq War service and said she would promote "fair trade," more affordable college and "expanded Social Security" for seniors

Duckworth said Republican Sen. Mark Kirk "voted for tax cuts for the wealthiest" in reference to his March 2013 vote against a Democratic alternative to non-binding GOP budget resolution
MO: AFSCME released TV ad of Iraq War veteran promoting Democratic Sec/State Jason Kander, who was Army intelligence officer in Afghanistan, and accusing Republican Sen. Roy Blunt of having "lied" about Vietnam-era deferments and "voted against increasing veterans' benefits"

Ad cites this Feb. story and refers to a 2014 Senate procedural vote related to an omnibus veterans' bill
NH: Independence USA PAC, a super-PAC funded by ex-NYC mayor Michael Bloomberg, released TV ad of Portsmouth police commissioner saying Republican Sen. Kelly Ayotte has sided with "Washington gun lobby" on legislation

Bloomberg is founder and majority owner of Bloomberg News parent Bloomberg LP
Ayotte and Democratic Gov. Maggie Hassan will debate tomorrow in Conway and on Oct. 3 at New England College in Henniker
WI: Reform Wisconsin Fund, a super-PAC, released TV ad saying former Democratic Sen. Russ Feingold has "30 years of being a radical politician," noting votes against banning abortion procedure opponents call "partial-birth" abortion

Reform Wisconsin Fund filed organizing papers with FEC earlier this month and hasn't disclosed its donors or spending
Nonpartisan analysts say Feingold favored to unseat Republican Sen. Ron Johnson in rematch of their 2010 race
HOUSE RACES (Republicans hold 246-186 majority)
RACE RATINGS: Cook Political Report updated race ratings today in eight contests, and six more favorably to Republicans

Reps. Lee Zeldin in NY-01 and John Katko in NY-24 and retiring Rep. Reid Ribble's WI-08 now in Lean Republican vs. Toss-Up; Rep. Rod Blum in IA-01 moved to Toss-Up from Lean Democratic; Rep. Martha McSally in AZ-02 shifted to Likely Republican from Lean Republican; and Rep. Dave Reichert in WA-08 moved to Solid Republican from Likely Republican
Mica's FL-07 now a Toss-Up, while Republican Rep. Jackie Walorski of IN-02 moved to Likely Republican from Solid Republican
AZ-01: Democrat Tom O'Halleran and Republican Paul Babeu debated yesterday on "Arizona Horizon" PBS program

O'Halleran, a former state legislator, and Babeu, the Pinal County Sheriff, seeking to succeed Democratic Senate nominee Ann Kirkpatrick in competitive district accounting for about half of the state's land area
FL-13: U.S. Chamber of Commerce endorsed Republican Rep. David Jolly, who has 97% career rating from group, over Democrat Charlie Crist, Florida Politics reported

Jolly in close race with Crist, the state's party-switching former governor, after redistricting added Democratic-leaning precincts in south Pinellas County
NE-02: Democratic Rep. Brad Ashford's campaign released TV ad of Omaha small-businessman saying Obama's Affordable Care Act "isn't helping small businesses like ours" and Ashford is working "with Republicans and Democrats to demand fixes to Obamacare"

Ashford, opposed by Republican Don Bacon, has sided with GOP on some ACA-related votes; he was among 16 Democrats who voted this week to exempt individuals from the ACA's mandate penalty if their nonprofit CO-OP plan coverage ended
In Feb. 2015, Ashford voted against full repeal of Obamacare; National Republican Congressional Cmte in statement said Ashford TV ad means he's "running from his support of Obamacare"
NH-01: Independent businessman Shawn O'Connor's campaign in TV ad said Republican Rep. Frank Guinta and former Democratic Rep. Carol Shea-Porter took campaign funds from "special interests," aligned with their parties on 95% of votes, and "got fired for failing New Hampshire"

Guinta and Shea-Porter are opponents for 4th straight election in competitive district that includes Manchester and Rochester; Guinta won in 2010, lost in 2012, won in 2014
NY-22: House Majority PAC, a Democratic super-PAC, released TV ad saying Republican Assemblywoman Claudia Tenney is "the very worst of Albany" for missing votes and backing a "political deal that gave New York City billions of dollars in housing-bond subsidies"

Tenney said she missed votes to care for her seriously ill mother and to attend her son's graduation from the Naval Academy
Ad references bill related to N.Y. state housing finance agency that the Assembly passed 124-15; Tenney's campaign said measure covered all of N.Y. state and helped with affordable housing
Tenney had 35% to Democratic businesswoman Kim Myers's 30% and independent investor Martin Babinec's 24% in Time Warner Cable News-Siena Poll
NRCC TV ad says Myers and Babinec are "multi-millionaires" who "deserted N.Y. workers just to make a buck"
Republican Rep. Richard Hanna, who beat Tenney in 2014 primary, not seeking re-election in competitive district that includes Utica, Binghamton, Rome
Before it's here, it's on the Bloomberg Terminal.
LEARN MORE