Trump Should Cheer Not Criticize Ford Motor, Bill Ford Says
by
Automaker is 'as American as you can get,' chairman says

He says Trump knows accusations of U.S. job cuts are wrong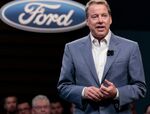 Ford Motor Co. is "as American as you can get" and Republican presidential candidate Donald Trump should celebrate the company for its U.S. commitments instead of criticizing it for building small cars in Mexico, the great-grandson of its founder said.
Trump is wrong for saying the automaker is cutting jobs in the U.S. and knows it, Bill Ford, the company's executive chairman, said Thursday at the World Mobility Leadership Forum near Detroit. Bill Ford said he has a relationship with Trump and doesn't understand why the candidate has singled out the automaker.
"We are everything that he should be celebrating about this country," Ford told reporters on the sidelines of the forum. "We pulled ourselves up by our bootstraps, we paid back our borrowings, we are healthy again, we've been adding jobs in the U.S. and we are the largest manufacturer of cars and trucks in the U.S."
Trump for more than a year has been making Ford Motor a target and during the Sept. 26 presidential debate repeated accusations that the automaker is eliminating U.S. jobs to move work to Mexico. The Dearborn, Michigan-based automaker took to Twitter and other social media during the debate to counter those claims. Bill Ford's response today follows similar comments yesterday by Chief Executive Officer Mark Fields.
For a video of comments by Ford CEO Mark Fields, click here
Ford is moving production of its slow selling Focus small car and C-Max hybrid to Mexico. The company is replacing those models in a Michigan factory with two new products, Fields said Wednesday. People familiar with the automaker's plans have said the new models will be the Ranger compact pickup and a revived Bronco sport utility vehicle.
Fields said the production transfer will result in "zero" jobs lost in the U.S.
"We've been, for over 100 years, in markets all around the world making vehicles," Bill Ford said. "We've always been an international company, but we've never lost sight of the fact that this is our home."
Before it's here, it's on the Bloomberg Terminal.
LEARN MORE