This Is What the OPEC Deal Did to Markets All Around the World
By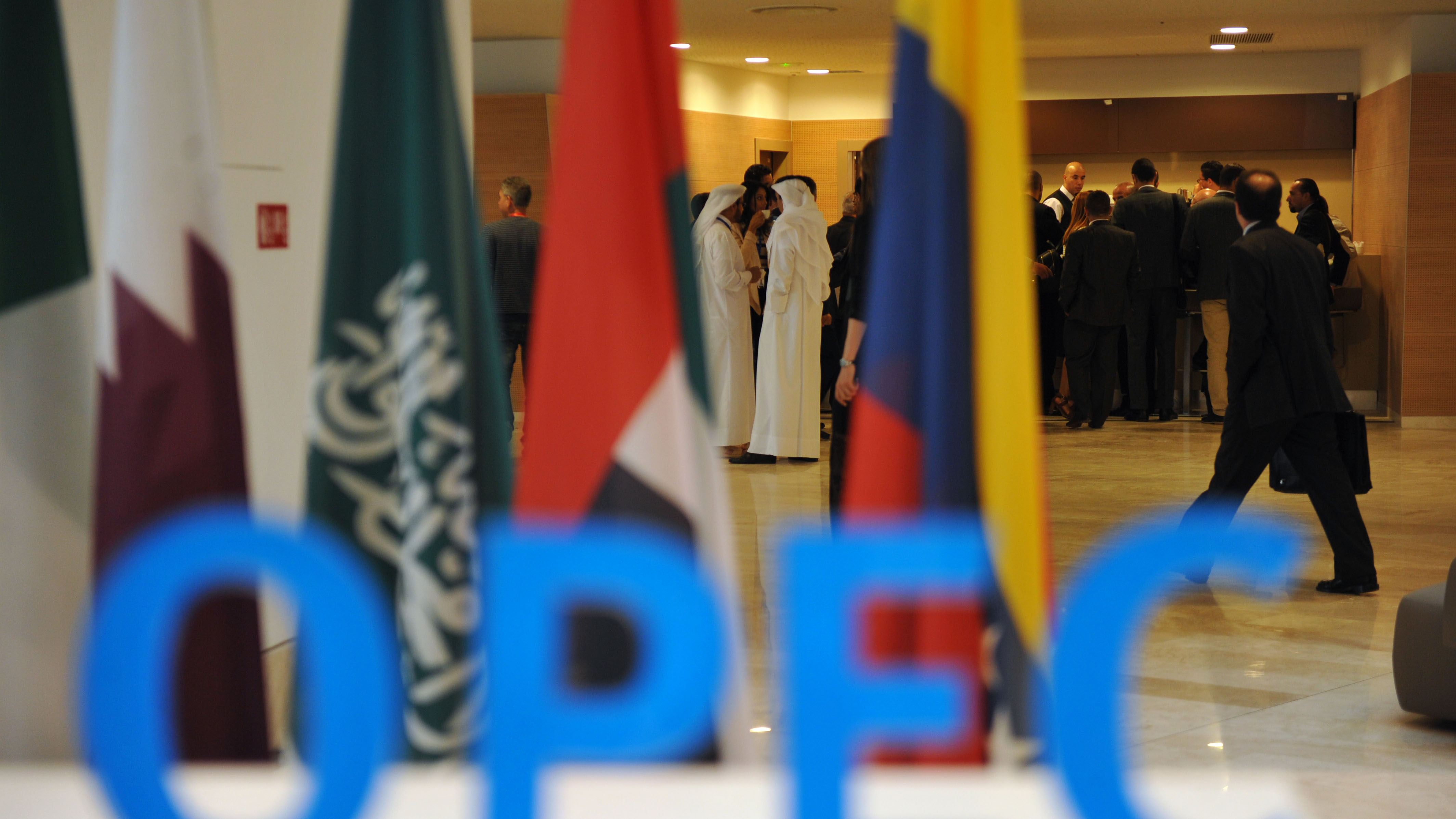 The following markets reacted the most to yesterday's announcement by OPEC ministers in Algiers to cut production for the first time in eight years:
Stocks rallied in Asia and Europe; Stoxx Europe 600 Index +0.7%
U.S. stocks and Treasuries declined as traders raised their inflation bets and comments from Federal Reserve officials suggested the Federal Reserve is moving closer to raising interest rates
The Bloomberg Dollar Spot Index rose 0.2 percent from its lowest close in more than two weeks
Malaysia's ringgit gained most among currencies of commodity-exporting nations
Japanese yen, South African rand led declines of energy importing countries
U.S. crude gained 1.9 percent to trade near $48 a barrel, following 5.3 percent jump yesterday when in OPEC deal announced
Sovereign bonds retreated across most of Asia and Europe amid speculation higher energy prices will revive inflation
Travel companies, airlines, automakers declined in Europe and Asia; Bloomberg World Airlines Index -0.1%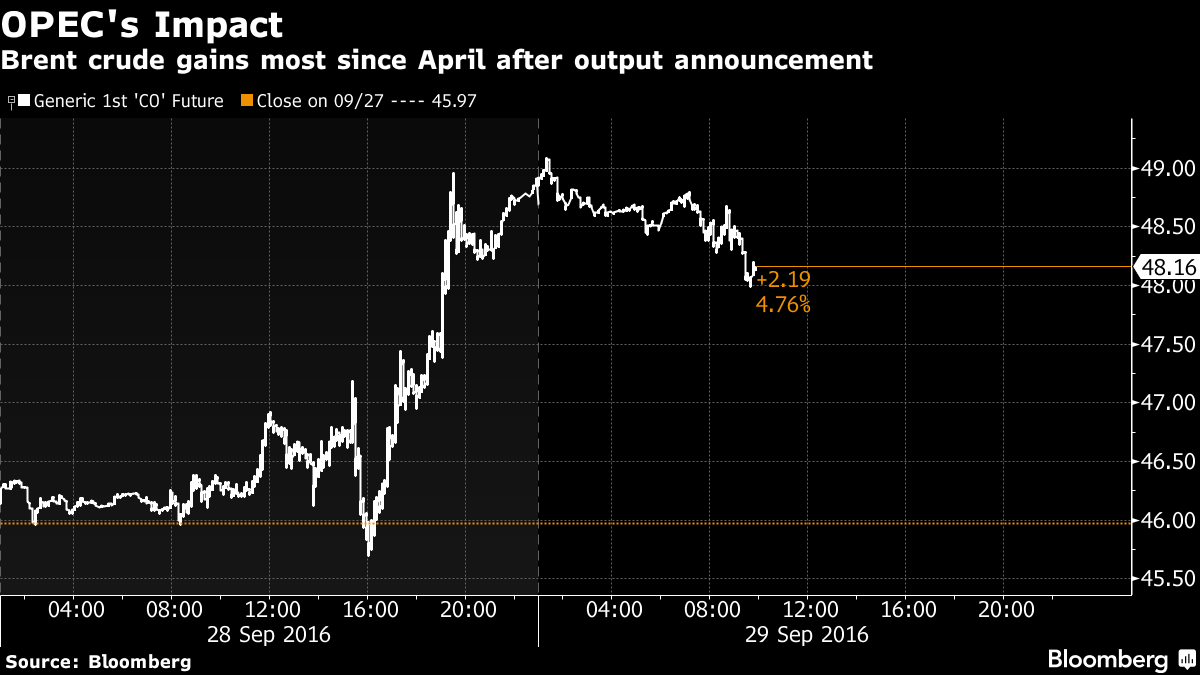 Energy producers led gains in the MSCI All-Country World Index. Royal Dutch Shell Plc jumped 6.6 percent, the biggest one-day advance since February, and Total SA climbed 4.2 percent. Cnooc Ltd. added 5.1 percent in Hong Kong. The deal is boosting optimism for a recovery in earnings, according to Derek Mitchell, a fund manager at Royal London Asset Management.
"It sends a message that there's now a floor under the oil price," he said. His fund manages 93.8 billion pounds ($122 billion) and owns shares of Shell and BP Plc. "A tighter oil market will support earnings and help sustain some of the dividends that were at risk."


The jump in oil prices hurt airlines. Deutsche Lufthansa AG and Ryanair Holdings Plc fell more than 2.4 percent, dragging down a gauge of travel shares.


The 10-year break-even rate in the U.K., a measure of inflation expectations derived from the difference in yield between conventional gilts and index-linked securities, was set for its highest close since July last year. A similar measure in the U.S. approached the most since June.


The yen depreciated to a one-week low against the dollar, as investors favored higher-yielding assets. The Norwegian krone, a currency closely linked to commodity prices as Norway is western Europe's largest oil producer, touched its strongest level against the euro since August 2015, before reversing gains.


Abu Dhabi's benchmark stock index rose for the first time in four days, while Dubai's climbed the most in a week.


The Tadawul All Share Index in Saudi Arabia advanced 1.6 percent after falling 1 percent. Stocks initially swung between gains and losses as investors weighed the prospect of legal action against the kingdom for alleged involvement in the Sept. 11 attacks against benefits from higher oil prices with output cuts.


Malaysia's ringgit rallied as much as 0.9 percent to trade at a one-week high. Malaysia is the only net exporter of the commodity among Asia's major economies.


South Korea's won, a barometer for risk appetite in Asia, strengthened as much as 0.5 percent.


Russia's ruble reversed losses and gained 0.2 percent as Brent crude extended Thursday's 5.9 percent gain. The currency is the best performer in emerging markets after Brazil's real this year, gaining 17 percent.


The Micex stock index in Moscow, which closed before the OPEC decision, climbed 0.8 percent, the biggest gain on a closing basis in a week. The advance was led by Lukoil PJSC, Russia's second-biggest oil producer.


Russian five-year government bonds gained for a second day, with the yield falling six basis points to 8.4 percent, the lowest in a week.


Brazil's real slipped and the cost of hedging against swings in Brazil's currency rose on the view that a 0.6 percent rally yesterday driven by a jump in oil prices went too far. Oil producer Petroleo Brasileiro SA was little changed after adding more than 5.5 percent on Wednesday. Brazilian government bonds rose the most among developing-market debt.


South Africa's resource-heavy stock market jumped to a two-week high as commodity prices rallied. Sasol Ltd., the biggest maker of gasoline from coal, gained as much as 7.3 percent. Miners, including Anglo American Plc and BHP Billiton Plc rose as prices of industrial metals including lead, tin and copper gained. An index of South African mining stocks climbed as much as 5.7 percent, the most since March.
Before it's here, it's on the Bloomberg Terminal.
LEARN MORE