Food
The Best Pizzas in America Right Now
Seasonal pies to seek out all across America.
by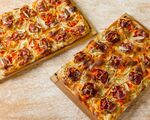 Pizza. It's one of the great five-letter words in the English language. Americans eat some 3 billion pies per year, which averages out to 350 slices per second.
That number will surely go up in October, National Pizza Month, which happens to coincide with an extraordinarily good moment for pizza around the country. People are now geeking out more than ever about the difference between Neapolitan and Sicilian-style pies and how many days their dough fermented (over a few days, a fermented crust becomes lighter with more texture and flavor). Places serving exceptional pizza range from restaurants that serve a handful of masterful pies to spots that are dedicated solely to the craft with specially built wood-burning ovens (where you'll hear phrases like "built by a third-generation master craftsman from Naples").  
Among all the outstanding pizza places around the country, we're showcasing 10 spots that are doing outstanding things with their pies this fall—for instance, adding a rich vodka sauce, drizzling the sausage topping with aged maple vinegar, and creating an ode to beloved eggplant parm.
Capicola Pizza — Sullivan Street Bakery, New York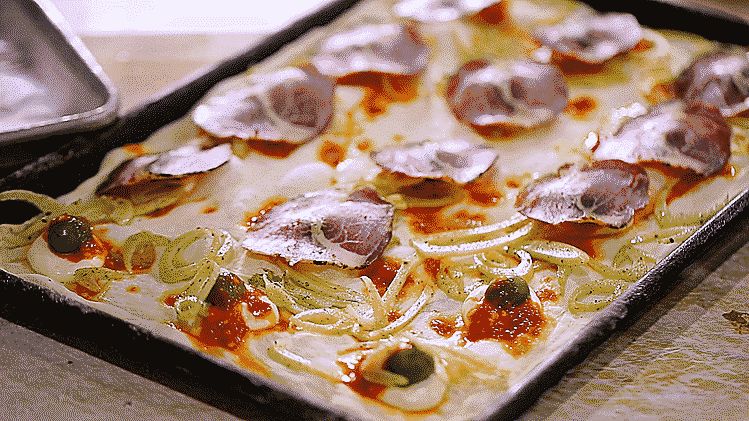 Sullivan Street is renowned for its outstanding chewy, well-crusted breads. But its pizzas—long, foccacio-style slabs with a couple of straightforward toppings, such as crushed tomatoes—have a huge following. For the fall, owner Jim Lahey has created his most ambitious pie yet. It's an outstanding combination of the cured meat capicola, with large chunks of olives, sautéed fennel, and a layer of mascarpone that melts into the crust and makes the pizza gloriously rich. The crowning touch: slices of fermented red chiles laced all over the top so that those bites are spicy and tangy, too. See how it's made, here.
Duke #7 — All-Purpose,  Washington, D.C.

Chef and co-owner Mike Friedman has said that he opened All-Purpose as a place to serve the food he wants to eat on his day off. The menu features a great mix of hot and cold antipasti and, more importantly, a handful of pizzas with left-of-center toppings on dough that's been fermented for three days, so it's got exceptional chew. One of the most popular is the Duke #7. It's a mash-up of ingredients from a good Italian deli case, including 'nduja—the soft, spreadable and spicy sausage—as well as sweet peppers, the pickled relish condiment giardiniera, and two cheeses, mozzarella and its melty cousin scamorza. 
Sausage Pizza — Unit-D Pizzeria, Austin

One of Austin's most talked-about restaurants is the meat-centric Dai Due. It doesn't make pizza. But it does supply the sausage for its neighbor Unit-D Pizzeria. The casual, year-old spot, with long communal tables and counter seats, makes almost everything else in house, even the mozzarella. Yet there's no cheese on its stellar sausage pizza: Instead, it moistens the dough with a garlic- and shallot-infused white sauce and tops with kale and radicchio that blister in the hot oven. For fall, Unit-D has replaced the fennel sausage it was serving this summer with an aged beef sausage. The pie is finished with earthy sage leaves and a drizzle of aged maple vinegar. "This pizza just satisfies the soul as cooler temperatures roll in," said owner Shalou Barth via e-mail.
Zio Toto — Medusa Pizzeria, Philadelphia

Some pizza menus are short and sweet. And then there are places such as Medusa, a new wood-fired Sicilian joint in Philly's buzzy Fishtown neighborhood, with more than a dozen options, ranging from a stellar Margherita to more unconventional pies like one made with chorizo, peppers, and an egg. One of the more creative, yet utterly delicious, choices, the Zio Toto, is a savory blend of roasted cauliflower chunks with Gaeta olives, anchovies, and splashes of chile oil. And then there's an option that's not on the pizza menu: the pizza fritta, its fluffy dough stuffed with sauce and mozzarella and then deep fried.
Mushroom Pie — Kettle Black, Los Angeles 

In a high-ceilinged former 1920s bank in Silver Lake, Calif., Kettle Black is a new, high-styled Italian spot by the team behind the nearby fashionable restaurant Sawyer. It's also a lovely place to dine, what with its wall of strategically arranged plants and a bar backed by golden shelves, stocked high with bottles rising to the ceiling.Just five pizzas are on the menu, the most compelling being a perfect-for-fall funghi pie. It's unapologetically topped with creamy taleggio and gorgonzola cheeses, as well as tender crimini mushrooms baked in a wood oven till puffy and blistered on the edges.
Vodka Sauce Pie — Emmy Squared, New York 

This Brooklyn pizzeria specializes in Detroit pizza, aka deep, square pies with the mozzarella spread directly on the dough. That's especially good news for the corners and sides, where the cheese becomes crisp and caramelized. New for fall: a vodka sauce pie, a minimalist creation with the cheese on the bottom, covered with the booze-spiked sauce, a little pecorino, basil, and olive oil. Chef and owner Matthew Hyland has been making a different version of vodka pie at sister restaurant Pizza Loves Emily, but he thinks the rich tomato sauce works even better with the thicker, doughier crust. Plus, he smiles, "vodka sauce says party." 
Eggplant Parmesan Pizza — Bar Toma, Chicago  

Set off the Gold Coast shopping mecca Michigan Avenue, Bar Toma has been around for a while. But this past spring, chef and owner Tony Mantuano installed a second wood-burning oven, so the focus is now front-and-center on the pizza. Pies run the gamut from classic Margherita to the spicy salami South Sider, with especially inventive monthly specials. On offer now: eggplant parm, with paper-thin slices of eggplant baked right into the dough with provolone and tomato sauce. Get it with the beer of the month (Revolution brewing's Oktoberfest), and it's only $2 more.
187th Street — Arthur Avenue, Houston

Named for the iconic Bronx street, known as New York's real little Italy, this long, brick-walled spot in Texas clearly has an affinity for the city: Most of its pies are named after places in a few of the boroughs. For fall, the place is spotlighting the 187th Street, with ribbons of prosciutto, tangy whipped lemon ricotta, a smattering of Parmesan, and some very tasty roasted mushrooms finished with a little smoked salt. "It's the greatest time for mushrooms," says chef William Wright. "The 187th Street is the pizza I want to eat on a crisp autumn day." He recommends asking the kitchen to add a little sage or rosemary on top. "Then it's the complete fall feeling." 
Potato and Smoked Garlic Pizza — Pizzicletta, Flagstaff, Ariz.

Fall is the right time for potato pizza. Especially in the mountain town of Flagstaff, where Pizzicletta, the destination little pizzeria, takes its pies, and everything that goes into and on top of them, very seriously. (Fans are known to drive the three hours from Phoenix just to eat at Pizzicletta.) For his newest pizza, chef Caleb Schiff slices fingerling potatoes paper thin and pre-roasts them in his 900-degree wood-fired oven. Schiff then puts them on top of his naturally leavened dough, along with mascarpone and pecan-wood-smoked garlic, and puts the pie in the oven. In 90 seconds, it's blistered and bubbling and done.
Sausage with Crushed Tomatoes — Del Popolo, San Francisco

Del Popolo started life as an eye-catching mobile pizza kitchen in a renovated shipping container outfitted with an Italian-made wood-burning oven. Now there's a brick-and-mortar location in Nob Hill, with sumptuous pies from Jon Darsky, with meticulously made and sourced ingredients. Ideal for autumn: Del Popolo's housemade Italian sausage set on top of crushed tomatoes and mozzarella, with gypsy peppers and chiles on a charred, tender and pliable crust. The place is so good, it got three stars from the San Francisco Chronicle critic, Michael Bauer.
Before it's here, it's on the Bloomberg Terminal.
LEARN MORE