business
Ten People Who Will Be Key in Deciding Deutsche Bank's Future
By , , and
Players include Merkel, Achleitner, Draghi and Schaeuble

DBK boss Cryan: Raising capital is "currently not an issue"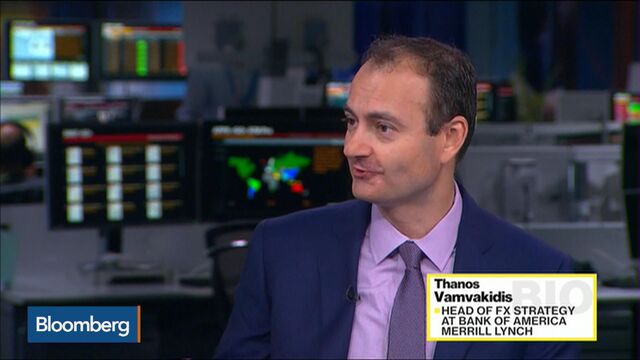 Pressure on Deutsche Bank AG has increased since the lender revealed two weeks ago the U.S. Justice Department is asking for $14 billion to settle a probe tied to residential mortgage-backed securities the bank traded before the 2008 financial crisis.
Amid concerns about the bank's finances, about 10 hedge funds that use its prime brokerage service moved part of their listed derivatives holdings to other firms this week, according to an internal bank document Bloomberg News has seen.
For a QuickTake explainer about Deutsche Bank stock hitting record lows, click here.
Germany's biggest lender is firing workers, dumping unprofitable clients and exiting businesses. Still, doubts remain about whether it has the resources to cope with multiple legal probes without raising capital -- though Deutsche Bank and the German government have said the company can stand on its own.
As the saga unfolds, here are 10 people who will be instrumental in deciding Deutsche Bank's fate:

BILL BAER. The U.S. Justice Department's No. 3 official is calling the shots in the Deutsche Bank talks. An antitrust lawyer by training, Baer was previously chief of the division that oversees reviews of mergers and acquisitions, where he gained a reputation for aggressively opposing deals the department deemed anticompetitive. Baer last year secured guilty pleas and $6 billion in penalties from a group of lenders over currency-market rigging. While he hasn't directly commented on Deutsche Bank, Baer says banks are to blame for slow progress in mortgage settlement talks. "Each prolonged the period in which a cloud of uncertainty hung over the institution," Baer said in a speech this week. "And each paid a lot more than it would have if it had cooperated early on."
JOHN CRYAN. Deutsche Bank's chief executive officer is trying to shore up capital buffers and profitability while selling assets, cutting jobs, and suspending dividends. Cryan faces headwinds from volatile markets, negative interest rates and tougher regulatory scrutiny. Cryan this week told Germany's Bild newspaper that raising capital is "currently not an issue" and said he has no interest in government support.
 

PAUL ACHLEITNER. The chairman of Deutsche Bank's supervisory board is known for his deep contacts across the industry. He chose Cryan to pick up the pieces after previous leaders failed to root out the misconduct that had drawn the wrath of prosecutors from New York to London. But Achleitner's star has begun to fade as investors grow impatient with a plunging share price and continuing turmoil. The chinks became visible in April, when he became embroiled in a boardroom feud over probes into alleged wrongdoing.
ANGELA MERKEL. The German chancellor would make the final decision on any state aid for Deutsche Bank. Having steered Germany through the 2008-2009 financial crisis, she's a veteran of bank rescues. That experience has also given her an acute awareness of the political pitfalls of assisting the financial sector, especially as Germany prepares for national elections next year. Cautious by nature, this week she said she hopes the bank "can develop well."

WOLFGANG SCHAEUBLE. The German finance minister, the country's elder statesman and Merkel's chief lieutenant on financial matters, would craft and execute any government rescue of Deutsche Bank. In February he said he has "no concerns about Deutsche Bank." These days, he's avoiding public comment -- though on Wednesday his ministry denied a report in Die Zeit that the government was working on a rescue plan.
MARIO DRAGHI. The European Central Bank president would likely become involved before a lender is liquidated or broken up. While decisions of the ECB's supervisory arm are usually rubber-stamped by the Governing Council, in this case policy makers may want to weigh the gravity of a bank's woes against the potentially crippling effects that dissolving a lender would have on the euro and Europe's economic recovery. Draghi has said he doesn't "share the view" that low interest rates -- the root of many of Deutsche Bank's problems -- pose systemic risk.
DANIELE NOUY. The chair of the European Central Bank's Supervisory Board is in charge of scrutinizing Deutsche Bank's activities and balance sheet. She will have the final say in setting the bank's capital requirements for 2017, and would make the initial call on whether a struggling bank is no longer viable. She has suggested that Europe's banking sector is ripe for consolidation.

ELKE KOENIG. The chairwoman of the Single Resolution Board in Brussels would manage any eventual liquidation or breakup of Deutsche Bank. Koenig is the first chief of the agency, established in December 2014 as a clearinghouse for plans to mitigate the negative impact of any major bank failure. As the former chief of Germany's banking supervisor, she's well acquainted with Deutsche Bank's difficulties.
FELIX HUFELD. The president of BaFin, Germany's financial markets watchdog, works with his Bundesbank and ECB colleagues to monitor banks. While Germany's representatives on the ECB's Supervisory Board include Bafin and the Bundesbank, only Hufeld has voting rights. He hasn't commented on Deutsche Bank specifically, but Hufeld has said low interest rates are devastating bank profits and that institutions must cut costs to survive. "Things can't continue as they have," he said at a conference in Berlin on Wednesday.
MARGRETHE VESTAGER. The former Danish finance minister is now in charge of competition and state aid for the European Union's executive arm. She would need to scrutinize any government rescue plan to check that it doesn't fall afoul of the EU's strict limits on giving companies public support.
— With assistance by Birgit Jennen, Ian Wishart, Jan-Henrik Foerster, Sara Forden, and David McLaughlin
Before it's here, it's on the Bloomberg Terminal.
LEARN MORE