Swedish Riksbank Fails to Shift Credit Markets After QE Bonanza
by
There are some signs that Swedish monetary policy may have reached its limits.
Over the past year, mortgage rates haven't budged and corporate loan rates have only seen marginal declines. That's despite the Riksbank driving its main lending rate well below zero and pushing through wave after wave of record bond purchases to drag down longer-term rates.
Policy is "already so extreme that we've already lost that interest rate sensitivity and you will get very small effects on the economy from more rate cuts," said Robert Bergqvist, chief economist at SEB, the Nordic region's biggest currency trader. Rates are unlikely to fall further because banks pass on negative rates to their corporate customers, he said.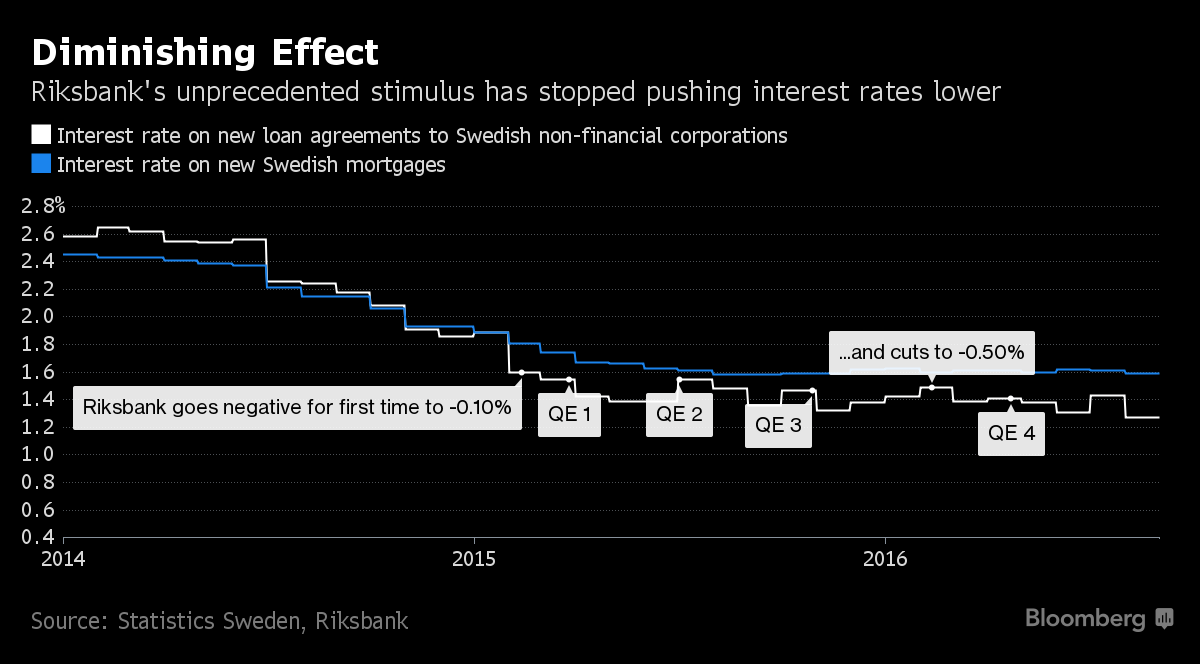 The Riksbank resorted to extreme policy measures back in early 2015 in an effort to keep pace with the European Central Bank. Swedish policy makers have also floated the idea of intervening in the currency market to stop a strong krona undermining efforts to revive inflation.
As the pass-through mechanism for borrowing rates becomes less efficient, any further Riksbank easing will mainly focus on stabilizing inflation around its 2 percent target by ensuring the krona doesn't strengthen too much, according to Bergqvist.
Swedish core inflation was 1.4 percent last month, remaining stubbornly below the Riksbank's 2 percent target for a 68th consecutive month.
There have been some recent gains in consumer prices, thanks in part to a weaker krona. Sweden's currency closed at a six-year low against the euro on Wednesday after Governor Stefan Ingves emphasized that monetary policy can't stray too far from central bank measures being enacted outside Sweden. Deputy Governor Per Jansson said the Riksbank needs to track what the ECB does closely to avoid any sudden currency market setbacks.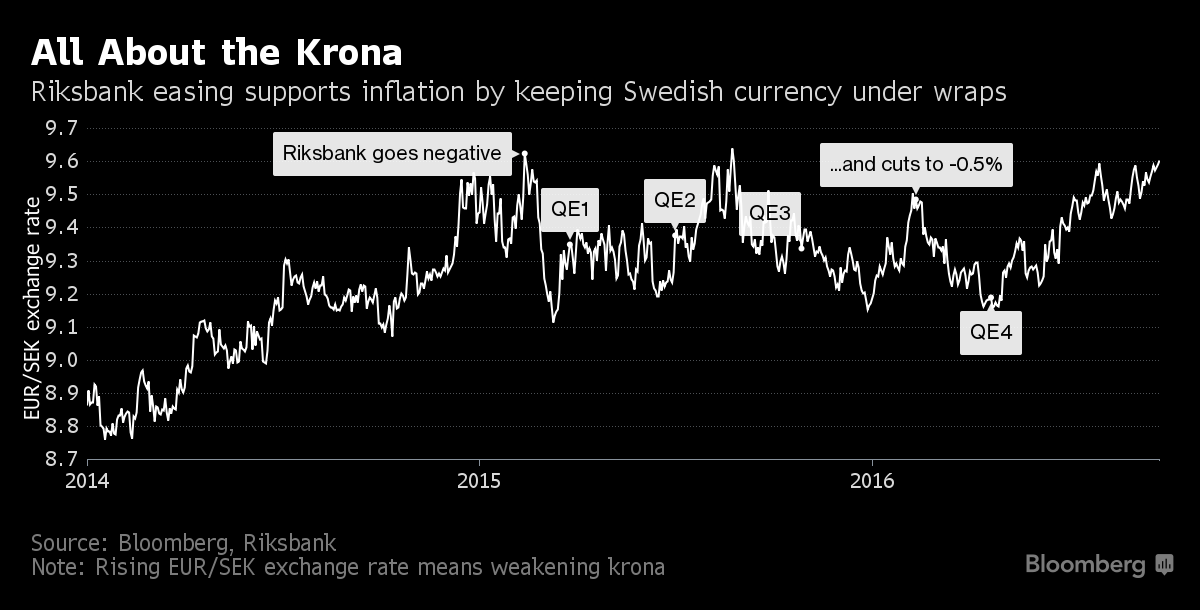 "This is a krona story -- the reason why they're doing what they're doing," said Torbjoern Isaksson, a chief analyst at Nordea, the biggest Nordic bank. "They want to buy time by having a weak krona boost import prices, while hoping that more domestic and genuine inflation will eventually take over the baton and lift inflation."
Both Nordea and SEB predict the Riksbank will be forced to launch a fifth round of government bond purchases later this year to keep up with the ECB's record stimulus program.
Martin Floden, one of the Riksbank's six deputy governors, in February joined another board member in opposing the latest rate cut to minus 0.5 percent. He questioned the effect of the move on interest rates elsewhere in the economy. But the Riksbank Governor Stefan Ingves doesn't see the issue.
"If you look at, for example the supply of loans to companies growth is steadily at decent levels so you can't claim that there are any problems on the Swedish credit market," Ingves said after a hearing on Wednesday in Stockholm. "You can't expect an absolute adherence one-to-one" between the Riksbank rate and interest rates passed on to the public, he said.
He also said it might not be a "disadvantage if mortgage rates don't fall as much" given the concerns of a housing bubble amid surging house prices.
Before it's here, it's on the Bloomberg Terminal.
LEARN MORE