markets
Cryan Defends Deutsche Bank as Some Clients Pare Back Exposure
By and
Millennium, Capula among counterparties shifting positions

CEO says bank has never been more stable in past two decades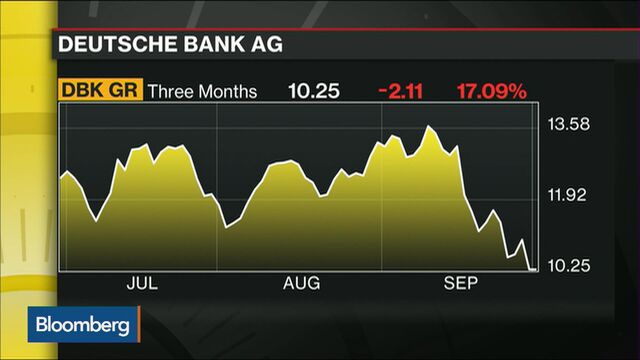 Deutsche Bank AG Chief Executive Officer John Cryan rushed to shore up confidence in his beleaguered lender after concern some clients are reducing exposure to the company pushed shares to record lows.
The bank's balance sheet is safer than at any point in the past two decades, Cryan told staff in a memo Friday. "Trust is the foundation of banking. Some forces in the markets are currently trying to damage this trust," he said.
Analysts also came to the bank's defense. Stuart Graham at Autonomous Research LLP wrote that Deutsche Bank has enough readily available funds on hand to weather more than two months of severe stress, including trading clients pulling back. Goldman Sachs Group Inc. analysts led by Jernej Omahen said the lender can also access backstops from the European Central Bank.
"Deutsche has many problems, but liquidity is not one of them," Graham said in a note. "There can be no doubt that Deutsche could access significant additional liquidity from the ECB, should it ever need it."
Deutsche Bank shares pared some of their losses of as much as 9 percent following Cryan's memo, and were down 4.4 percent at 10.40 euros by 1:13 p.m. in Frankfurt. The stock has fallen 54 percent this year, more than twice the decline in a Bloomberg banking index. The stock dropped earlier and its riskiest bonds declined after some hedge funds moved to reduce their financial exposure.
The funds, a small subset of the more than 800 clients in the bank's hedge fund business, have shifted part of their listed derivatives holdings to other firms this week, according to an internal bank document seen by Bloomberg News. Among them are Izzy Englander's $34 billion Millennium Partners, Chris Rokos's $4 billion Rokos Capital Management, and the $14 billion Capula Investment Management, said a person with knowledge of the situation who declined to be identified talking about confidential client matters.
"The issue here is now one of confidence," said Chris Wheeler, a financial analyst with Atlantic Equities LLP in London. "That's what's going on here. The thinking is 'Deutsche Bank is fine, but there's a slim chance it might not be, so why leave my money in there?'"
How Deutsche Bank Key Metrics Stack Up as Risk Premiums Rise
Millennium, Capula and Rokos declined to comment when contacted by phone or e-mail. The hedge funds use Deutsche Bank to clear their listed derivatives transactions because they are not members of clearinghouses. 
While the vast majority of Deutsche Bank's more than 200 derivatives-clearing clients have made no changes, the hedge funds' move highlights concern among some counterparties about doing business with Europe's largest investment bank. Deutsche Bank's stock and debt have been under pressure after the U.S. Justice Department this month requested $14 billion to settle an investigation into residential mortgage-backed securities. The bank has said it expects to negotiate that lower, as other Wall Street banks have.
The financial pressure on the lender is spilling over into German politics, stirring speculation Chancellor Angela Merkel's government might be forced to offer support. Cryan, who took over last year, told Bild newspaper this week that the firm didn't plan to raise capital and that government aid was "out of the question." Any taxpayer-funded solution for the bank's troubles would be Merkel's downfall, said the leader of Germany's biggest opposition party.
Risk Contributor
The International Monetary Fund in June said Deutsche Bank may be the biggest contributor to risk among so-called global systemically important banks. The bank has gross notional derivatives exposure of 46 trillion euros, according to an Investor Relations presentation published this month. After netting and collateral, reported derivative trading assets fall to 41 billion euros, the bank said.
"Deutsche Bank may be a victim of speculative attacks," said Carsten Klude, chief economist at M.M. Warburg & Co. in Hamburg. "The potential costs to settle the U.S. mortgage investigation of course triggers horror scenarios. But fears of a potential collapse are far-fetched."
Clients review their exposure to counterparties to avoid situations like the 2008 collapse of Lehman Brothers Holdings Inc. and MF Global's 2011 bankruptcy when hedge funds had billions of dollars of assets frozen until the resolution of lengthy legal proceedings.
Deutsche Bank, which is scheduled to publish its third-quarter earnings next month, has long struggled to adapt to an era of tougher capital requirements and diminished trading revenue. Cryan has already said that the lender may fail to be profitable this year, calling it a peak restructuring year, as he eliminates thousands of jobs.
"Until there is some new piece of substantive positive information on the bank's situation, the bonds will probably remain under pressure or at least not recover substantially," said Robert Montague, senior financials analyst for ECM Asset Management in London, which manages about $9 billion.
— With assistance by Nicholas Brautlecht, Tom Beardsworth, Aleksandra Gjorgievska, Nishant Kumar, Ambereen Choudhury, Angela Cullen, Abigail Moses, John Detrixhe, Donal Griffin, and Katie Linsell
Before it's here, it's on the Bloomberg Terminal.
LEARN MORE