Satellite Data Show China May Have Stored More Crude Than Estimated
Bloomberg News
Orbital Insight estimates oil stocks at 600 million barrels

Imagery analysis tracks shadows on 2,100 tanks' floating lids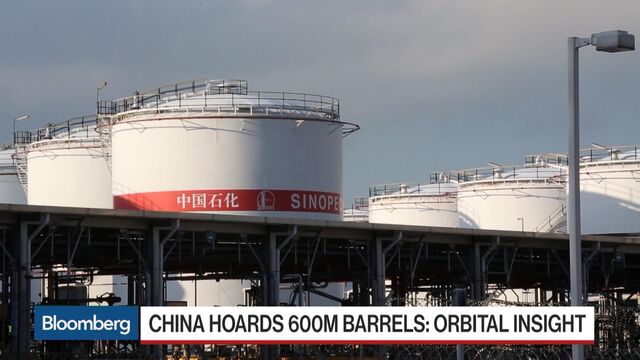 China, the world's largest energy consumer, may have stored more oil than official estimates, according to an analysis of satellite images by Orbital Insight Inc.
Oil in storage was about 600 million barrels as of May, according to the geospatial analytics startup based in Palo Alto, California. There were about 2,100 strategic and commercial petroleum reserve tanks capable of storing 900 million barrels as of the end of 2014, according to calculations derived from photos tracking the depth of shadows visible on top of the floating lids of the giant tanks. They don't include underground caverns.
The estimates exceed projections from forecasters including Energy Aspects Ltd., and help shed light on oil reserves that puzzle commodities traders worldwide. China's record purchases this year have helped oil prices recover from the worst crash in a generation. The findings are also the latest example of how private technology firms are using big data and machine learning to better measure the second-largest economy, where some official data are incomplete and private gauges have vanished without explanation.
"I'm not surprised," Michal Meidan, an analyst with London-based consultancy Energy Aspects, said of Orbital's estimate, adding that her number is over 400 million including both strategic and commercial stocks. "There is more storage available in China than the market is willing to acknowledge. Any information around this is valuable. There seems to be quite a bit of flexibility between commercial strategic storage tanks, even though official statistics do not account for all of it."
Oil Storage
China held 301 million barrels in seven national oil storage cities as of end-2015, with a combined capacity of 442 million barrels, according to Jason Lohn, Orbital's head of core engineering. The company mapped tank locations that may differ from those the government has acknowledged in Dalian, Dushanzi, Huangdao, Lanzhou, Tianjin, Zhenhai and Zhoushan.
Orbital's figure is larger than China's official estimates for strategic petroleum reserves and for commercial stocks, which are published each month by the official Xinhua News Agency's China Oil, Gas & Petrochemicals newsletter, said Orbital Chief Executive Officer James Crawford. Nobody replied to a fax to China's National Energy Administration Thursday seeking comment on Orbital's estimates.
In a rare release this month, China reported adding about 43 million barrels of crude to its strategic reserves between mid-2015 and early this year. Reserves totaled 31.97 million tons in early 2016, equivalent to about 234 million barrels, the National Bureau of Statistics said in a statement that was the first government update on reserves since December.
Emergency Stockpiles
Emergency stockpiles of the second-biggest oil user have been a source of speculation among analysts and traders, who rely on customs figures and infrequent construction updates to estimate how much of the country's imports go into strategic inventories, and for how long they will continue to fill.
China's overall storage is about 60 percent full, "and it's probably actually less than that because there's probably a fair amount of new capacity since the end of 2014 that's not yet included," said Crawford, a former NASA scientist and Google engineer who founded the company. "It's definitely higher than Chinese official estimates. There are some slightly higher numbers for SPR, and there are some folks who feel the Xinhua numbers may slightly understate the commercial."
Orbital has received funding from Google Ventures, Sequoia Capital, and Bloomberg Beta, the venture-capital unit of Bloomberg LP.
— With assistance by Sarah Chen, and Jeff Kearns
Before it's here, it's on the Bloomberg Terminal.
LEARN MORE