U.S. Stocks Retreat as Deutsche Bank Woes Hit Financial Shares
By and
Lenders in S&P 500 drop after Bloomberg report on German bank

Fears of contagion roil banking sector; drugmakers slump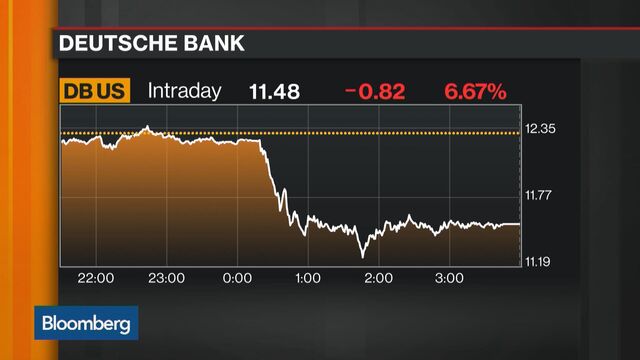 U.S. stocks fell as banks retreated amid growing concern that Deutsche Bank AG's woes will spread to the global financial sector. Health-care shares sank on speculation tighter regulations will crimp profits.
Financial shares erased gains and tumbled 1.5 percent after a Bloomberg News report that signaled growing concern among some Deutsche Bank AG clients roiled markets. A number of funds that clear derivatives trades with Deutsche withdrew some excess cash and positions held at the lender, according to an internal bank document seen by Bloomberg. Johnson & Johnson and Pfizer Inc. fell more than 1.7 percent, pacing declines among drug companies.
The S&P 500 Index slid 0.9 percent to 2,151.13 at 4 p.m. in New York, after falling as low as 2,145, the level that marked the bottom of a selloff on Monday. The Dow Jones Industrial Average declined 195.79 points, or 1.1 percent, to 18,143.45, and the Nasdaq Composite Index lost 0.9 percent. About 7.7 billion shares traded hands on U.S. exchanges, 17 percent more than the three-month average.
"There's some problems in the financial industry now," Brian Frank, portfolio manager at Key Biscayne, Florida-based Frank Capital Partners LLC, said by phone. "There's no fear and no volatility in the stock market so something like Deutsche Bank could make people say, maybe we shouldn't be trading at such high valuations. It doesn't make it easier for U.S. banks, especially with what's going on with Wells Fargo."
The S&P 500 trades at 18.4 times forecast earnings, the highest since 2002. The main U.S. equity benchmark slipped below its average price during the past 50 days on Thursday, while erasing its climb for the month. Stocks fluctuated earlier amid a gain in energy shares sparked by the first output-reduction decision by OPEC in eight years.
All of the 11 main industries in the S&P 500 retreated Thursday. Health-care shares paced declines with a 1.8 percent rout, led by drugmakers on concern that a Hillary Clinton presidency would tighten regulations on the industry and hurt profits. Financials and utilities tumbled more than 1.4 percent. Banks in the benchmark sank 1.6 percent.
Deutsche Bank fell to all-time lows on Monday amid concerns that mounting legal bills may force the lender to raise capital. That dragged lenders in the S&P 500 to the steepest slide in almost three months. The CBOE Volatility Index on Thursday jumped nearly 27 percent before paring the surge to 13 percent by the close of trading. The measure of market turmoil known as the VIX is now on track for a second straight monthly gain.
Investors were also reminded today that borrowing costs may be rising before year-end, with a handful of Federal Reserve officials publicly endorsing a rate hike in the near-term. Fed Bank of Atlanta President Dennis Lockhart on Thursday said the central bank is nearing its goals of maximum employment and steady inflation near 2 percent, a day after Chair Janet Yellen testified that jobs growth will likely soon warrant tighter policy.
The latest eruption of selling spurred by anxiety over banks reignited a bout of turbulence from earlier this month. Markets had calmed briefly, after the Fed's decision last week to leave rates unchanged and signals of a slower pace of future increases soothed investors. The S&P 500 is on the verge of a second-straight monthly loss and its worst since January.
Wells Fargo & Co. fell 2.1 percent and was headed toward the worst month since 2010, as Chief Executive John Stumpf endured a second day of withering assaults from lawmakers furious over the bank's fake-account scandal. The bank was also said to be facing sanctions over improperly repossessing cars owned by members of the military. Among other banks, Citigroup Inc. dropped 2.3 percent to a seven-week low.
Within the health-care group, biotechnology shares skidded to a three-month low, with EpiPen maker Mylan NV losing 4.4 percent, while Celgene Corp. and Allergan Plc declined at least 2.8 percent. Drug giant Merck & Co. fell 2.2 percent, the second-worst in the Dow behind Goldman Sachs Group Inc.'s 2.8 percent retreat.
Energy producers were little changed along with phone companies. Crude oil extended yesterday's rally, rising to a one-month high after OPEC's agreement to reduce production. Murphy Oil Corp. and Transocean Ltd. added more than 4.9 percent. Still, refiners Valero Energy Corp. and Tesoro Corp. lost at least 6.1 percent to help offset those gains.
— With assistance by Oliver Renick
Before it's here, it's on the Bloomberg Terminal.
LEARN MORE