Ruble Climbs to Two-Month High as Crude Oil Extends Advance
by
Danske, SocGen questioned whether deal would support gains

Currency rose to level that Putin warned on strength in July
Russia's ruble climbed to a two-month high and stocks and bonds advanced as crude oil extended gains following OPEC's deal to cut production.
After jumping 1.3 percent on Wednesday on the surprise announcement from the Organization of Petroleum Exporting Countries, the ruble gained 0.2 percent by 7:07 p.m. in Moscow to 62.9150 per dollar, the highest since July 19. The currency has appreciated 17 percent this year, the most after Brazil's real in emerging markets, prompting policy makers including President Vladimir Putin to warn it may be getting too strong.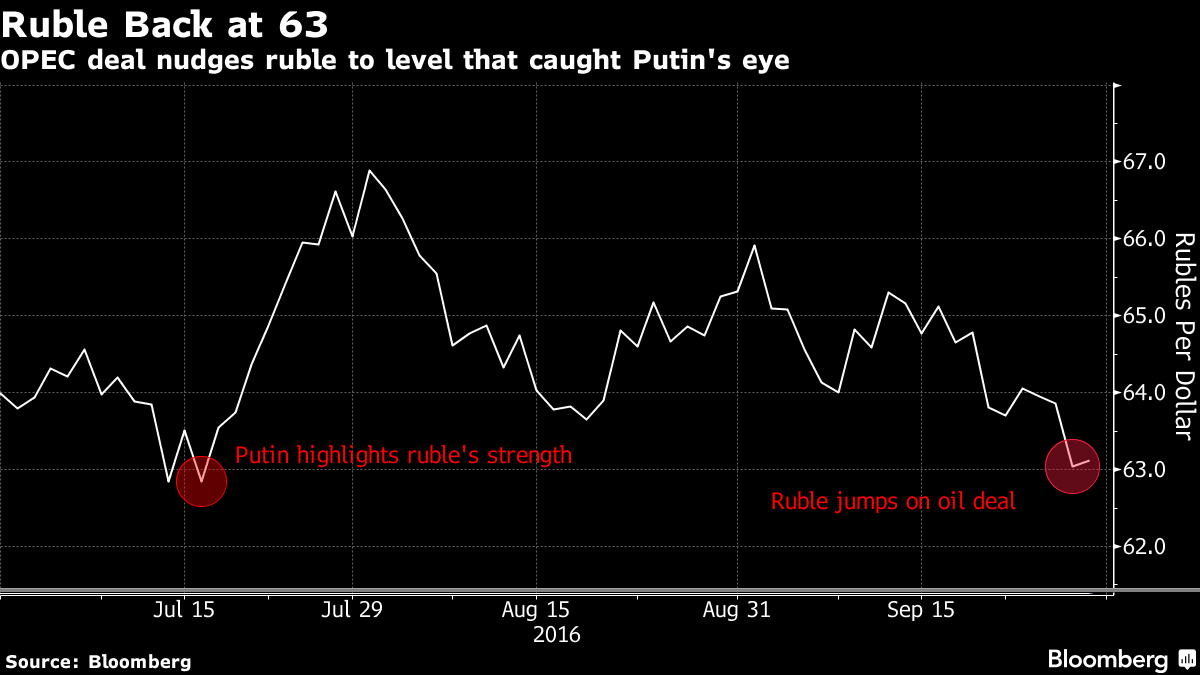 "The ruble, of course, is moving with oil," Andrey Kochetkov, an analyst at Otkritie, wrote in a note. "In the range of 62 to 64, it will encounter serious resistance, which it can overcome only if oil trades higher."
While Goldman Sachs Group Inc. said the plan to reduce production to a range of 32.5 million to 33 million barrels a day may help boost oil, Russia's main export earner, by as much as $10 a barrel, there are questions on how the first output cut in eight years will be implemented. Russian assets have benefited from buoyancy in crude prices in 2016, although the stronger currency hurts the competitiveness of companies and curtails budget revenue in local-currency terms.
'Little Confidence'
Along with Danske Bank A/S, analysts at Rabobank and the Russian unit of Societe Generale SA also raised doubts on whether the deal will bring meaningful reductions that pave the way for further ruble strength. An OPEC committee will recommend limits at a formal gathering in November and Iran will be exempt from capping output.
"There's too little confidence in the agreement and its sustainability in the future," said Evgeny Koshelev, an analyst at Societe Generale SA's Rosbank PJSC unit in Moscow.
The currency rose 3.8 percent in September even as the central bank lowered interest rates by 50 basis points to 10 percent. Interest in Russian assets has been kept alive by the prevalence of near-zero interest rates in much of the developed world, which bolsters the appeal of the ruble carry trade. The yield on 10-year government bonds fell seven basis points to 8.16 percent on Thursday, bringing the quarterly drop to 16 basis points.
Russian stocks also advanced today, with the benchmark Micex Index climbing 0.8 percent to close near 2,000. Lukoil PJSC, the nation's second-biggest oil producer, increased 2.4 percent, ending four days of losses.
When the ruble touched 63 per dollar in July, Putin warned that the currency's advance should be monitored. Brent crude added 1.6 percent to $49.47 per barrel on Thursday after a 5.9 percent rally on Wednesday.
"Given that Brent crude is essentially flat so far this morning," the July peak "may prove a tough level to clear," said Piotr Matys, a London-based strategist at Rabobank.
Before it's here, it's on the Bloomberg Terminal.
LEARN MORE