Renewable Miracle Is Real Deal as Chile Counters Doomsayers
by
Companies will fulfill investment pledges: energy minister

Energy Minister Maximo Pacheco spoke in interview in Santiago
Chilean Energy Minister Maximo Pacheco dismissed concern that soaring investment in renewable energy and tumbling electricity prices were too good to be true.
The companies that have won contracts to supply electricity will fulfill their investment pledges, Pacheco said in an interview in Santiago. Speculation that the renewable energy suppliers had offered prices that were too low to be profitable was misplaced, he added.
"No one in Chile expected that prices would be this low, but it's not too good to be true," Pacheco said. "It's just that the country has been too conservative."
After Chile awarded contracts to supply 12,430 gigawatt-hours of energy at record-low prices in August, half of them to renewable energy companies, shares in the traditional thermal and hydro-electric companies such as Colbun SA and Engie Energia Chile SA tumbled. Some analysts at the time, such as Carlos Barria, a professor at the Catholic University of Chile, questioned whether electricity prices had fallen too low and if companies would struggle to complete their investment plans. Those concerns resurfaced this week when newspapers reported that only one of five companies that won contracts at an earlier auction in 2015 would be ready to supply the electricity as pledged next year.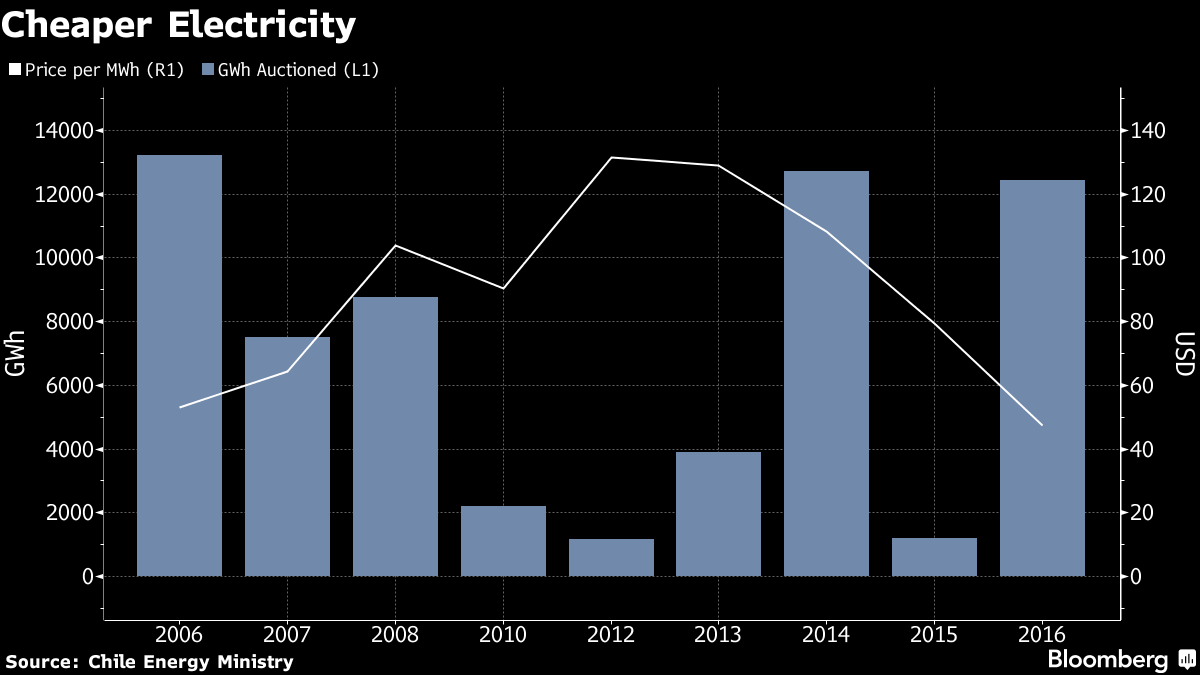 "The energy industry is in state of shock," Pacheco said. "With new entrants, new technologies and new business models, the sector is reviewing ways of organizing and competing."
Contracts for a solar project in August were sold at $29.10 a megawatt-hour -- the lowest price ever seen. It was cheaper than a similar project in Dubai, that sold for $29.90 a megawatt-hour in May, and for a March auction in Mexico that awarded solar contracts for $35.50 a megawatt-hour, according to Bloomberg New Energy Finance.
Former U.S. Vice President Al Gore was so inspired he tweeted to his followers that Chile's auction was proof "climate action continues to make economic sense."
Pacheco said any delays to projects would be temporary and that the new wind and solar plants would be built.
Pushing Ahead
Specifically, Dublin-based Mainstream Renewable Power Ltd., which won the majority of contracts in last year's auction, would start to build two wind-farms next month, the minister said. Still, the company has yet to announce financing for the project and the plants won't come on line by January as scheduled. Mainstream declined to comment on the investment plans.
"I don't think a delay of two or three months is relevant news," Pacheco said, referring to the holdups in projects from the 2015 auction. "As a government, we have no concerns."
Mainstream was even more ambitious at this year's auction. While the company pledged to supply electricity from wind-farms at about $79 per megawatt-hour in 2015, this year it promised prices of $38.8 to $47.2 per megawatt-hour, again from wind-farms.
Spain's Abengoa SA, which also won a supply contract in 2015, halted construction of a $1 billion solar/thermal plant in northern Chile last year as it teetered on the edge of bankruptcy. That was nothing to do with Chile, Pacheco said. The company will resume work on the plant in the next few months, people with knowledge of the matter told Bloomberg in August. No announcement has been made since then.
Pacheco also addressed concerns that Chile's transmission system was insufficient to cope with the surge in renewable energy and the subsequent volatility in supply. Chile will complete a transmission line connecting its central and northern electricity grids next year, he said, allowing the industry to interchange solar power from the north with hydro-electric supplies in the south.
"Our priority today i transmission lines, we know our system is not connected," Pacheco said. "It's not enough to generate energy, we need to transport it to the places where it is going to be used."
Before it's here, it's on the Bloomberg Terminal.
LEARN MORE