Refiners Stung by OPEC Output Deal Face a Bigger Problem
By
Margins decline as oil price rises amid increasing fuel glut

Marathon, Valero among biggest losers, declining over 6%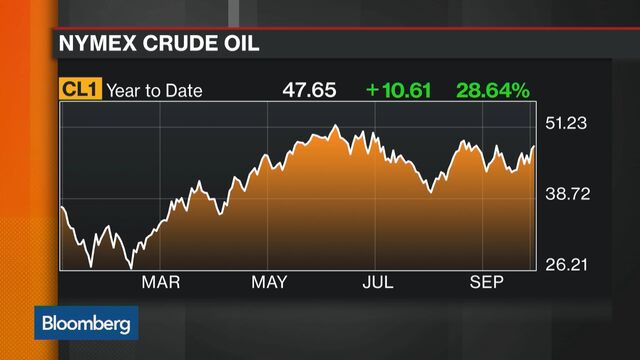 OPEC has just made the life of independent U.S. refiners a little harder.
The jolt to crude prices following the cartel's deal to limit output comes just as mounting fuel inventories prevent refiners from passing rising costs through to distributors. The BI North America Refining & Marketing index fell 4.6 percent on Thursday, the most since June 27.

The drop is partly a knee-jerk reaction to news that the Organization of Petroleum Exporting Countries agreed to reduce production for the first time in eight years, said Spiro Dounis, an analyst at UBS Investment Research. It's "obviously bad" for independent refiners, which buy crude oil to process it into fuel.
"This just completely caught people off guard," Dounis said.
The OPEC deal that sent crude prices up by about 7 percent in two days follows a government report that showed U.S. gasoline stockpiles rose by 2 million barrels last week, the biggest build since May. Refining profit margins that had rallied in past weeks because of seasonal maintenance work slumped on Thursday.
"Stubbornly high fuel inventories" will keep margins weak and earnings low, Moody's Investors Service said in a report this week, noting a negative outlook for the sector. Companies are also dealing with costs for government-mandated renewable fuel credits known as Renewable Identification Numbers, or RINs.
Crack Spread
Gulf Coast refineries' so-called crack spread, a rough measure of profits from processing crude into gasoline and diesel, fell 4.5 percent on Thursday to about $12.36 a barrel, according to data compiled by Bloomberg. Marathon Petroleum Corp. and Valero Energy Corp. were among the biggest losers on the BI index, declining 6.8 percent and 6.2 percent, respectively.
While increasing maintenance work will help limit the fuel glut in the Gulf in coming weeks, the draw in distillate inventory is too small to help East Coast refiners, Gurpal Dosanjh, a Bloomberg Intelligence analyst, said in a report.
In July, even in the midst of the summer driving season, refiners started to process less crude and said they planned to slow down further in the second half in an effort to correct the glut. But companies are still dealing with the surplus -- and investors may be getting less optimistic about the industry, Dounis said. It'll likely be evident in third-quarter earnings estimates.
"This seems a little rough," he said. "There might be some downside bias to everyone's views."
Before it's here, it's on the Bloomberg Terminal.
LEARN MORE