Qualcomm Stock Surges on Report of Interest in Acquiring NXP
By
NXP would allow Qualcomm to diversify away from smartphones

Target is largest maker of semiconductors used in cars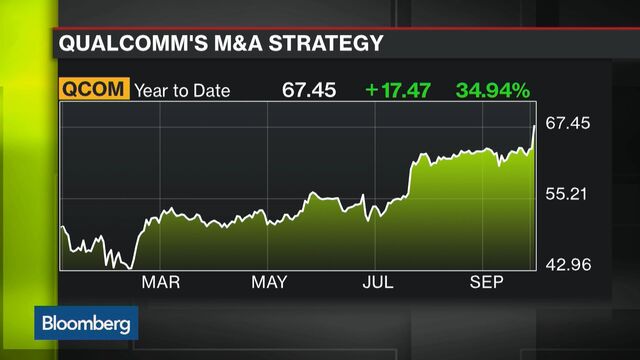 Qualcomm Inc. stock jumped as much as 8.5 percent on a report that it's considering purchasing NXP Semiconductors NV in a deal that would be valued at about $30 billion.
Shares of NXP, the biggest maker of chips used in the automotive industry, also rallied as much as 19 percent after the Wall Street Journal reported that the companies are in talks to combine. NXP's stock jump was the biggest intraday gain in almost six years. The deal could happen in the next three months and Qualcomm also is exploring other potential transactions, the report said.
Analysts have speculated that the two companies might get together. Qualcomm sat out a record round of industry consolidation last year and the San Diego-based company is holding cash reserves of more than $30 billion. As growth slows in the smartphone industry, which provides most of Qualcomm's sales, the chipmaker is looking to expand into other markets such as automotive, where the Eindhoven, Netherlands-based company is strong following its acquisition last year of Freescale Semiconductor Ltd.
A Qualcomm representative and a U.S.-based NXP spokeswoman declined to comment on the report.
NXP has been at the top of the list of potential candidates for a Qualcomm acquisition among analysts and investors who want the chipmaker to use its cash, according to Stacy Rasgon, an analyst at Sanford C. Bernstein.
"We think many investors at least believe they would like to see the company do something more strategic," he wrote Thursday in a note. He stressed he has no knowledge of any activity and is not calling for the two companies to merge.
A purchase of NXP would add 30 percent to Qualcomm's earnings, even without cost savings from the combination, Rasgon estimated.
"We also see considerable integration, execution risks, little opportunity for further cost reductions and what would be a less stable balance sheet," he wrote.
Before it's here, it's on the Bloomberg Terminal.
LEARN MORE