Private Debt Steps In for Canadian Companies as Banks Pull Back
by
Lenders at Third Eye Capital and Callidus Capital fill void

Shadow bankers get outsized yields to fund riskier companies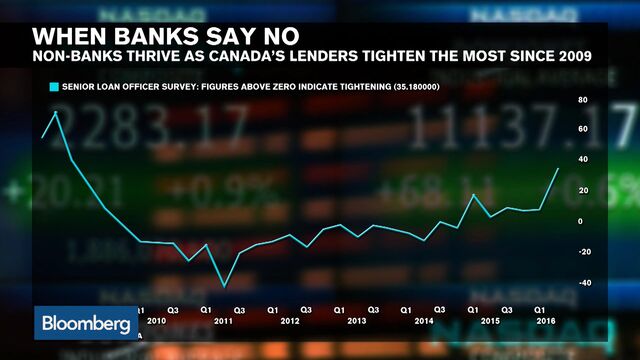 When Dynacor Gold Mines Inc. applied for a loan to finish a new ore processing mill in Peru, Canadian banks didn't think it was a good bet.
"They said the risk was too high," Leonard Teoli, Dynacor's chief financial officer, said in a phone interview. "They didn't want to get into this kind of financing with the assets being in Peru."
Instead, Dynacor turned to private debt lenders. In January, it signed a three-year agreement with Third Eye Capital Management Inc. for a $10 million credit facility with a 13.5 percent effective interest rate secured by the Montreal-based company's assets, concluding talks that began last year, he said.
Independent lenders, life insurers, pensions and hedge funds willing to take on riskier deals are being rewarded with double-digit returns in a world of low and negative interest rates. These non-traditional sources of funds are muscling in as new regulations and capital requirements make it too onerous for the country's big banks to lend to companies like Dynacor.

"We're really arbitragers of actual risks versus perceived risks," Arif Bhalwani, 45, co-founder and chief executive officer of Third Eye, said in an interview last month at his Toronto office. Those distinctions become clear only "by spending time with the business," he said.

Current data on middle-market asset-based loans is scarce, but Bhalwani pegs the market at about C$30 billion ($23 billion) annually, citing research from AltaCorp Capital Inc., a boutique investment bank in Calgary. Third Eye Capital, Newton Glassman's Callidus Capital Corp. and Element Financial Corp.'s equipment finance business make up 10 percent of annual volumes, he said.
Third Eye has loaned about C$1.2 billion over the past decade, with about C$500 million outstanding, Bhalwani said. The average loan has grown to C$35 million from C$12 million when they formed in 2005, with gross returns of about 20 percent including consulting fees, Bhalwani said. In some cases, lenders get an equity kicker. Dynacor's deal gave Third Eye warrants to buy 950,000 shares at C$1.83. The stock now trades around C$3.
Attractive Return
"The yields are good; so as long your underwriting processes are strong and your credit-analysis teams are competent and pricing the risk properly, it's a profitable business," said Jaeme Gloyn, an analyst at National Bank Financial in Toronto who follows alternative lenders. "There's enough loans that are crossing the barrier from traditional to alternative."
Regulatory Opening
As a pure distressed-debt investor, Toronto-based Callidus is "growing like a weed" due to new regulations that compelled banks to hold extra capital for a loan that winds up in workout status, Glassman said in an interview this month. Business tripled in two years to C$1.2 billion in loans outstanding with a gross yield of 20 percent, from C$477 million in April 2014 when Callidus went public, he said.
"The regulatory change in Canada has created this massive product and availability for Callidus," said Glassman, 52. "There's nobody else providing liquidity."
The Office of the Superintendent of Financial Institutions, Canada's main banking regulator, doesn't oversee non-banks, but it does monitor exposures and risks of traditional banks when they act as counter-parties with unregulated lenders, spokeswoman Annik Faucher said. The growth of private corporate lending mirrors what's happening in mortgages, with alternative lenders doubling their share of the C$1.4 trillion market to about 13 percent last year.
Representatives for the Ontario Securities Commission and and Element Financial didn't respond to requests for comment.
In Touch
Given the extra risk, hands-on engagement with the borrower and getting the top spot in the capital structure are essential, Bhalwani said. Among Third Eye's 70 transactions, 18 loans didn't perform as planned, but there was no realized loss on the portfolio, he said.
Teoli said Dynacor has "direct contact" with Third Eye, speaking with its managers at least once a month and sending regular reports. While Glassman takes an adversarial stance in his private equity investing business Catalyst Capital Group Inc. -- he has called it a "bloodsport" and often relies on the courts -- he said his lending business requires a deep knowledge of the companies.
For example, Callidus reported C$37.4 million in provisions for a salmon farm whose fish lost value after water-temperature changes and a sea lice infestation. In an August conference call, Callidus said it will sell off the fixed assets and it won't be making more loans where collateral and cash flow depend on "biological assets" that can suddenly go bad.
Open Mind
"We are going to on occasion try new areas and new approaches as a growing business, and at times we'll get it right, and at times we'll get it wrong," Glassman said on the call. Even with the setback, Callidus still reported a 28 percent jump in first-half revenue from a year earlier to C$95.5 million, and profit soared 59 percent to C$54.5 million.
Private-debt investing is not all high-yield loans to risky companies. Integrated Asset Management Corp. targets companies that have stronger credit profiles, with its sweet spot being 7- to 10-year loans that yield about 6 percent, Douglas Zinkiewich, head of investment management for the private debt group, said from his Toronto office.
"The banks and even the life insurance companies, they're cheaper than us; if we compete solely on price we're going to lose the business," said Zinkiewich, 55, a former CIBC banker. "We end up trying to understand the business a lot more, we build that relationship, it's very much collaborative.
Integrated's average loan is C$20 million. Since 2005, the firm raised C$2.4 billion and invested C$1.5 billion, he said.
Third Eye could be a C$2 billion business within three years, and it has C$400 million of deals in the pipeline, Bhalwani said. Glassman said the potential pipeline of new loans is just shy of C$1 billion.
Despite his last experience with banks, Teoli at Dynacor said he's willing to work with them in the future.
"I'll look at what's available for the best price," he said.
Before it's here, it's on the Bloomberg Terminal.
LEARN MORE