PBOC Seen Switching to Monetary Tightening as Soon as 2017
Bloomberg News
Easing since late 2014 has fueled property bubble, rising debt

Economists see new methods of tightening amid policy evolution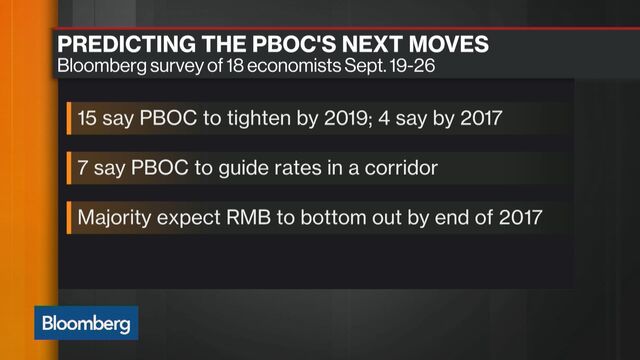 With China's economy stable for now and home prices in major cities soaring, analysts are dialing back forecasts for additional monetary stimulus, with some betting on a switch to tightening mode.
And as its policy framework evolves, The People's Bank of China will make its next broad move by guiding interest rates through a corridor, rather than the traditional approach of changes to benchmark lending and deposit rates, according to a Bloomberg survey of 18 economists from Sept. 19 to 26.
Here's a snapshot of the main findings:
Fifteen expect a monetary policy shift to tightening in three years, with four forecasting a switch could come next year and one tipping this year
Seven expect the PBOC will make its next broad policy move by guiding interests in a corridor using changes to short, medium and longer-term lending facilities. Four expect the next broad move coming via changes to bank's required reserve ratios, while three expect the PBOC will use changes to repo rates to steer policy
Just one economist forecasts the next policy move will be a change to benchmark one-year lending and deposit rates, while another sees a mix of benchmark rate and RRR moves.
A majority expect the yuan to bottom out by the end of 2017


China's easing cycle since late 2014, combined with increased fiscal support, has underpinned the world's second-largest economy. Maybe too well, with cheap money pouring into housing markets in Shanghai, Shenzhen and Beijing.

"We don't expect the PBOC to ease further given the concerns about the overheating property market," said CCB International Holdings Ltd economist Cui Li, who forecasts a tightening in the first half of next year. "In the near term, the PBOC is more likely to tighten mortgage requirements incrementally, to put speed bumps in the way of rising property prices."
For a recent story on China's attempts to curb a property bubble, click here
To be sure, the PBOC still has room to add monetary stimulus if it sees growth stumbling or further weakness in the global economy. Economists from Nomura Holdings Inc., Macquarie Securities Ltd. and Daiwa Capital Markets are among those still forecasting additional benchmark interest-rate reductions next year, a separate Bloomberg survey shows.
Moderating factory deflation, a pick up in August data and strength in indicators for September suggest there's no pressing need for additional easing. On Friday, the private Caixin Media and Markit Economics China Manufacturing PMI came in at 50.1 for September, matching economists estimates and suggesting slight expansion in factory activity.
The economy showed broad-based improvement in August as the government's policy easing takes effect, Shen Jianguang, chief Asia economist at Mizuho Securities Asia Ltd. in Hong Kong, wrote in a recent note.
"The stimulus may have been too effective in some areas" as overheating in the housing sector becomes a serious concern, he said. "There will be less monetary easing but more fiscal stimulus including tax cuts and extra spending, while tightening policy will be applied to the housing markets of overheated cities."
For a recent story on the PBOC's evolving policy framework, click here
The PBOC has kept its benchmark lending and deposit rates on hold for nearly a year and the RRR unchanged since February, failing to deliver the additional cuts private economists had forecast in earlier surveys. To keep monetary conditions loose, the central bank has been channeling low-cost funds into markets via newer tools, such as the medium-term lending facility, standing lending facility, and open market operations.
The central bank has tightened its belt there too by using longer-term tenors in the open market to drive up funding costs in a bid to rein in leverage. The PBOC's use of open market operations to withdraw liquidity lifted the 7-day funding price to a 14-month high Thursday.
George Wu, chief economist at Huarong Securities Co. in Beijing who was a PBOC monetary policy official for 12 years, forecasts a switch to tightening as early as this year via the interest rates corridor. He expects repo rates to remain on hold since any major changes could "touch the sensitive nerves of the markets."
Beiijng's monetary policy makers are "caught between a rock and hard a place," said Frederik Kunze, chief China economist at Norddeutsche Landesbank in Hanover, Germany. "Loose monetary policy might heat up the debt challenges. However, without an accommodative monetary stance, growth might be at risk."
— With assistance by Yinan Zhao, and Cynthia Li
Before it's here, it's on the Bloomberg Terminal.
LEARN MORE