markets
Lotte Bond Sale Halt Seen Lasting Even as Arrest Bid Fails
By
Probe 'will go on, just without an arrest warrant:' Shinhan

Zero offerings in quarter, down from seven in previous period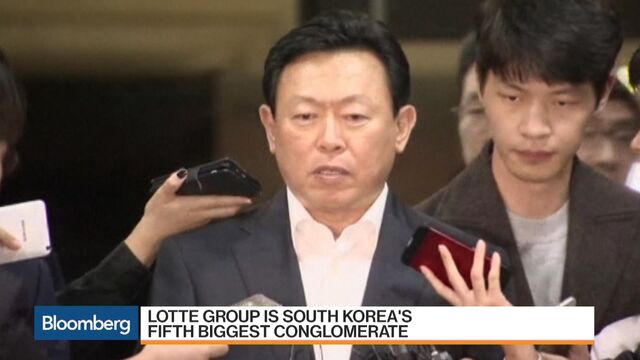 Lotte Group's corruption scandal has halted bond sales among its affiliates, forcing the South Korean conglomerate to rely more on short-term financing.
None of the group's nine listed companies, including Lotte Chemical Corp. and Lotte Shopping Co., issued notes this quarter after raids by prosecutors in June, compared with seven in the previous three months and five in the year-earlier period. Their 1.3 trillion won ($1.1 billion) of offerings this year is down from more than 2 trillion won in 2015. The companies sold more than 1 trillion won of shorter-maturity commercial paper in the third quarter, about the same as a year earlier, according to Korea Securities Depository data.
While a South Korean court rejected prosecutors' request of an arrest warrant on Thursday for Lotte Group Chairman Shin Dong-bin for alleged crimes including embezzlement, Korean law allows for prosecutors to gather more evidence and renew their request. The chaebol is facing a power struggle in the founding family and investigations into corruption allegations, amid which a unit's potential $4.5 billion initial public offering was canceled.
"The investigation will go on, just without an arrest warrant," said Kim Sang-hun, a credit analyst at Shinhan Investment Corp., who predicts the group won't be able to sell bonds for the rest of the year. "While Lotte affiliates will be able to raise funds through CPs at higher rates, it may be hard to negotiate suitable yields for its bonds because of low demand."

Lotte said in a statement that it supports the Seoul Central District Court's overnight decision to reject the application for an arrest warrant and that it will seek to normalize its business activities as soon as possible. A Lotte Group official, who wished to be unidentified in line with company policies, said it is "difficult" to say whether group companies are relying on CPs and that the recent "situation" is temporary, without elaborating.
The financial stability of Lotte Group has weakened as the size of its loans has grown and it continues to seek acquisitions and overseas expansion, according to an August report by Korea Ratings, a local Fitch Ratings affiliate. Fitch downgraded Lotte Shopping's long-term issuer rating to BBB- from BBB on Aug 29. Moody's Investors Service cut the department store operator's issuer and senior unsecured ratings to Baa2 from Baa1 in February citing a weakening business performance.
Risks Spread
The yield premium for Lotte Shopping's August 2019 bonds over the sovereign has widened to around 28 basis points from as low as 24 on Sept. 12. Lotte Shopping has 480 billion won of notes maturing within this year.
Hotel Lotte Co., which shelved its $4.5 billion IPO in June and hasn't sold bonds since 2013, issued 2.4 trillion won of CPs so far this year, after 13.2 trillion won in 2015. It has 200 billion won of bonds due in November and 700 billion won of commercial paper maturing in October and November. Hotel Lotte "has more than 1,000 CPs maturing every year, so there is some concern there," said Shinhan's Kim.
"Liquidity risk may increase even more if trouble occurs at the time of refinancing its short-term debt, especially since Lotte Group has been having an issue with the company's management rights," said Kim Pil-kyu, a senior research fellow at the Korea Capital Market Institute. "Investors have raised questions on whether Lotte will be able to issue bonds at its preferred conditions and whether these bonds will be digested well."
Before it's here, it's on the Bloomberg Terminal.
LEARN MORE