Brexit Spending Slowdown Hits U.K. Contractors Capita, Mitie
by and
London congestion charge operator cites delays, spending cuts

Shares plunge as much as 31% after similar drop at rival Mitie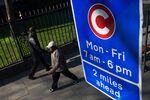 Brexit is taking its toll on U.K. outsourcing companies as clients put spending on hold in the wake of the country's vote to leave the European Union.
Capita Plc, which runs London's automotive congestion charge, plunged Thursday after it said earnings will miss estimates because of a slowdown in business since the vote. The slide follows a similar warning earlier this month from rival Mitie Group Plc, which provides office cleaners, baggage handlers and social workers.
Capita said weakness in its technology business, including a slump in workplace services recruitment, will reduce profit by 30 million pounds ($39 million). Delays in implementing a new system for the congestion charge will cause 20 million pounds to 25 million pounds in one-time costs, it also said.
The warnings are some of the clearest signs yet of the effects of the June 23 EU referendum on corporate activity as investors prepare for a round of quarterly earnings reports. Business activity shrank in the aftermath of the vote, even though the broader economy so far has been more resilient.

Capita shares fell as much as 31 percent, the steepest drop in more than 20 years, and were down 27 percent at 695.5 pence as of 4:15 p.m. in London. The slide slashed the company's market value by almost 2 billion pounds, to 4.4 billion pounds.
Other outsourcing providers fell too. Security specialist G4S Plc was down 3 percent at 225.8 pence, while facilities management company Babcock International Group Plc fell 4 percent to 1,047 pence. Mitie, which plunged 29 percent on Sept. 19, was up 1 percent at 188.6 pence.
Capita now targets pretax profit of 535 million pounds ($697 million) to 555 million pounds for 2016, compared with a company-compiled consensus estimate of 614 million pounds. The company lowered its outlook for full-year organic sales growth to 1 percent from "around 4 percent" previously.
'Longer-Term Chickens'
Spending delays linked to the referendum may have brought to the surface problems stemming from Capita's strategy of growing through acquisition, Shore Capital analyst Robin Speakman said by phone. The company this year bought software providers such as Trustmarque Solutions Ltd. and Health Analytics Ltd.
Some of its difficulties "are longer-term chickens coming home to roost, which clearly the Brexit issues may have accelerated," Speakman said. "Is the strategy unraveling of acquisition-led growth?"
Capita experienced delays in implementing new technology for the congestion charge, which it said won't recur. The company helped set up the system, which bills motorists 11.50 pounds for entering central London on weekdays, in 2003 and secured a new contract to run it in 2014.
"Our delivery wasn't up to the standard we'd expected," Chief Executive Officer Andrew Parker said on a conference call.
Bank Dispute
Capita also said it was in a contract dispute with Co-Operative Bank Plc, for which it processes mortgages. It said there was a "risk of litigation" stemming from the wrangle, in which it said it provided services to the bank for which it had not been paid.
Co-Op "strongly refutes" Capita's allegations, the bank said in a statement, adding that it believes there are "amounts which the bank regards as owing to it."
Before it's here, it's on the Bloomberg Terminal.
LEARN MORE