Gold Deal-Making Heating Up as Kirkland Swallows Newmarket
By
Eric Sprott to be chairman of combined company; Makuch CEO

New miner will produce about 500,000 ounces of gold a year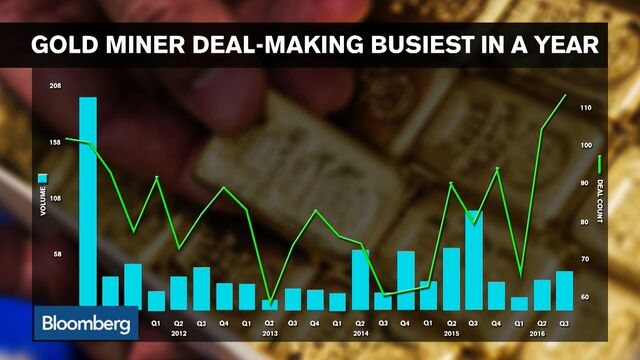 A proposed merger between two Canada-based gold miners is the latest example of consolidation in an industry that remains under pressure to cut costs, even as stronger gold prices smooth the way for deal-making.
On Thursday, Kirkland Lake Gold Inc. agreed to buy Newmarket Gold Inc. in an all-stock deal valued at C$1.01 billion ($770 million), creating what the companies said will be a low-cost producer focused on Canada and Australia.
"It certainly fits with the theme of looking at junior and intermediate producers trying to move up the food chain, creating a new tier of intermediate producers nipping at the heels of the senior producers," Michael Siperco, an analyst with Macquarie Capital Markets in Toronto, said by telephone.
Deal-making in the gold industry this quarter is the busiest in a year by volume of transactions, according to data compiled by Bloomberg, as surging metal and stock prices give companies more scope to grow through acquisitions. 

However, with a five-year gold rout fresh in the sector's collective memory, miners are under pressure to justify acquisitions quickly, by demonstrating they will boost production, cut costs or lower risk.
The combined company will have a market capitalization of about C$2.4 billion and produce more than 500,000 ounces of gold a year, with all-in sustaining costs of less than $1,015 an ounce, the miners said in a statement. Spot gold is up 24 percent this year and traded at $1,317.78 at 12 p.m. in New York.
The deal is also an example of miners increasingly looking to find value in safe jurisdictions with weaker currencies. The combined company will operate seven mines and five mills in two countries -- Canada and Australia -- with low geopolitical risk, the companies said in the statement.
Earlier this year, Centerra Gold Inc. agreed to buy Thompson Creek Metals Co. in a deal valued at $1.1 billion, giving the former company control of the Mount Milligan copper and gold mine in British Columbia. In February, Reno-based Tahoe Resources Inc. said it would buy Toronto-based miner Lake Shore Gold Corp. in another deal analysts viewed as a play on Canada's stable political environment and weak currency.  Kirkland Chief Executive Officer Tony Makuch was chief executive of Lake Shore Gold at the time; he became chief executive of Kirkland in July.
Chairman Sprott
Makuch will lead the company and sit on its board, while Kirkland Chairman Eric Sprott will have the same title in the combined company. Sprott is also a major shareholder in Newmarket, holding 13.5 percent of shares outstanding, according to data compiled by Bloomberg, which also shows him holding 6.7 percent of Kirkland's outstanding shares.
The deal was unanimously approved by both boards, with the exception of Sprott who didn't vote, the companies said. In an interview with Bloomberg TV Canada, Makuch said Newmarket Chief Executive Officer Doug Forster will be leaving the company. Forster owns almost one percent of the outstanding shares of Newmarket, according to Bloomberg data.
Kirkland Lake fell 7.6 percent to C$10.28 at the close of trading in Toronto, while Newmarket Gold rose 0.8 percent to C$4.87.
'Market Reaction'
The drop in Kirkland shares is "just a market reaction to the premium that they've paid," Ron Stewart, an analyst with Dundee Securities Ltd in Toronto said.
Newmarket shareholders will receive an implied price of C$5.28 for their stock, the companies said in the statement. That represents a 9.4 percent premium to Newmarket's closing price on Wednesday, and a premium of 22.9 percent based on Newmarket's 20-day volume weighted average, the companies said.
Kirkland Lake is an intermediate gold producer with assets in northwestern Ontario. Its cornerstone asset is the Macassa mine. Vancouver-based Newmarket has three underground operating mines in Australia, as well as exploration projects.
Before it's here, it's on the Bloomberg Terminal.
LEARN MORE