Kalamazoo Asks the Rich for Donations Instead of Hiking Taxes
Wealthy residents are promising to build a $500 million endowment to help the city cut taxes and attract more growth.
By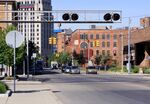 Earlier this year, staring ahead at years of deficits, the city of Kalamazoo, Mich., formed a committee to conjure up solutions. The resulting recommendations were standard fare: Make further cuts to city services, impose an income tax, or do a bit of both. Then Mayor Bobby Hopewell, on a lark, introduced a third option—ask the city's wealthiest residents for a bailout.
Hopewell approached his friend, banker William Johnston, husband of billionaire Ronda Stryker, whose grandfather founded the Stryker medical-device company in Kalamazoo after World War II. Johnston and another local philanthropist, Upjohn pharmaceutical heir William Parfet, responded with an even grander idea. Rather than give the city a one-time donation, they proposed creating a $500 million endowment that would generate enough income to keep the city afloat indefinitely. To get it started, Parfet and Johnston will put up an immediate $70.3 million to cover the city's budget gaps for the next three years and pay for poverty-reduction and business-development programs.
The first donation is to be accompanied by a 38 percent reduction in property taxes effective in 2017. The city commission is expected to approve the tax cut in October. Hopewell says he's hoping the endowment setup will enable the city to keep cutting taxes while improving services, which would attract residents and investments, further bolstering municipal finances. "To me, this is another pot of revenue," says Hopewell, a Democrat in his fifth two-year term. "We have more strings attached to the dollars we receive from the state and federal government than this will ever have." Parfet and Johnston didn't respond to requests for comment.
Kalamazoo's budget woes are, in fact, the creation of the state. In recent decades, Michigan has kept an increased share of the revenue it receives from municipal taxes while prohibiting cities from raising property-tax assessments faster than the rate of inflation, according to Richard Murphy, a program coordinator with the Michigan Municipal League, a nonprofit advocacy group. Property assessments fell drastically after the financial crisis in 2008 and have yet to recover, which is one reason so many cities in the state have been taken over by governor-appointed emergency managers.
Public-private partnerships devoted to specific causes, such as maintaining historic landmarks, are common throughout the U.S. But it's unusual for philanthropists to hand over large sums to keep basic municipal functions running. "Trying to put up 1,700 local philanthropic budget fixes one by one just doesn't scale very well," Murphy says.
Kalamazoo has experience with unconventional philanthropy. It's the home of the Kalamazoo Promise, an 11-year-old program through which anonymous donors pay college tuition for all students who graduate from the public high schools. The Promise has led to a population boomlet that's attracted aspirational, education-minded parents from every U.S. state.
Yet since 2009, Kalamazoo has cut about $12 million from its budget, which had an operating revenue of almost $53 million for fiscal 2016, city documents show. That's resulted in the elimination of about 120 city jobs over the past five years. Revenue has continued to decline even though the unemployment rate has fallen below 5 percent and home prices are rising more than 5 percent per year.
Without the cash transfusion, the city would face a projected annual $5 million gap starting in 2017. "Anything any city could have done to lower its costs, we did," says Hannah Apps, a former mayor who teaches economics at Kalamazoo College. "We gutted our economic-development programs. We gutted rental inspections. And it was beginning to show."
The concern, Apps says, is that the foundation's benefactors may have different priorities than many city residents. "If it's a question between a policy to rebuild a street on the poor side of town, which might take $7 million, and spending that $7 million on a bike lane through downtown so medical students can get places, I think the bike lane will win," says Apps. "If the bike lane wins too many times, that's tricky. But without the donation, we'd be able to do neither."
Hopewell thinks that stark reality is the best reason to embrace the endowment model. "Everyone's saying what if, and I get that," he says. "But to me this is a prime example about how philanthropy in this community is willing to go where no one has gone before."
 
—With Amanda Albright
The bottom line: Wealthy Kalamazoo residents have committed to build a $500 million endowment to help the city cut taxes and generate growth.
Before it's here, it's on the Bloomberg Terminal.
LEARN MORE