Data Deluge Shows Japan's Economy Sputters on as Prices Fall
By
Industrial production offered bright spot for Japan in August

Government and central bank still face big economic challenges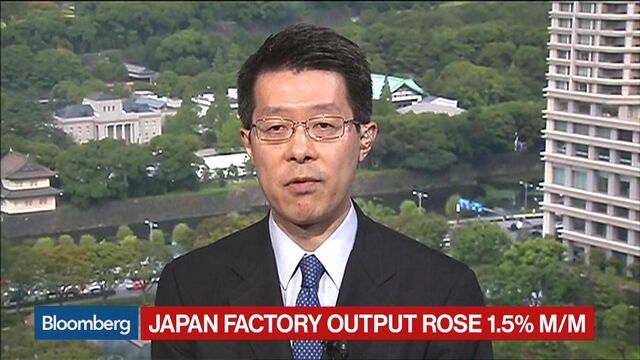 Japan's economy sputtered along in August, with a rise in industrial production pointing to modest third-quarter growth. Yet consumer prices fell for a sixth straight month and households cut spending, underscoring the challenge facing Bank of Japan Governor Haruhiko Kuroda as he tries to spur 2 percent inflation.
"Japan's economy will probably continue to recover in the third quarter but growth momentum will likely be weak," said Yuichi Kodama, chief economist at Meiji Yasuda Life Insurance Co. in Tokyo. "There is no change to the picture that Japan's economy lacks a driver to spur growth."
Key Points
Consumer prices excluding fresh food, the Bank of Japan's primary gauge of inflation, dropped 0.5 percent in August from a year earlier (forecast -0.4 percent).
Industrial output rose 1.5 percent in August from July (forecast +0.5 percent).
Household spending fell 4.6 percent from a year earlier (forecast -2.1 percent).
The unemployment rate stood at 3.1 percent (forecast 3 percent).
Big Picture
The data released Friday offer the first broader look at Japan's economy since the BOJ last week shifted the focus of its monetary stimulus from expanding the money supply to controlling interest rates. Policy makers are struggling to fully overcome deflation and attain sustainable growth, with the economy swinging between modest expansions and contractions in recent quarters. The yen's gains this year have hurt corporate profits and pushed down import prices, making it more difficult for the BOJ to generate inflation. Meanwhile, limited wage growth is holding back consumer spending.

Economist Takeaways
"The report confirmed production is on a gradual recovery track, which bodes well for continued moderate economic growth in the third quarter," said Kodama. "The yen's gains will keep downward pressure on consumer prices by lowering import prices. Inflationary expectations are unlikely to rise much, and the inflation rate will likely be very distant from the BOJ's target in the next fiscal year."
Consumer prices in Tokyo excluding fresh food and energy fell -0.1 percent in September from a year earlier, the first decline in nearly three years. Masaki Kuwahara, senior economist at Nomura Securities Co., said that likely means the nationwide "core core" consumer-price index will also fall for the month. "This is a warning signal to the BOJ and could increase pressure to ease further," he said.

"While consumer spending data send conflicting messages for Q3 GDP growth, the solid rise in industrial production in August strongly suggests that Japan's economy continued to recover in the third quarter," Capital Economics said in a report.
The Details
Overall consumer prices slipped 0.5 percent (forecast -0.5 percent).
Consumer prices excluding food and energy rose 0.2 percent (forecast +0.2 percent).
Production is forecast to rise 2.2 percent in September from the previous month, then rise 1.2 percent in October.
Industrial output rose 4.6 percent from a year earlier (forecast +3.4 percent)
The job-to-applicant ratio was unchanged at 1.37 (forecast 1.37)
Before it's here, it's on the Bloomberg Terminal.
LEARN MORE