Irish Mortgage Rules Shouldn't Be Undermined, Central Bank Says
By
Irish central bank open to rule changes, deputy governor says

Too frequent rule changes could hurt impact of home-loan caps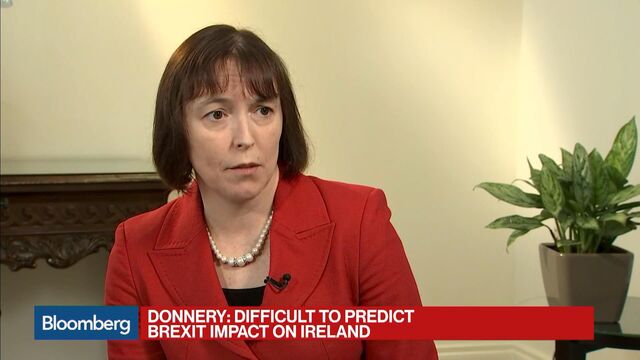 Ireland's central bank remains concerned that rules aimed at preventing another real estate bubble would be undermined by being routinely tweaked, deputy governor Sharon Donnery said.
The bank is reviewing the mortgages caps it introduced last year, as industry groups complain the rules are too restrictive. The bank is due to lay out the outcome of the review later this year.
"Stability in rules like that, stability in regulation is very important in terms of managing expectations both of buyers and of banks and how they operate the system," Donnery said in a Bloomberg Television interview with Michael McKee in Dublin on Thursday.
Donnery added that the central bank would "absolutely" change the rules on loan-to-income and loan-to-value ratios on home loans if evidence backed up such as a decision. The central bank introduced the guidelines after the real estate market bounced back in the wake of the crash which devastated the economy from 2008, and eventually propelled Ireland into an international bailout.
Before it's here, it's on the Bloomberg Terminal.
LEARN MORE