Hungarian Refugee Vote May Boost Orban's Power in Divided EU
by
Orban looking for political momentum before 2018 election

Turnout is key, will determine whether referendum is binding
Prime Minister Viktor Orban is asking Hungarians to reject quotas for hosting refugees in a referendum that may solidify his power at home and boost his leverage in an increasingly divided Europe.
Polls show overwhelming support for a "no" vote backed by Orban, leaving turnout as the main hurdle for the premier, who needs at least 50 percent participation to make the referendum binding. The question on the ballot: "Do you want the European Union to be able to order the mandatory settlement of non-Hungarian citizens in Hungary without parliament's consent?"
European leaders have sought to show unity this month after a tumultuous year for the region, with the biggest wave of refugees since World War II and the U.K.'s vote to leave the EU tearing at its seams. Orban has been the staunchest opponent of German Chancellor Angela Merkel's open-door policy and he may use the vote to showcase support for his approach. The Hungarian prime minister is also looking to harness political momentum before parliamentary elections in 2018, where he'll seek a third consecutive term.
"At home, Orban will probably cast himself in the role of protector of Hungary from hordes of refugees, no matter the turnout," Otilia Dhand, a Brussels-based analyst at Teneo Intelligence, said by phone. "But his case on the European stage will be much stronger if the vote is valid."
Unlike Merkel, who's suffered a string of political defeats as she struggles to convince Germans to show solidarity, the Hungarian premier has linked immigration with terrorism and warned that refugees threatened local jobs and that Europe's Christian identity was at risk. He has built a fence to repel migrants and spared no expense to hammer the message home through billboard campaigns and an increasingly obedient state-media empire. The measures helped him overcome a slump in polls last year and Orban's Fidesz party now has more support than all opposition parties combined, according to a Median poll published Sept. 23.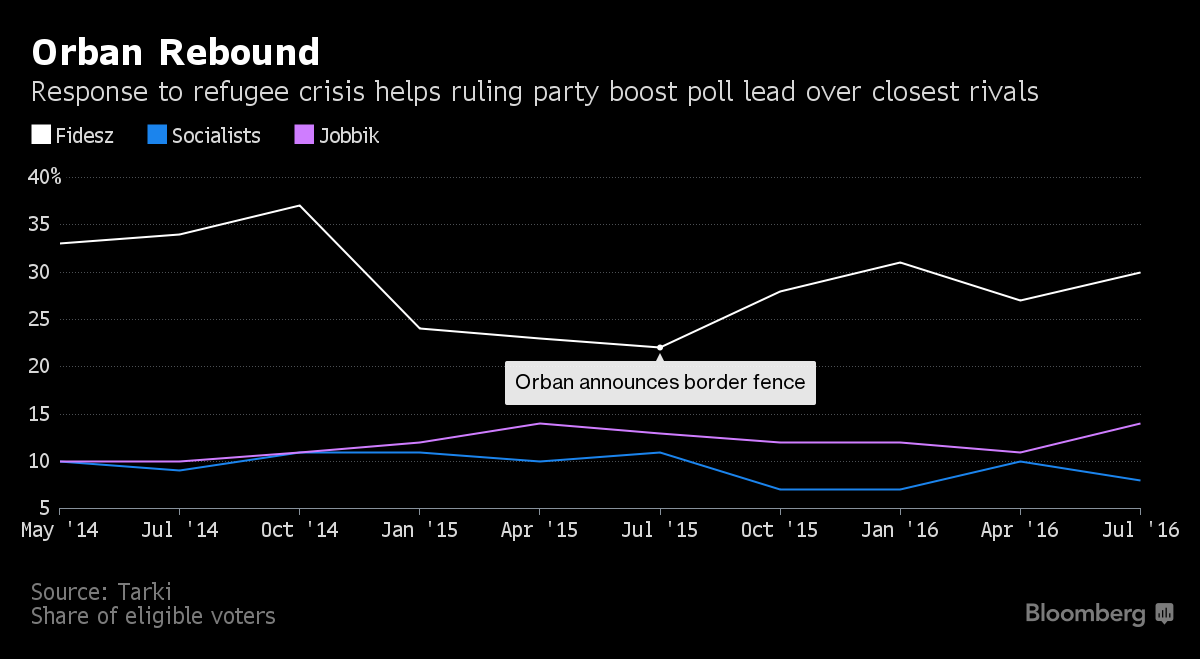 A resounding referendum victory may bolster Orban, 53, who first became prime minister in 1998 and returned to power in a landslide victory in 2010. That election gave him a two-thirds majority in parliament, which allowed Fidesz to change the constitution, weaken checks and balances on executive power and build what Orban has called an "illiberal state" modeled on Russia and Turkey. Refugees are the latest target for the premier, who in recent years has positioned his government as fighting against the EU, the International Monetary Fund, non-government organizations and Hungarian-born financier George Soros.
Almost 44 percent of eligible voters surveyed said they'd back the government in the referendum, compared with 2 percent against it, according to a poll by the news website Index and Zavecz Research, published on Thursday. Orban has said that the more people vote "no," the more effective he'll be in eliminating settlement quotas for good, though he has refused to say what specific steps he'd take.
Click here for an explainer on the Hungarian referendum
The Zavecz survey found that turnout may just be sufficient, while a Median poll published Wednesday by the news website HVG projected that participation would fall short of the 50 percent threshold.
Orban downplayed the significance of turnout Thursday, telling TV2 private television that in a democracy those who don't vote leave decisions up to those who do.
"If 'no' is in the majority, then we can continue our battle to defend Hungary," he said. At the same time, he called for a "sober and calm" dialogue with the EU, as Hungary needs to convince the majority of member states to have its way in the bloc.
The government has splurged on a billboard campaign urging voters to "not risk it" when it comes to immigration, while public media gave extensive coverage to Fidesz's message. With so much political capital spent, failure to clear the turnout threshold would be Orban's first failure in a nationwide vote since 2006, said Tamas Boros, director of the Budapest-based research institute Policy Solutions.
"The government will put its spin on the result, but it'd be a political defeat for Orban if Hungarians fail to turn out in sufficient numbers on an issue the prime minister has made the centerpiece of his cabinet's agenda," Boros said. "A valid vote and a big 'no' victory on the other hand would boost Orban."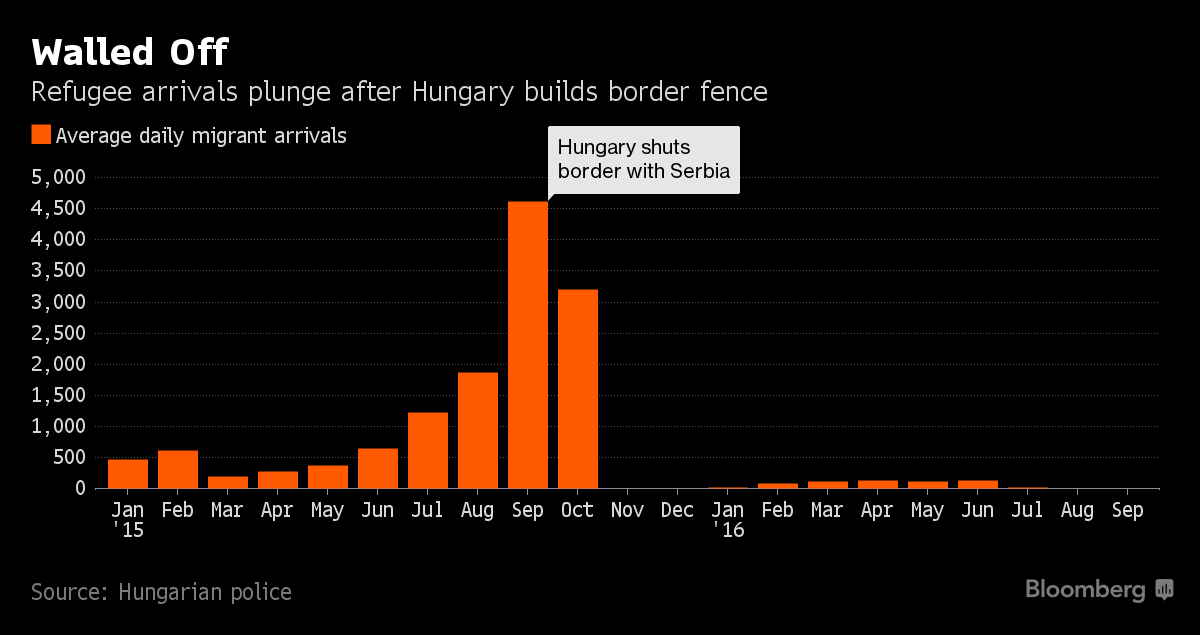 Even if the vote is legally binding, there's no clear consequence for EU policy. Hungarians alone can't stop policy decisions and the bloc hasn't yet decided on a permanent mandatory-quota mechanism to resettle refugees. An initial effort to relocate 160,000 of the more than a million arrivals last year still hasn't been completed. Hungary has filed a lawsuit to annul EU legislation that requires the country to accept 1,294 refugees.
"I understand that the citizens of Hungary will vote in a spirit of reason and responsibility," EU Home Affairs Commissioner Dimitris Avramopoulos told reporters in Brussels on Wednesday. "Nothing has changed. The commission insists on its policy based on values and principles; some of these values are binding legally."
Before it's here, it's on the Bloomberg Terminal.
LEARN MORE