Fox Warns on U.K. Current-Account Gap as He Extols Free Trade
by
U.K. trade secretary delivers first major speech in Britain

Says British trade performance poor compared with Germany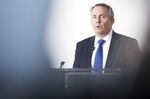 U.K. Trade Secretary Liam Fox extolled the virtues of free trade, saying encouraging exports to new markets will be the key to closing the current-account deficit as Britain leaves the European Union.
In his first major speech in Britain since being appointed in July, Fox said that too few U.K. companies are exporting, resulting in a trade performance that compares unfavorably with that of Germany.
"We have an increasing current-account deficit that needs to be closed and we need to ask ourselves how we can do that, what are the reasons why not all companies are performing," Fox told an audience of business executives in Manchester, northern England. "We need to help and encourage more of our businesses into the export market because that is how we create greater prosperity for our nation."
Fox's department, created by Prime Minister Theresa May after the country voted to leave the EU in June, has been tasked with forging new trade deals around the world after Britain completes its so-called Brexit. Fox suggested Britain will be able to preserve a similar trading relationship with the bloc's other 27 members after its departure.
"It's in everybody's interests that as we move forward, we have as least as free a trading environment as we have today," Fox said. "Protectionism never actually helps anybody at all and as we move into a post-Brexit arena we want it to be as free and as open as possible. Don't just look at it from a U.K. perspective. The European Union has a massive surplus in goods to the U.K. Who does it harm more if we end up in a new tariff environment?"
Investor Concerns
The current-account deficit -- the difference between money coming into the U.K. and money sent out -- remained close to a record high in the first quarter at 6.9 percent of gross domestic product and official figures Friday are forecast to show it narrowing only marginally between April and June.
Brexit has heightened concerns that foreign investors may be less willing to finance the shortfall by buying U.K. assets. That's contributed to the sharp fall in the pound since the referendum. The current-account gap totaled more than 100 billion pounds ($130 billion) last year, prompting Bank of England Governor Mark Carney to warn that Britain is increasingly reliant on "the kindness of strangers."
Fox drew criticism earlier in the month when the Times newspaper published a recording of him suggesting British business has become "too lazy and too fat on our successes in previous generations."
Asked about that on Thursday, Fox replied: "When I was a doctor, my job was not to tell people what they wanted to hear. It was to tell them what they needed to hear to put things right. If it applies to medicine, why do the same ethics not apply to politics?"
Before it's here, it's on the Bloomberg Terminal.
LEARN MORE