Fitbit Is Tumbling After an Analyst Says Its New Product Is Off to a Slow Start
Fitbit will hope to quicken the pace of sales before the holiday season.
By and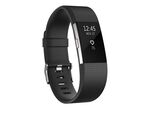 Fitbit Inc.'s sales aren't looking so healthy. 
The company recently launched a new fitness tracker, the Charge 2, that was meant to be its hot new product heading into the holiday season. But retail analysts have judged sales of the wristband to be lackluster, prompting Pacific Crest Securities LLC to downgrade the company's stock. 
"Checks indicate Charge 2, Fitbit's flagship holiday product, is off to a slow start," the team, led by Brad Erickson, wrote in a recent note. Retailers are accumulating deep stockpiles of the activity monitor, they said, with the pace of actual sales lagging those initially seen for Blaze and Alta, the company's previous comparable devices. Quick restocking meant the analysts raised their Q3 estimates, but they lowered Q4 and 2017 on weaker-than-expected demand and downgraded the stock to underweight.
Here are the inventory levels the analysts found when talking to major retailers. 
Shares dropped more than 8 percent at the opening of trading on Thursday morning. Still, Erickson et al believe the stock has further to fall, having slapped an $11 price target on it. That would indicate a decline of more than 30 percent from its September 28 closing price of $16.70.
Fitbit stock has struggled since the company went public in 2015. After an early rally to more than $50 a share, it has since plunged after encountering lawsuits, disappointing product reviews, and competition from Apple Inc's Apple Watch. That rivalry heated up earlier this week when Apple announced a new partnership with Aetna Inc. The insurance giant's employees and customers will receive steep discounts on the watch, and the company is also developing wwatch apps designed to promote a healthier lifestyle. 

Even while Pacific Crest believes this new partnership will be "a substantial negative" for Fitbit, Raymond James analyst Tavis McCourt, who covers Apple, suggests the new partnership could benefit the tech-wearables industry as a whole, in part by increasing its profile. "These types of programs are important in moving wearables into a mainstream consumer product category and beyond the early adopter phase," he said. As for the tie-up itself: "These wellness initiatives and insurance partnerships are likely to be immaterial to overall Apple Watch sales, which predominately will take place in retail channels," he said in a new note on the Cupertino-based company.
Fitbit currently has 13 buy ratings, 8 holds, and 1 sell with an average 12-month price target of $21.38, according to analyst recommendations compiled by Bloomberg. 
Before it's here, it's on the Bloomberg Terminal.
LEARN MORE