Fewer Americans Than Forecast Filed for Jobless Claims Last Week
by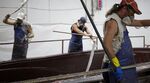 The number of applications to collect jobless benefits rose less than forecast last week, indicating employers are leery of dismissing workers as the labor market tightens.
Jobless claims rose by 3,000 to 254,000 in the week ended Sept. 24 from a five-month low in the previous period, a Labor Department report showed Thursday. The median forecast in a Bloomberg survey called for 260,000. The number of Americans already on benefit rolls declined to the lowest level since 2000.
Dismissals have been hovering just above the lowest level since the 1970s as employers compete for experienced workers amid a record number of job openings. The data are consistent with the Federal Reserve's view that the job market "has continued to strengthen" and employment gains have been "solid."
Estimates in the Bloomberg survey ranged from 250,000 to 275,000. The Labor Department revised the prior week's reading to 251,000 from an initially reported 252,000. In April, claims dropped to 248,000, the fewest since 1973.
Applications filed with state employment agencies have been below 300,000 for 82 straight weeks -- the longest streak since 1970 and a level economists say is typical for a vibrant labor market.
No states' claims were estimated last week and there was nothing unusual in the data, according to the Labor Department.
The less-volatile four-week average of claims dropped to 256,000, the lowest since April, from 258,250 in the prior week.
The number of people continuing to receive jobless benefits declined by 46,000 to 2.06 million in the week ended Sept. 17, the fewest since July 2000. The unemployment rate among people eligible for benefits held at 1.5 percent. These data are reported with a one-week lag.
Before it's here, it's on the Bloomberg Terminal.
LEARN MORE