Ferrari's Sold-Out $2.1 Million Aperta Underpins Growth Push
By
LaFerrari Aperta bolsters carmaker's post-IPO profit goals

First GTC4 Lusso family car with V8 engine widens line-up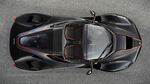 Ferrari NV sold out a $2.1 million open-top version of its LaFerrari supercar before its public debut, underscoring the marque's allure even as the former unit of Fiat Chrysler Automobiles NV widens its line-up with more affordable models.
That two-pronged strategy was on display at the Paris Motor Show on Thursday. At one end of the scale, the Italian sports-car maker teased visitors with the aura of the LaFerrari Aperta, which is limited to 200 vehicles and was so sought-after that a collector sued for being left off the buyer's list. At the other end is the four-seat GTC4 Lusso T, equipped with a smaller V8 motor instead of the standard V12.

"For us a limited edition is a way to reward our clients," Ferrari's head of sales and marketing Enrico Galliera said at the Paris unveilings. The Lusso, meanwhile, is meant to fill a market gap. "There were a number of clients that were looking for something different. They were looking for the same emotion of driving a Ferrari-- which is sporty and versatile -- but at the same time is specifically designed to be driven every day."
Ferrari has been under pressure to show that its strategy of wooing the world's elite can work without the backing of a bigger player. The automaker's stock has been below the initial public offering price of $52 a share since November, and its ambition to broaden the brand beyond exotic cars and challenge luxury icons such as Hermes and Louis Vuitton has failed to make headway.
For more news from the Paris Motor Show, click here.
That puts the focus on Ferrari's cars to fuel profit growth, which means safeguarding exclusivity with limited-run models such as the Aperta while gradually pushing up volumes with the likes of the 233,000-euro ($261,000) GTC4 Lusso T. The company has a target to increase overall production to 9,000 cars annually by 2019 from about 8,000 now.

"The equity story of Ferrari is not yet fully known," said Massimo Vecchio, an analyst at Mediobanca. "The company continues to show visibility, resiliency and price power."
That's helped the stock erase most of its losses after hitting a low of $32 in the wake of the October initial public offering in New York. The shares have been trading close to $50 for most of this month. In Milan, Ferrari's shares rose as much as 1.7 percent to 46.23 euros, the highest since the European listing there in January.
Demand for the new LaFerrari Aperta, whose engine is derived from Ferrari's Formula 1 race cars, shows how the brand still excites aficionados, including celebrity chef Gordon Ramsay who is one of the buyers.
Ferrari will be keeping nine of the Aperta, which costs about 50 percent more than the original hard-top LaFerrari. In Italy, the car will be sold at about 1.85 million euros including taxes. Requests for the vehicle were triple the planned production run, Galliera said.
While Aperta customers can choose between a soft top or hard one made of carbon fiber, not all are so lucky. Florida-based collector Preston Henn, 85, sued Ferrari in August claiming the company refused to sell him one, even after he sent the company a $1 million deposit, Southern district of Florida court documents show. Henn, who owns several Ferraris including a 275 GTB/C Speciale, was seeking damages of more than $75,000, claiming that not being able to buy the car would hurt his reputation. The suit was dismissed this week.
Aperta deliveries are set to start in the next quarter. The company also announced it's producing 350 tailor-made supercars to celebrate its 70th anniversary, in a variety of finishes meant to evoke the manufacturer's iconic past. Even those cars are already sold-out before being produced.
Special editions underpin "the cachet of the brand as there always seem to be far more customers for these vehicles than Ferrari is prepared to build vehicles for," said Ian Fletcher, an analyst with IHS Markit.
Before it's here, it's on the Bloomberg Terminal.
LEARN MORE