Fed's Lockhart Sees Potential for Raising Rates 'Before Long'
by
Lockhart supported waiting to see more progress toward goals

Atlanta Fed chief wants to see remaining labor slack absorbed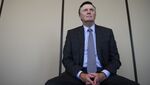 Federal Reserve Bank of Atlanta President Dennis Lockhart said the central bank is nearing its goals of maximum employment and steady inflation near 2 percent, leaving the economy primed for an increase in borrowing costs.
The policy-setting Federal Open Market Committee left interest rates on hold last week in Washington, saying that it would stand pat "for the time being" to give the economy more time to move toward the central bank's objectives.
"That phrase -- for the time being -- appeared in the statement suggesting, as I see it, that a change in policy could occur before long," Lockhart, who doesn't vote on policy this year and will retire in early 2017, said Thursday in the text of a speech in Orlando, Florida. "I did support the consensus view that, before taking the next move, it makes sense to see a little more evidence of progress toward our statutory policy objectives."
Monetary policy makers are contending with demographic headwinds and slow productivity growth as they try to stoke the economy to achieve their dual price and employment goals. Against that backdrop, they've achieved a level of joblessness that many economists view as consistent with full employment, but remain shy of their inflation goal.
"We're nearing our objectives despite a relatively weak pace of growth," Lockhart said, noting that core inflation -- which strips out volatile food and energy components -- stands at 1.6 percent. "There is some difference of opinion among economists and my colleagues whether or not the core inflation shortfall is all that material."
Lockhart said that he believes that there's still some slack to absorb in the labor market, noting that the participation rate has moved up slightly in recent months -- which he interprets as a signal that a strong job market is drawing people back in.
"As a policy maker, I would like to see growth modestly above potential for the immediate future to absorb remaining labor market slack," Lockhart said.
Before it's here, it's on the Bloomberg Terminal.
LEARN MORE